Michigan in the Olympics

Seoul - 1988 - Calgary
<! -- BEGIN TEXT -- >
Jim Abbott
Pitched complete game victory in the medal game.
Greg Barton
1000 meter single kayak
1000 meter double kayak
Brent Lang
400 meter freestyle relay

Michigan's Gold Medal Winners



U of M athletes captured four gold medals in Seoul. Greg Barton became the first U.S. gold medal winner in kayaking, taking the 1000 meter race by .005 seconds in a photo finish. One hour later he teamed with Norm Bellingham to win the 1000 meter doubles event. Pitcher Jim Abbott left his first game with a lead but came away with no decision. He came back with a complete game victory over Japan to give the U.S. a gold in baseball, still an exhibition sport. Swimmer Brent Lang earned a gold medal as part of the 4 X 100 freestyle relay team although he did not swim in the finals. He also competed in the 100 meter freestyle.
Four other Wolverines carried on the Michigan tradition in swimming. Mike Barrowman placed fourth in the 200 meter breaststroke and Steve Bigelow 10th in the 200 meter backstroke for the U.S. team. Alex Alvizuri competed for Peru and Jan Olson was on the Norwegian team.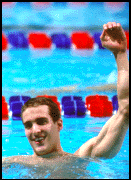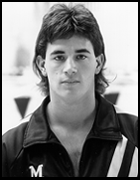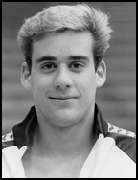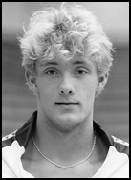 Mike Barrowman Steve Bigelow Alejandro Alvizuri Jan Olson
Seventeen year-old Lara Hooiveld swam in three events for Australia. She placed 15th in the 100 meter breaststroke, 30th in the 200 meter breaststroke and swam the second leg for for the Aussies' 4th place 4x100 meter relay team. Hooiveld joined the U-M team in 1991/92 and won four Big Ten titles and five All-American citations in her freshman year. She was NCAA champion in the 100 and 200 meter breaststroke 1993 and was named NCAA Swimmer of the Year. China's Kongzhen Li, bronze medalist in 1984, placed 6th in platform diving. He woudl serve as U-M diving coach, 2011-2014.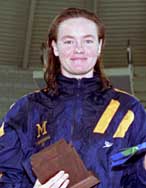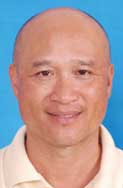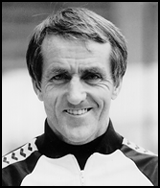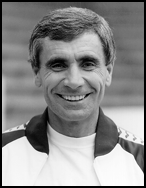 Lara Hooiveld KZ LI Dick Kimball Jon Urbanchek
U-M Diving coach Dick Kimaball was coach of the American diving team and men's swimming coach Jon Urbanchek served as an assistant coach for Peru's Olympic swimmers.

Brian Diemer

Carl Schueler
Brian Diemer, bronze medalist in 1984, was eliminated in the semifinal round of the 3000-meter steeplechase in Seoul. Carl Schueler, former grad student in the School of Natural Resources, made his third U.S. Olympic team. He finished in 23rd place in the 50 kilometer walk race.
Calgary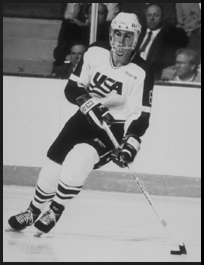 At Calgary, UM had its first competitor in the winter games since 1956. Hockey player Jeff Norton played on the U.S. team which finished seventh. He was a three year letter winner for the Wolverines, 1985-1987.
<! -- END TEXT -- >
---
<! -- BEGIN UM RESULTS -- >
The U-M Results - 1988
Greg Barton
1000 m. kayak
1st
1000 m. kayak doubles
1st
Jim Abbott
baseball
1st
Brent Lang
4x100 freestyle
1st
Mike Barrowman
200 m. breaststroke
4th
Steve Bigelow
200 m. backstroke
did not place
Alex Alvizuri (Peru)
100 m. backstroke
did not place
200 m. backstroke
did not place
Jan Erik Olson (Norway)
100 m. breaststroke
did not place
200 m. breaststroke
did not place
Lara Hooiveld (Australia)
100 m. breaststroke
did not place (15th)
200 m. breaststroke
did not place (30th)
4x100 medley relay
4th
Konzheng Li (China)
patform diving
6th
Brian Diemer
3000 m. steeplechase
did not place
Carl Schueler
50 km. walk
did not place (23rd, 3:57:44)
Jeff Norton
hockey
7th
Jon Urbanchek
assistant coach for Peru's swimming team
Dick Kimball
coach of diving team
Micki King Hogue
manager of women's diving team
<! -- END UM RESULTS -- >
---
<! -- BEGIN CREDITS ETC -- >
Photo Credits:
Greg Barton, photo by Bob Long/LPI
Jim Abbott, Ath. Dept., Box 21, 1988, BHL
Brent Lang, Ath. Dept., Box 43, 1989, BHL
Mike Barrowman, Ath. Dept., Box 43, BHL
Alejandro Alvizuri, Ath. Dept., Box 43, 1986, BHL
Jan Olson, Ath. Dept., Box 43, 1986, BHL
Lara Hooiveld, Ath. Dept., bl010954
Jon Urbanchek, Ath. Dept., Box 43, 1986, BHL
Dick Kimball, Ath. Dept., Box 43, 1988, BHL
Brian Diemer,Seoul Calgary 1988, U.S. Olympic Committee Report
Carl Schueler,Seoul Calgary 1988, U.S. Olympic Committee Report
Jeff Norton, Ath. Dept., Box, 34, BHL
Table of Contents | 1984-Los Angeles | 1992-Barcelona | Name Index