Michigan in the Olympics

Barcelona - 1992 - Albertville
<! -- BEGIN TEXT -- >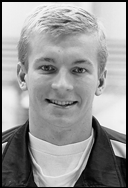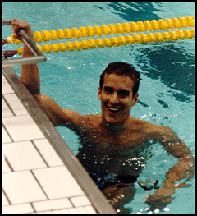 Eric Namesnik Mike Barrowman Gustavo Borges
Mike Barrowman led a strong contingent of former, current and future Wolverine swimmers at Barcelona. Barrowman set a world record in winning gold in the 200 meter breaststroke and Eric Namesnik picked up a silver for the U.S. Brazil's Gustavo Borges placed 2nd, 6th and 7th in freestyle events. Alejandro Alvizuri competed in his third Olympics, while freshmen-to-be Marcel Wouda and Royce Sharp made their debuts. Derya Buyukuncu and Ryan Papa representing Turkey and the Philippines, would join the Wolverine squad in 1994.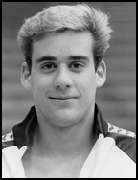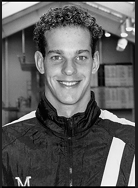 Alejandro Alvizuri, Marcel Wouda, Royce Sharp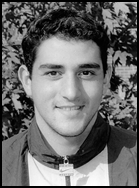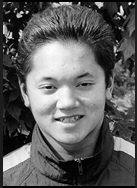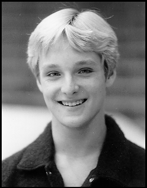 Derya Buyukuncu, Ryan Papa, Kent Ferguson
World champion diver Kent Ferguson placed 5th in three meter diving. Mark Lenzi, who trained with Dick Kimball, won the gold for the U.S. Greg Barton returned to defend his two kayak gold medals from 1988, finishing 3rd in the individual and 4th in the doubles 1000 meter races.
Penny Neer became the first UM woman to make the U.S. team in a field event, but did not place in the discus competition. Brian Diemer made his third Olympic appearance and was selected captain of the U.S. track squad. Carl Schueler won the U.S. 50 K race walking trials for the third time, making his fourth Olympic team. He placed 23rd in Barcelona with a time 4:13:38.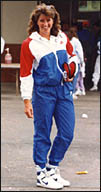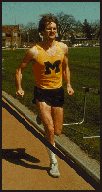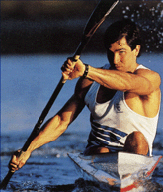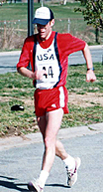 Penny Neer, Brian Diemer, Greg Barton, Carl Schueler
Dick Kimball again coached the U.S. diving team and Mark Lenzi's gold in the 3-meter springboard prevented a Chinses sweep of the gold. Scott Donie placed second in platform and Mary Ellen Clark won a bronze medal in the women's platform. Lenzi and Julie Ovenhous (NCAA Champion for MSU, fifth in spirngboard at Barcleona) both trained with Kimball Divers.
---
Winter Games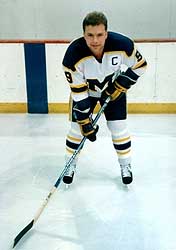 Todd Brost helped Canada win its first Olympic medal since as the Canadians placed second to the unified team of the former Soviet Union. The Canadians lost to he Unified team 5-4 in the opening round and defeated bronze medallist Czechoslovakia before losing 3-1 in the gold medal game. Brost suited up for all eight of Canada's games but did not score.
Brost played for UM 1985/86-1988/89 and served as captain in 1987/88 and 1988/89. He tallied 173 career points for the Wolverines on 63 goals and 110 assists. He played center for the Canadian National Team 1988/89-1991/92, with a season best 51 points in 73 games in 1989/90. <! -- END TEXT -- >
---
<! -- BEGIN UM RESULTS -- >
The U-M Results - 1992
Mike Barrowman
200 m. breaststroke
1st, world record
Eric Namesnik
400 m. ind. medley
2nd
Gustavo Borges (Brazil)
100 m. freestyle
2nd
400 m. freestyle relay
6th
800 m. freestyle relay
7th
50 m. freestyle
5th
200 m. freestyle
did not place
Alejandro Alvizuri (Peru)
100 m. backstroke
did not place
00 m. backstroke
did not place
200 m. ind. medley
did not place
Royce Sharp
200 m. backstroke
did not place
Marcel Wouda (Netherlands)
200 m. ind. medley
22nd
400 m. ind. medley
19th
400 m. freestyle
Kent Ferguson
3 meter diving
5th
Derya Buyukuncu (Turkey)
backstroke
did not place
Raymond Papa (Philippines)
backstroke
did not place
Penny Neer
discus
did not place
Brian Diemer
3000 m. steeplechase
7th
Carl Schueler
50 K. race walk
23rd, 4:13:38
Greg Barton
kayak, 1000 m. ind.
3rd
kayak, 1000 m. double
4th
Dick Kimball
diving coach
Todd Brost (Canada)
Ice Hockey
Silver
<! -- END UM RESULTS -- >
---
<! -- BEGIN CREDITS ETC -- >
Photo Credits:
Mike Barrowman, Ath. Dept., Box 43, BHL
Eric Namesnik, Ath. Dept., Box 43, BHL
Gustavo Borges, Ath. Dept., Box Box 43, BHL
Alejandro Avlizuri, Ath. Dept., Box 43, 1986, BHL
Marcel Wouda Ath. Dept., Box 43, BHL
Royce Sharp, Ath. Dept., Box 43, BHL
Kent Ferguson, Ath. Dept., Box 43, 1982, BHL
Penny Neer, Ath. Dept., Box 45, BHL
Brian Diemer, Ath. Dept., Box 41, BHL
Greg Barton, photo by Bob Long/LPI
Table of Contents | 1988-Seoul | 1994-Lillehammer | Name Index