Michigan in the Olympics

2008 - Beijing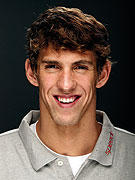 Michael Phelps
Michael Phelps' quest for eight gold medals was the dominant story of the 2008 Olympics, but there were many other Michigan stories in Beijing, each dramatic in its own way. Twenty-three current and former Wolverines competed in swimming, track, wrestling, baseball, water polo, and rowing. They represented seven different countries. Including Phelp's haul, U-M athletes collected 9 gold, 2 silver and two bronze medals.
Jerome Singleton won what may be the first ever Paralympic medals by a U-M athlete, capturing a silver in the 100m race and a gold in the 4x100m relay
Swimming - Men
Phelps, who served as a volunteer assistant coach for U-M while training with Club Wolverine, won five individual events and swam on three gold medal winning relay teams. He set four world records in individual events and all three relay teams set new world marks.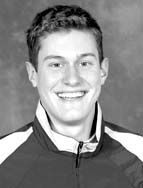 Peter Vanderkaay
Peter Vanderkaay (U-M 2003-2006) was expected to make the U.S. swimming team in the 200 and 400-meter freestyle's, but winning the 1500-meter event at the U.S. trials qualified as at least a minor upset. His Club Wolverine teammate Erick Vendt and American record holder Larsen Jensen were the favorites, but Vanderkaay, primarily known as a middle-distance racer, finished more than five seconds ahead of runner-up Larsen. Vanderkaay placed second to Phelps in the 200-meter freestyle and second to Jensen in the 400-meter freestyle and also qualified for the 4x200-meter relay. At Beijing PVK joined Phelps on the medal stand with a third place in the 200-meter freestyle. He earned a gold medal in the 4x200 meter freestyle relay, swimming the anchor leg in 1:44:68 enroute to record-breaking time of 6:58:56--lowering the world mark by nearly 4.5 seconds. Klete Keller, who had trained with Club Wolverine, swam the anchor leg in the preliminary heat. He finished fourth in the 400 meter freestyle, just 0.33 seconds behind U.S. teammate Larsen Jensen.
Peter was one of four Vanderkaays who competed in the U.S. trials-all with U-M ties. Brothers Christian (2001-2005) a two-time All-American; Alex (2005-2008), NCAA champion in the 400-meter IM 2007 and 2008, and nine-time All-American; and Dane (incoming freshman) were in Omaha as well. Alex finished fifth in both the 200-meter and 400-meter-Individual medleys. Christian competed in the 100-meter breaststroke and Dane in the 400-meter freestyle. Other Wolverines who narrowly missed the team included Davis Tarwater, 3rd in the 200-meter butterfly and Tyler Clary, 3rd in the 200-meter backstroke.

Scott Spann
A three-time Big Ten Champion and four-time All-American in his sophomore year, Scott Spann may have pulled the biggest upset of the U.S. men's trials in the 200-meter breaststroke. The Austin, Texas native, racing under the banner of the Longhorn Aquatics Club, posted a time of 2:09.97. Spann finished more than a half second ahead of Eric Shanteau and a full 1.4 seconds ahead of U.S. record holder Brendan Hansen. In Beijing Spann placed second in both of his qualifying races and sixth in the finals.
Andrew Hurd qualified for his third Canadian Olympic team, winning a place on the 4x200 freestyle relay team. Hurd was also on the 2004 x200-meter relay team that finished 5th in Athens. Hurd swam for U-M 2002-2005 and was a six-time All-American and on an NCAA championship 800-meter relay team. The Canadians placed 5th in the Olympic finals, with Hurd swimming the anchor leg.
Swimmer Alon Mandel was the U-M's first athlete to represent Israel in the Olympics, but it took a ruling by the Olympic Committee of Israel High Court to get him to Beijing. A junior at U-M, Mandel earned NCAA All-American honors in the 200 and 400-yard medley relays in 2008 and a Big Ten title in the 400-yard medley relay. He placed 13th in the 200-meter butterfly at the European championships, one spot below the Olympic threshold. He set an Israeli record of 1:59.79 in the event, but was two-hundredths of a second out of 12th place. However, the first place finisher was disqualified for using a banned substance and Mandel moved up one spot to qualify for a trip to Beijing. He placed fourth in his qualifying heat.
Derya Byukuncu, U-M 1995-1998, became the first Wolverine to compete in five Olympic Games. He again represented Turkey in the backstroke events.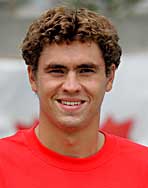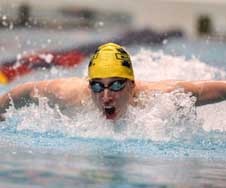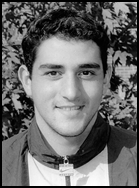 Andrew Hurd Alon Mandel Derya Buyukuncu
Swimming-Women
U-M had no swimmers on the U.S. women's team, but was represented in Beijing by Natasha Moodie and Valeria Silva, swimming for Jamaica and Peru respectively. Silva (U-M 2005-2008) made her second Olympic appearance in the 100-meter breaststroke. She finished 4th in her qualifying heat at Beijing. Silva was the fifth U-M Olympian from Peru.
Seventeen year-old Moodie capped her freshman year at U-M by becoming the first Jamaican swimmer to qualify for the 2008 games. She made the Olympic qualifying time in winning the 50-meter freestyle at the Toyota Grand Prix at Ohio State in April. Her time of :26.08 was a personal best and set the Jamaican national record. Moodie failed to advance out of the qualifying round at Beijing, finishing 5th in her heat.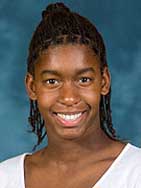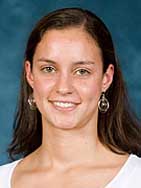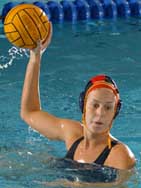 Natasha Moodie Valeria Silva Betsey Armstrong
Water Polo
Goalie Betsey Armstrong (U-M 2002-2005) became the first U-M water polo player to be named to an Olympic team. She led Michigan to four CWPA Eastern division championships and was named to four CWPA All-Division First Teams and was a four-time All-American. She had spent two seasons with the U.S. National Team, helping them take gold medals at the 2007 Pan-American games, which clinched an Olympic berth for the U.S., and in the FINA World League and World Championships. At the latter she was named outstanding goalie of the tournament. An Ann Arbor Huron high grad, Armstrong was one of three non-Californians on the U.S. team. One of the others is Ann Arbor Pioneer's Alison Gregorka. Armstrong's goalkeeping led the U.S. to a silver medal with 3-1-1 record. Despite Armstrong's 14 saves, the U.S. dropped the gold-medal game to the Netherlands by a 9-8 score.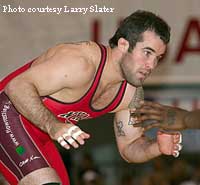 Wrestling - Freestyle
Andy Hrovat was the Michigan's first Olympic wrestler since Steve Fraser won a gold medal in 1984. Hrovat renewed his rivalry with Mo Lawal the U.S. trials and claimed an Olympic berth at 84 kg by winning the best-of-three championship series. Lawal won the first match, but Hrovat scored two three-point chestlocks to capture the second match. In the third match Lawal won the first period 1-0 on a takedown. Hrovat won the second period with a late takedown. In the deciding third period, Lawal scored a one-point takedown with 43 seconds left. With seven seconds left Hrovat put Lawal on his back for a two-point takedown. Lawal countered with a one-point takedown with two seconds remaining to tie the score at 2-2, but Hrovat earned the victory by having scored the highest point move of the period. Hrovat's win avenged a loss to Lawal in the 2008 U.S. Nationals. Hrovat had pinned Lawal at the 2006 World Team Trials to win his first trip to the World Championships. The "Silent H" wrestled for U-M 1999-2002, winning three All-American honors at 185 pounds. He served as U-M's director of wrestling operations while training for the Olympics. Hrovat drew a bye in the first round at Beijing then met Rieneris Salas of Cuba. Hrovat dropped the match by scores of 3-0, 1-3, 2-2. When Salas lost in the semifinals round Hrovat was not eligible for a repechage match.
Track - Men
In track and field, the men's 1,500-meter race once again had a Maize and Blue hue as three former Wolverines qualified for the event for the second Olympiad in a row. Kevin Sullivan competed in his third Olympics for Canada, Nick Willis represented New Zealand for the second time and Nate Brannen made the Canadian team for the first time.
Sullivan, a four time NCAA champion at U-M, finished 5th in the 1,500-meter in Sydney in 2000, but did not make the finals in Athens. After seeing his times drop off in 2005, Sullivan began working with coach Julie Henner of George Mason University and as the Canadian trials approached he felt he was running a well as ever. Sullivan had already made the Olympic qualifying time and only had to finish fourth or better at the Canadian trials to garner a third Olympic trip.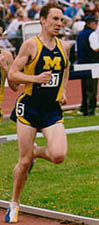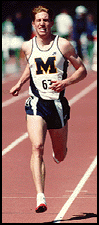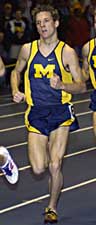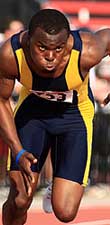 Nick Willis Kevin Sullivan Nate Brannen Stan Waithe
Eight months before the trials Nate Brannen's chances to make the Canadian team did not look good. He had undergone back surgery on November 29, 2007 to repair a ruptured disc and his doctors told him he might never run competitively again. He did not train for several months, but eventually got back on the track and ran a remarkable 3:38.41 in his first race. At the Canadian trials in Windsor, Brannen seemed assured of winning a place on the team, but still had to make the Olympic "A+" qualifying time of 3:36.60. His Ann Arbor training partner and New Zealand Olympian Nick Willis offered to come to Windsor to play the "rabbit" and set a pace that would insure a qualifying time. Officials ruled, however, that the deadline for foreign entries had passed. Brannen finished second in the trials, one spot ahead of Sullivan, nearly two seconds over the qualifying mark. He appealed for an extension and was given two weeks to meet the Olympic standard. He more than met the test by running a personal best 3:34.65 in finishing 13th at the elite Golden Gala meet in Rome on July 12.
Strong performances over the summer, including a 3:50.66 second place finish in the mile at the Prefontaine Classic in Oregon, suggested Nick Willis had a real shot at making the 1500-meter finals in Beijing. That time made him the second fastest miler in New Zealand history, behind only former Olympic gold medallist John Walker. Willis also qualified for the 800-meter event.
All three U-M athletes made it through the first round at Beijing. In the semi-finals Sullivan placed 8th in his heat (3:40:30) and Brannen finished 9th in his heat (4:39:10). Willis ran a 3:37:54 race in Sullivan's heat to claim a spot in the finals. In the finals Willis stayed in the pack for most of the race, sitting in sixth place with 200m to go. In the stretch he kicked past three runners and held of a challenge at the line to finish in third place. In November 2009, gold medal winner Rashid Ranzi was disqualified for doping violations and Willis was advanced to the silver medal.
Stan Waithe, finished his U-M career by winning All-American honors as a member of the 4x400-meter relay team at the 2008 NCAA Championships. He topped that of by winning a spot on the Trinidad and Tobago 4x400-meter relay team. Waithe earned a spot on the team by winning the silver medal in the 400-meter dash at the Trinidad and Tobago National Championships on June 23. It wasn't until a few days later that it was determined the island's relay team would be among the sixteen invited to Beijing. Waithe was born in Trinidad and Tobago but the family emigrated to the U.S. when he was a toddler. Waithe ran the anchor leg as his team finished in 12th in the first round with a time of 3:04.12.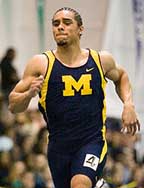 Adam Harris
Adam Harris, 2008 Big Ten Track Athlete of the Year, was one of four Olympians representing Guyana in Beijing. Harris's winning time of :20.75 in the 200-meter race at the Big Ten Championships met the Olympic "B" qualifying standard. He later ran a personal best :20.68 at the NCAA Mid east Regional. Harris won three Big Ten titles in 2008: 60-meters (indoor) 200-meters and 4x100-meter relay in leading Michigan to its first outdoor title since 1983. A native of Wheaton, Illinois, Harris was eligible for the Guyana team through his mother who was born in the South American nation. Harris ran a 21:36 qualifying race, finishing 6th in his heat.
Andrew Ellerton's 3rd place finish in the 800-meters would have been good enough to win a place on the Canadian team, but he did not meet the Olympic qualifying time of 1:45.24.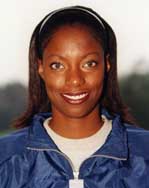 Nicole Forrester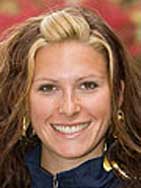 Anna Millard
Track-Women
Nicole Forrester, a three-time Big Ten Champion at U-M (1996-1999), set a Canadian Championship record in the high jump to win a trip to Beijing. Competing for the Mississauga Track Club, she clinched first place by clearing 1.91m on her second attempt but needed three jumps to make the 1.95m (6-4 3/4) Olympic qualifying standard. Forrester broke the Championship record that had stood since 1984. It was her third straight national title and sixth overall. In Beijing her 1.89m failed to qualify for the finals.
Two other U-M athletes competed in the Canadian trials. Nicole Edwards ran a personal best 4:07.34 to finish 3rd in the 1500-meter run at Windsor. It provisionally earned her a spot on the Canadian team, but was short of the Olympic qualifying "Double A" standard of 4.07.00. Courtney Babcock (U-M 1992-1996), who competed in the 1,500 and 5,000-meter events in Athens in 2004, finished 10th in 1500-meter trials.
Anna Willard came to U-M in 2007 for graduate school with one year of track eligibility left. She used it to win three Big Ten titles (1500-meter, 5000-meter and 3000-meter steeplechase) and an NCAA title (3000-meter steeplechase.) She set the NCAA record in the 3000-meter steeplechase and was part of NCAA record setting teams in the 4x800-meter and 4x500-meter relays. Willard added the American steeplechase record to her collection at the Olympic trials, taking first place in 9:27.59. Beijing was the Olympic debut for the women's steeplechase event. Willard placed 11th in the qualifying round and 1th in the finals. Her time of 9:20.63 bettered he own American record, but U.S. teammate Jennifer Barringer ran just a bit better, finishing 9th in 9:17.26.
Rowing
The rise of Michigan's Women's Rowing program was reflected in the four former Wolverines who earned a trip to Beijing. Ellen Tomekl represented the U.S. in the double sculls, and Heather Manodli and Janine Hanson competed for Canada. Tomek (U-M 2003-2006) started rowing with the Wolverine Novice program as a freshman and steadily progressed to a spot on the varsity eight and second team All-Big Ten honors as senior. Tomek and Megan Kaomoe captured first place a the U.S. Nationals Trial Selection Regatta #2 and then clinched a trip to Beijing by finishing fourth at the 2008 Rowing World Regatta in Lucerne, Switzerland. The pair placed third in the first heat and earned a spot in the repechage. They won their repechage round to gain a spot in the finals where they finished fifth.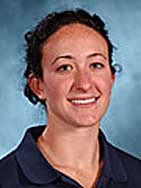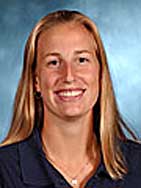 Ellen Tomek Heather Mandoli Janine Hanson
Heather Mandoli (U-M 2001-2004) raced with the Canadian eight. She was a three-year member of Michigan's first varsity eight, winning All-American honors in 2006 and the Big Ten Rower of the Year award in 2004. Her Canadian boat needed at least a second place finish at the 2008 FISA Final Olympic Qualification Regatta to get to Beijing. They finished first and then went on to win a third place medal at the 2008 Rowing World Cup in Lucerne. The Canadians finished third in the first round, won their repechage and placed 4th in the finals, less than a second out of a bronze medal.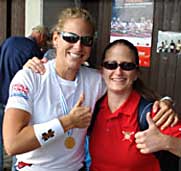 Brett Sickler and Lisa Hass at
2007 FISA World Championship
Janine Hanson (U-M 2003-2006) competed in quadruple scull in a boat that clinched an Olympic berth by placing fifth at the 2007 FISA World Championships. Hanson was a three year member of the Wolverine first varsity eight and won first team All-Big Ten honors in 2006. Her scull placed third in the peeing round, but failed to advance through the repechage round.
Brett Sickler (U-M 2002-2005) traveled to Beijing as an alternate for the U.S. rowing team. She was a member of the Team U.S.A.'s gold medal-winning eight in the 2006 and 2007 FISA World Championships. U-M athletic trainer Lisa Hass was a volunteer trainer for the U.S. Olympic team, focusing on rowers and triathletes. She was a veteran of international competitions, having served at four FISA World Championships and the 2007 Pan-American games.
For the second consecutive Olympiad an alum of the U-M Men's Rowing Club Team represented the United States. Matt Hughes joined the club as a walk-on in 2001 and went on to row with the varsity eight for three season. Hughes and Sam Stitt, guaranteed the U.S. spot in the 2008 Olympics by virtue of a ninth place finish in the double sculls at the 2007 World Rowing Championships. There was no guarantee, however, that they would be the competitors in Beijing. After helping the U.S. defeat world champion Poland in the quadruple scull at the 2008 World Cup stop in Lucerne, Hughes confirmed a spot on the U.S. team. In Beijing the U.S. finished third in the opening round, second in its semi-final round and fifth in the finals.
Ken Jurkowski, who served as a volunteer assistant coach for the U-M Rowing Club, competed in the single sculls for the U.S. He placed 4th in his opening heat, eventually placing 11th overall.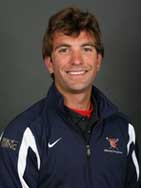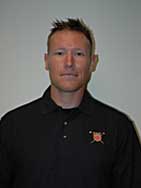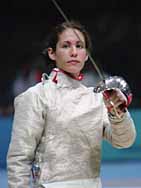 Matt Hughes Ken Jurkowski Sada Jacobson
Fencing
Sada Jacobson, a Yale graduate who enrolled in the Law School in the Fall of 2008, competed in the individual and team saber events. A two-time NCAA saber champion at Yale (2001 and 2002) Jacobson won a bronze medal in Athens, the first time the women's saber was an Olympic event. She added silver (individual) and bronze (team) medals to her collection in Beijing.
Baseball

Clayton Richard was named to the U.S. baseball team by coach Davey Johnson on July 16, but less than a week later he was called up to the majors by the Chicago White Sox and had to forego a trip to Beijing. The U.S. team is composed entirely of minor league players. Richard came to Michigan as a football player, seeing action at quarterback and winning a letter as a sophomore in 2004. He then switched his focus to baseball and played one season before signing with the Chicago White Sox as an eighth round draft pick. A southpaw, he was primarily a relief pitcher for Michigan, compiling an 0-1 record with 5 saves and a 2.43 ERA in 21 appearances.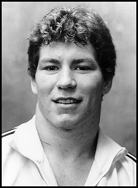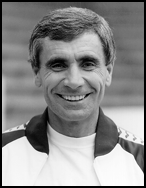 Steve Fraser Jon Urbanchek
Coaches
Michigan was once again well represented in the coaching ranks at Beijing. Steve Fraser, himself a gold medallist in 1984, coached the U.S. Greco-Roman wrestling team for the second time. Under his direction the U.S. program had moved into the top ranks in international competition. Former swimming coach Bob Bowman was an assistant coach for the U.S., and incoming head coach Mike Bottoms coached the Croatian squad. Former coach and recent International Swimming Hall of Fame inductee Jon Urbanchek made his eighth Olympic appearance as a special assistant for the U.S. team. Former track and cross country letterman Scott MacDonald (U-M 1993-1997) was manager for the Canadian track team.
Steve Ontiveros, pitcher for the U-M baseball team, 1980-1982,served as pitching coach for China's first Olympic baseball team. As host nation, the Chinese automatically qualified for the Beijing games.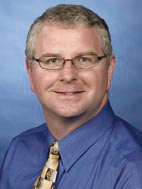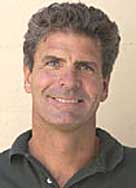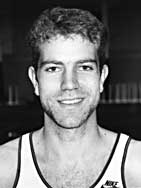 Bob Bowman Mike Bottom Scott MacDonald
Men's cross country and track coach Ron Warhurst watched three of his former athletes compete in the 1500-meter run and was in Beijing as a personal coach for Nick Willis and Nate Brannen. Bernice Orwig, assistant water polo coach at U-M 2001-2002 and a silver medal winner as goalie for the U.S. in 2004, served as a team leader on the U.S. Water Polo staff.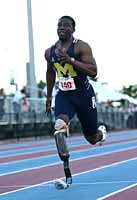 Singleton competing
at Ferry Field
Paralympics -- Track
Jerome Singleton had completed his degree requirements in math and applied physics at Morehouse College in Atlanta, so he transferred in to U-M to pick up a major in industrial engineering and get dual degrees from Morehouse and Michigan. He also squeezed in internships with NASA and at the CERN laboratories in Switzerland. Impressive enough, but then consider that Singleton was born without a fibula in his right leg and, at 18 months old, had the leg amputated below the knee. Still, the Irmo, South Carolina native won spots on his high school varsity football and track teams, played two years of jv basketball and participated in track for three years at the college level.
Singleton began making a name for himself in Paralympic circles in 2007 when he won the bronze medal in the 100m (T44) and silver in the 200m (T44) at the Parapan American Games in Rio de Janero, Brazil. In the Beijing Paralympic Games he finished second to Oscar Pistorius, the famous "Blade Runner" from South Africa. Singleton did get his gold medal as part of the U.S. 4x100 relay team.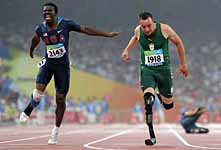 "Blade Runner" Oscar Pistorius
edges Jerome Singleton (left) in
100m finals in Beijing
Entering the January 2011 IPC Athletics World Championships in New Zealand, Pistorius had not lost a 100 meter race since 2004. His streak ended in Christchurch, however, and Jerome Singleton could claim the title of "World's Fastest Amputee" and in the process, set up a much anticipated rematch in London in 2012.
View the 100m race on youtube.
---
The U-M Results - 2008 - Beijing
Peter Vanderkaay
400m freestyle
4th, 3:43.11
200m freestyle
3rd, 1:45.14, (1st in preliminary heat, 1:45.76)
1500m freestyle
4th in heat, 14:52.11, did not advance
4x200m freestyle relay
1st, 6:58.56, world record, PVK swam anchor leg in 1:44.68, first team to break 7-minute barrier
Michael Phelps
200m ind. medley
1st, :53.23, world record
400m ind. medley
1st, 4:03.84, world record
200m freestyle
1st, 1:42.96, world record
100m butterfly
1st, 50.8, won by .01 seconds; 1st in heat, 50.87
200m butterfly
1st, 1:52.03, new world record, breaking his own mark by .06 seconds; 1st in preliminary heat, 1:53.70, breaking his Olympic record set in Athens
4x100m free. relay
1st, 3:08.24, world record, Phelps swam opening leg in 47.51
4x200m free. relay
1st, 6:58.56, world record by 4.68 seconds. Phelps swam first leg in 1:43.31
4x100m medley relay
1st, 3:29.34, world record
Scott Spann
200m breaststroke
6th, 2:09.76 ; 2nd in semifinal, 2:09.08; 2nd in preliminary, 2:10.61
Andrew Hurd (Canada)
4x200m freestyle relay
5th, 7:05.35, Hurd swam anchor leg in 1:46.85; 3rd in heat, 7:08.04
Alon Mandel (Israel)
200m butterfly
4th in qualifying heat, 1:59.27, did not advance
Derya Buyukuncu (Turkey)
100m backstroke
7th in qualifying heat, 55.43, did not advance
200m backstroke
4th in qualifying heat, 1:59.86, did not advance
Natasha Moodie (Jamaica)
50m freestyle
5th in qualifying heat, 25:95
Valeria Silva (Peru)
100m breaststroke
2nd in qualifying heat, 1:11.64, did not advance (38th place overall)
Betsey Armstrong
water polo - goalkeeper

2nd
U.S. 12-China 11, 7 saves
U.S. 9-Italy 9, 10 saves
U.S. 12-Russia 7, 10 saves
U.S. 9-Australia 8, 8 saves (semifinals)
U.S. 8-Netherlands 9, 14 saves (final)


Andy Hrovat
freestyle wrestling - 84 kg class
lost to Reneirs Salas of Cuba, 3-0, 1-3, 2-2
Kevin Sullivan (Canada)
track - 1500m
9th in semifinal heat, 3:40.30
5th in preliminary heat 4, 3:36.05 (7th overall)
track - 50000m
11th in heat, 14:09.16, did not advance
Nick Willis (New Zealand)
track - 1500m
2nd, 3:34.16 (Willis was moved up to silver from bronze when
the gold medal winner was disqualified for doping)
5th in semifinal heat, 3:37.54
2nd in preliminary heat 1, 3:36.01 (6th overall)
track - 800m
did not compete
Nate Brannen (Canada)
track - 1500m
9th in semifinal heat, 3:39.10
2nd in preliminary heat 2, 3:41.45 (28th overall)
Stan Waithe (Trinidad and Tobago)
track - 4x400m relay
5th in heat, 3:03.4, did not advance, Waithe ran anchor leg
Adam Harris (Guyana)
track - 200m
6th in heat, 21.36, did not advance
Nicole Forrester (Canada)
track - high jump
11th, Group B qualification round, 1.89m (6-2 1/4)
Anna Willard
track - 3000m steeplechase
10th in finals, 9:25.63
6th in heat, 9:28.52, advance to finals (11th best time of 15 qualifiers)
Heather Mandoli (Canada)
rowing - eight
1st in repechage heat 1, 6:10.50
3rd in heat, moves to repechage round
Janine Hanson (Canada)
rowing - quadruple scull

2nd in "B" finals, 6:28.78
5th in semi-final, 6:46.50, advances to "B" final;
3rd in preliminary heat, 6:23.27

Ellen Tomek
rowing - double sculls
5th in finals; 7:17.52
1st in repechage heat 2, 6:58.84, advanced to finals
3rd in qualifying heat, 7:11.17, move to repechage round,
Brett Sickler
rowing - alternate
did not compete
Matt Hughes
rowing - quadruple sculls
5th in finals, 5:47.64
2nd in semifinal A/B, 5:52.81
3rd in preliminary heat, 5:55.77, moves to repechage round
Ken Jurkowski
rowing - single sculls

5th in "B" finals, 7:22.75 (11th overall)
5th in semifinal heat 2, 7:11.52
3rd in quarterfinal heat, 6:53.26
4th in preliminary heat, 7:25:13;

Sada Jacobson
fencing - ind. saber
2nd
fencing - team saber
3rd
Jerome Singleton -- Paralympics Track
100 meters
2nd
4x100 relay
1st
Steve Fraser
Greco-Roman Wrestling, head coach
Bob Bowman
Swimming, Assistant coach
Jon Urbanchek
Swimming - special assistant coach
Mike Bottom
Swimming Coach for Croatia
Scott MacDonald (Canada)
track, team manager
Steve Ontiveros (China)
baseball - pitching coach
---
Table of Contents | 2006-Torino | 2010-Vancouver | Name Index