Michigan in the Olympics

2012 - London


Michael Phelps
The University of Michigan will be represented by twenty-23 athletes at the London Olympic games, competing in eight sports for eight national teams. Michael Phelps will be defending gold medals; Nick Willis and Betsey Armstrong will be attempting to move up from silver to gold; and paralympian runner Michael Singleton will be doing both, defending a gold in the 4x100 relay and trying to capture the 100 meter title. This year's Olympic contingent also features U-M's first U.S. male gymnast, first women's basketball player and a married couple of former NCAA hurdles champions competing for the U.S. and Great Britain.
Michael Phelps won't be repeating his eight gold medal performance from 2008 in Beijing. Phelps, who was a volunteer assistant coach at Michigan while training for the 2008 games, will only be competing in seven in events in London, and may not be the odds-on favorite in all of them. Phelps won the 200m freestyle at the U.S. trials but elected to forego the event in London. He needs just three medals to become the top all-time Olympic medals winner.
Peter Vanderkaay (U-M 2002-2006) made his third Olympic team by winning the 400-meter freestyle at the U.S. trials. That will be his only individual event this year as he finished fourth in the 1,500 meters and just missed the finals in the 200-meter freestyle.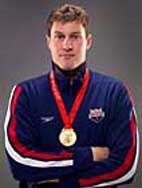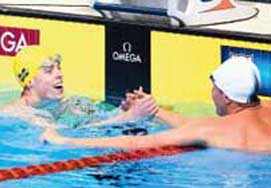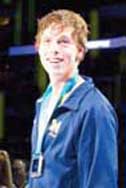 Peter Vanderkaay; Connor Jaeger and PVK after 1500 finals; Connor Jaeger
Current U-M swimmer Connor Jaeger took over Vanderkaay's spot in the 1,500 meter race. He earned a trip to London with time of 14:52.42, .32 seconds behind winner Andrew Gemmel. Charlie Hourchin (U-M 2007-2010) and Davis Tarwater (U-M 2003-2006) both qualified for 4x200 meter freestyle relay. Hourchin qualified by placing 6th in the finals. Tarwater finished 7th, but made the team when first place finisher Michael Phelps decided not to compete in the 200-meter race in London.
Tyler Clary (U-M 2008-2010) insured the 200-meter butterfly would be an all-Michigan event for the U.S. Michael Phelps won the trials by a comfortable margin while Clary held off Bobby Bolleir and U-M teammate Davis Tarwater to claim second place. Clary also made the team in the 200-meter backstroke, finishing second behind Ryan Lochte.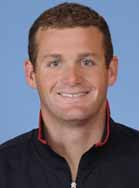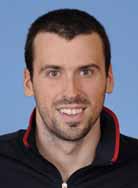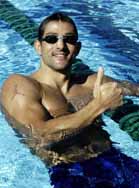 Tyler Clary, Davis Tarwater, Derya Buyukuncu
Derya Buyukunccu was a late qualifier for Turkey in the 200-meter backstroke, making him the first U-M athlete to compete in six Olympic games (1992, 1996, 2000, 2004, 2008, 2012).
Anders Lie Neilsen, who would enroll at U-M in 2013, swam on Denmark's 800-meter freestyle realy team.
Track and Field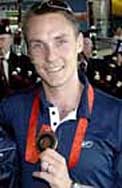 Nick Willis with Beijing
bronze medal that
was later upgraded
to silver.
For the third consecutive Olympics U-M will have multiple representatives in the men's 1500-meter race and one in the women's 1500 for the first time since 1972. Beijing silver medalist Nick Willis will run for New Zealand again and Nate Brannen will be making his second appearance for Canada.
Willis, who trains with former U-M coach Ron Warhurst at the running Institute in Ann Arbor, was one of the first four athletes selected for New Zealand's team. He prepped for the London games with a 7th place finish in the Prefontaine Classic in a field that included most of the world's top milers.
Nate Brannen won the Canadian trials with a time of 3:49.22 and had earlier made the Olympic qualifying time with a 3:34.22 at the Victoria Tack Classic. He also finished second in the 800-meter race at the Canadian trials but did not make the Olympic qualifying time. Ciaran O'Lionaird of County Cork, who lettered at U-M in 2008-2009 before transferring to Florida State, will also be in the 1500 meter race, running for Ireland.
London will be the third consecutive Olympiad in which at least three U-M athletes qualified for the 1,500 meter race.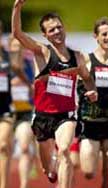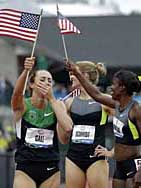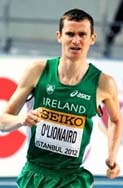 Left: Nate Brannen winning the 1500-meter race at Canadian trials
Nicole Sifuentes placed 3rd at the Canadian trials to win an Olympic berth
Geena Gall (at left) and U.S. 800-meter qualifiers celebrate at U.S. trials
Right: Ciarin O'Lionarid of Ireland ran for U-M 2007-2009
Nlcole (Edwards) Sifuentes (U-M 2005-2008) met the Olympic qualifying time with a 4:04.74 at the USATF meet in San Diego in (U-M's Anna (Willard) Pierce in second place also made the "A" time). At the Canadian trials she needed only a third place finish to earn a trip to London. Running a tactical race, Sifuentes, got what she needed, finishing in third place, .48 seconds behind the winner in a relatively slow time of 4:13.94. Sifuentes, who trains with U-M coach Mike McGuire, is U-M's first 1500-meter runner since Francie Kraker ran for the U.S. in the inaugural women's race in 1972.
Geena Gall, NCAA 800-meter champion in 2008 and 2009, finished second in the U.S. trials and made the Olympic qualifying mark with a time 1:59.24. Gall is U-M's first 800-meter competitor since Kraker in 1968.
Tiffany (Ofili) Porter, a four-time NCAA champion in the 50 and 100-meter hurdles in 2008 and 2009, elected to go across the pond to gain an Olympic berth. The Ypsilanti native's mother is British and her father Nigerian and under IOC standards that made her eligible to compete for Britain. Porter has some of the the fastest times in the world this year, but her spot on the British team has caused some controversy in England. After finishing second in the European championships she was asked "so do you feel British now?" Tiffany's response was "I've always felt that I was British, American and Nigerian." Having her husband in London on the U.S. team may help her weather any controversy.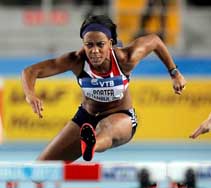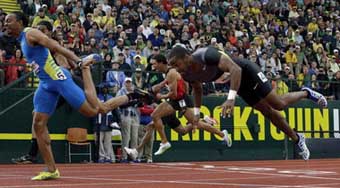 Tiffany Porter at the European Championships in Istanbul in March, 2012
Jeff Porter diving to a third place finish at the U.S. trials.
Jeff Porter (UM 2004-2007) won the NCAA Indoor 60-meter indoor hurdles in 2007. Coming in to the U.S. trials Porter was considered to be in the middle of the pack of a strong field of hurdlers. With a personal best of 13:26, he was longshot to make the team. Porter ran a 13.19 in the semi-finals and then, with a dive across the finish line, posted a 13.08 to capture third place.
Uhunoma Osazuwa, a third-year doctoral student in College of Pharmacy, will be competing in heptathlon for Nigeria. Born in California to Nigerian immigrant parents, Osazuwa competed for Syracuse, 2007-2010, where she was a Big East Champion and NCAA All-American in the heptathlon.
Rowing
U-M will have two participants in both women's and men's rowing. Janine Hanson (U-M 2003-2006) made the Canadian team for the second time, competing in the women's eight. Sarah Trowbridge (U-M 2003-2007) has been competing with the U.S. National Team for four years. Sarah and her doubles partner Margot Shumwway (an Ohio State grad) thought their Olympic dreams might be over after a third place finish in U.S. trials this Spring. The two top double teams, however, decided to combine and compete as a quad, opening the door for Trowbridge and Shumway. A gold medal performance at the final Olympic Qualifying Regatta at Lucerne on May 23rd guaranteed their ticket to London.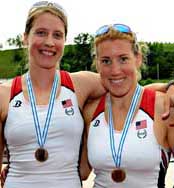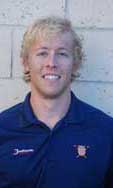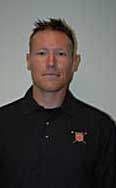 From Left: Janine Hanson; Margot Shumway and Sarah Trowbridge after their win in the Olympic Qualifying race in Lucerne, Tom Peszek, Ken Jurkowski
Tom Peszek rowed with U-M Men's Rowing Club and has been with the U.S. national team for three year. He will team with Silas Stafford in the men's pairs in London. Earlier in the year Peszek and Stafford were the last rowers cut from "eights" training camp and immediately decided to try for the pairs Olympic spot. The pairs event will kickoff the Olympic competition on July 28th. Ken Jurkowski a former volunteer with the U-N Rowing Club will be making his second Olympic appearance in the single sculls event.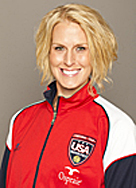 Betsey Armstrong
Water Polo
Betsey Armstrong (U-M 2002-2005) won a silver medal as goalie for the U.S. team in Beijing. She kept the U.S. team alive in 2012 with 13 saves in a marathon win over Canada in last Fall's Pan American games. The U.S. overcame a three-goal half-time deficit to force overtime and Armstrong blocked a penalty shot in the final seconds to secure the Olympic qualifying win. The U.S is the only country to have won a medal in all three Olympic water polo competitions, but has never won the gold--twice losing gold medal games in the final seconds. Armstrong hopes the win over Canada will remove any doubts that the U.S. can't win the big ones.
Gymnastics
After producing seven Olympic men's gymnasts for Canada under Newt Loken, U-M can now claim its first U.S. Olympian and a Bangladeshi as well. 2011 NCAA All-Around champion Sam Mikulak won a bronze medal in the U.S. nationals and won all-around competition on the first day at the Olympic trials. A severe ankle sprain suffered when he laded short on his vault in the all-around threatens to derail his Olympic hopes when he had to scratch in all events except the pommel horse on the second day of the trials. The top two finishers in the trials, Danell Leyva and John Orozco, automatically qualified for the U.S team with the remaining three to be selected by officials based on performances in the nationals and Olympic trials and other factors. When Mikulak's name was the third called by officials on the day after the competition ended, his Olympic dream was restored.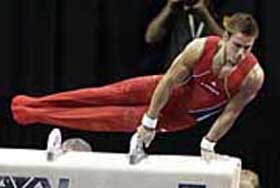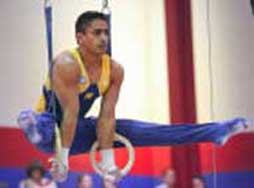 Sam Mikulak on pommel horse at U.S. trials, Syque Ceasar will compete for Bangladesh
Syque Ceasar, son of immigrants from Bangladesh, was part of U-M's national championship team in 2011 and made a splash in international competition by winning a gold medal in parallel bars at the 2011 Central Asian Artistic Gymnastic Championships--Bangladesh's first gold medal in international competition. After completing his U-M career in the Spring of 2012 Ceasar received an invitation to represent Bangladesh in London. Bangladesh is the most populous nation not to have won an Olympic medal. Ceasar is sanguine about his chances to change that, but is proud to represent his family's ancestral homeland. As he told the BBC, "I just want to go out there and hit my routines. As long as I do my best, then I'll be very happy."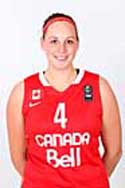 Women's Basketball
Krista Philips (UM-2007-2010) scored another first for U-M when she made the Canadian women's basketball team. Philips is U-M's all-time leader in games played and ranks 19th in career scoring and 8th in rebounds. She played professional ball for the Dangdengon Rannal team in Australia in 2011/12 has been on the Canadian national team for five years. Philips scored 9 points and had a game-high 9 rebounds in Canada's 71-63 win over Japan that secured the last available Olympic spot at the FIBA World Olympic Qualifying Tournament. This will be Canada's first Olympic appearance in 12 years.
Paralymics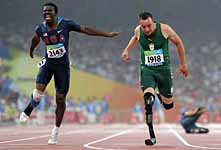 Pistorius edges Singleton for the
100m gold medal in Beijing
Beijing 100m race on youtube.
Former engineering student Jerome Singleton will face South Africa's Oscar "The Blade Runner" Pistorius in a much anticipated rematch of the 100-meter race in Beijing. Pistorius won the gold medal from Beijing, but Singleton broke through at the January 2011 IPC Athletics World Championships in New Zealand. Entering the meet, Pistorius had not lost a 100-meter race since 2004. His streak ended in Christchurch, however, and Jerome Singleton could claim the title of "World's Fastest Amputee."
Jerome Singleton had completed his degree requirements in math and applied physics at Morehouse College in Atlanta, so he transferred in to U-M to pick up a major in industrial engineering and get dual degrees from Morehouse and Michigan. He had also squeezed in internships with NASA and at the CERN laboratories in Switzerland. Impressive enough, but then consider that Singleton was born without a fibula in his right leg and, at 18 months old, had the leg amputated below the knee. Still, the Irmo, South Carolina native won spots on his high school varsity football and track teams, played two years of jv basketball and participated in track for three years at the college level.
Coaches
Five current or former Wolverine swimming coaches will in London working for four different countries. Current head coach Mike Bottom will be head coach for the cybernetics which includes Milor Cavic, silver medalist in the 50-memter freestyle in Beijing who swam for Bottom at the University of California. U-M assistant coaches D r. Josh White and Mark Hill will be coaching for Barbados and Ireland respectively. Former coaches Bob Bowman and Jon Urbanchek will serve as special assistant coaches for the United States team.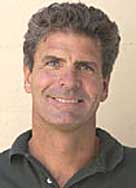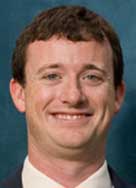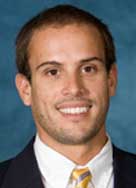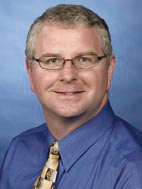 Mike Bottom, Dr. Josh White, Mark Hill, Bob Barrowman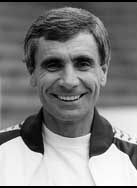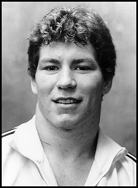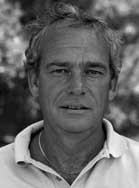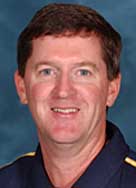 Jon Urbanchek, Steve Fraser, Ron Warhurst, Mike McGuire
Steve Fraser, who was a two-time wrestling All-American for U-M and won an Olympic gold medal in 1984, will be coaching the U.S. Greco-Roman wrestling team for the third time.
Five U-M coaches will be traveling to London in unofficial capacities as coaches/trainers for U-M Olympians. Former head track coach Ron Warhurst will be serving as Nick Willis' personal coach and women's cross country coach Mike McGruire has been training Canadian 1500-meter runner Nicole Sifuentes. Gymnastics head coach Kurt Golder and assistant coach Geoff Corrigan will be assisting Sam Mikulak and Syque Ceasar. Women's track volunteer assistant coach Arnett Chisholm has been coaching U-M sprinters and hurdlers for 21 years. He'll be working with both of the Porters in London.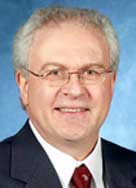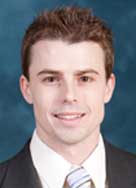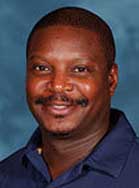 Kurt Golder, Geoff Corrigan, Arnett Chisholm
---
The U-M Results - 2008 - Beijing
Peter Vanderkaay (U.S.)
400m freestyle
3rd, bronze, (3:44.69)
Michael Phelps (U.S.)
200m ind. medley
gold, 1st (1:54.27)
400m ind. medley
4th, (4:09.28)
200m freestyle
(qualified for event but did not compete)
100m butterfly
gold, 1st, (51.21)
200m butterfly
silver, 2nd (1:53.01)
4x100m free. relay
silver, 2nd (3:10.38)
4x200m free. relay
gold, 1st (6:59.70)
4x100m medley relay
gold, 1st (3:2935)
Tyler Clary (U.S.)
200m butterfly
5th, (1:55.06)
200m backstroke
gold 1st (1:53.41)
Charley Hourchin (U.S.)
4x200m relay
gold (1st in prelim heat, 7.06.75)
Davis Tarwater (U.S.)
4x200m relay
gold (1st in prelim heat, 7.06.75)
Connor Jaeger (U.S.)
1,500m freestyle
6th (14.52.99)
Derya Buyukuncu (Turkey)
200m backstroke
finished fist in his heat at 2:07.68 but did not advance to semifinals
Anders Lie Neilsen (Denmark)
4x200m freestyle relay
finished seventh in qualifying heat, did not advance.
Betsey Armstrong (U.S.)
water polo - goalkeeper
gold, 1st place
Preliminary - Group A
v. Hungary, W, 14-13 (6 saves)
v. Spain, T, 9-9 (9 saves)
v. China, W, 7-8 (6 saves)
Quarterfinals
v. Italy, W 9-3 (13 saves)
Semifinals
Australia, W. 11-9 OT, (10 saves)
Finals
v. Spain, W, 8-5 (6 saves)
Nick Willis (New Zealand)
track - 1500m
9th in finals (3:36.94)
3rd in heat 2 of semifinals (3:34:70) 1st in prelim heat 3 (3:40.93)
Nate Brannen (Canada)
track - 1500m
12th in heat 2 semifinals (3:39.26) 5th in prelim heat 2 (3:39.95)
Jeff Porter (U.S.)
track 110m hurdles
5th in semifinals (14.41) 3rd in prelim heat 4 (13.53)
Ciaran O'Lionaird (Ireland)
track 1,5000 meters
13th in prelim heat 5 (3:48.35)
Tiffany Ofili Porter (Great Britain)
track - 100m high hurdles
4th in heat 2 semifinals (12.79)
3rd in heat of 1st round (12.79)
Geena Gall (U.S.)
track - 800m
8th in semifinals heat 3 (2:05.76)
4th in heat 4 of first round (2:03.65)

Nicole Edwards Sifuentes (Canada)
track - 1500m
11th in heat 2 of semifinals (4:06.33)
7th in heat 3 of first round (4:07.65)
Uhunoma Isazuwa (Nigeria)
track heptathlon
110m hurdles, :13.48 (1,056 pts)
high jump, 1.77m (941 pts)
shot put, 12.77m (712 pts)
long jump. 5.74m (922 pts)
javelin, did not start
800m run, did not stat
Total: Did not Finish urklowski
Sarah Trowbridge (U.S.)
rowing - double sculls
6th (7:10.54)
Janine Hanson (Canada)
rowing - eight
silver, 2nd (6:12.06)
Tom Peszek (U.S.)
rowing - men's pair
4th in heat (6:26.59) (did not advance)
Ken Jurkowski (U.S.)
rowing - single sculls
24th
San Mikulak (U.S.)
gymnastics -- all-around
5th in vault in individual event finals
Qualifying round Subdivison 2 -- 4th in vault (16.300) to advance to individual event finals; 12h in floor exercise (15.366), 13th in parallel bars (15.316), 20th on pommel horse (14.333) and 43rd on high bar (14;333). Team USA placed first to qualify for the team finals.
Syque Ceasar (Bangladesh)
gymnastics -- all-around
Qualifying round Subdivision 2 -- 13th in parallel bars, 29th in floor exercise, 50th on high bar (did not qualify for individual event competition)
Krista Philips (Canada)
Women's Basketball
Preliminary Group B
1st game: v Russia, L, 53-58, (4 pts, 3 reb)
2nd game: v. Gt Britain, W, 73-65 (6 pts, 4 reb)
3rd game: v. France, L, 60-64 (4 pts, 7 reb)
Jerome Singleton -- Paralympics Track
100 meters
5th
4x100 relay
6th
Steve Fraser
Greco-Roman Wrestling, head coach
Mike Bottom
Swimming Coach for Serbia
Dr. Josh White (U-M assistant coach)
Swimming Coach for Barbados
Mark Hill (U-M volunteer assistant coach)
Swimming Coach for Ireland
---
Table of Contents | 2010-Vancouver | 2014-Sochi | Name Index