Michigan in the Olympics

2014 - Sochi
<! -- BEGIN TEXT -- >
Michigan will be represented by eight athletes representing the United States, Canada, Sweden and Austria. Former Wolverine hockey players Carl Hagelin (Sweden), Brian Lebler (Austria) and Max Pacioretty (United States) will be making their Olympic debuts. 2010 silver medalists Meryl Davie and Charlie White lead a U.S. dancing team that has five Wolverines among it six members. Evan Bates, also appearing in his second Olympics, will be skating with new partner Madison Chock, the lone U.S. dancer without a U-M connection. Siblings Alex and Maia Shibutani are making their Olympic debut.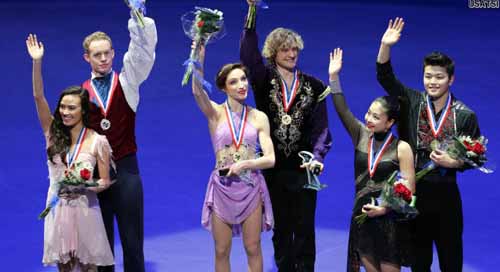 Madison Chock and Evan Bates (2nd), Meryl Davis and Charlie White (1st) and
Maia and Alex Shibutani (3rd) earned their Olympic berths at the U.S. National Championships in January 11th at the TD Garden In Boston.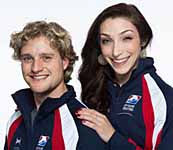 Davis and White enter the Sochi competition as co-favorites with their Canton training partners Tessa Virtue and Scott Moir of Canada. They won their sixth straight national title in 2014 and were the first American team to win the world title in 2011 and repeated in 2013. Both are juniors at U-M who have put their academic careers on hold on occasion to meet the rigors of international competition.
Davis and White will also compete in the Team skating event being held for the first time at Sochi.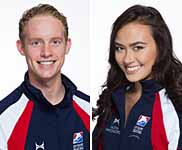 Evan Bates is making his second Olympic appearance. He placed 11qth in Vancouver with fellow U-M student Emily Samuelson In September 2010 Bates suffered a severe injury when his Achilles tendon was lacerated by Samuelson's blade coming down from a lift during training. After missing the entire 2010-11 season, the par Split in June of 2011. Bates began skating with Madison Chock in July 2011. They placed 4th at the 2012 U.S. International Classic, and at the 2013 U.S. Nationals. IN 2013 they were silver medalists at the U.S. Nationals, finished 7th at the World Championships and then helped the U.S. win the 2013 World Team Trophy. Bates got his U-M in December, earning a degree in in organizational studies.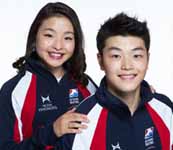 U-M's Shibutani siblings, freshman Maia and sophomore Alex, grew up in Massachusetts where Alex started skating at age seven and Maia at age four. They began competing in in ice dancing in 2004. The family moved to Colorado to train from 2005-2007. As Alex began to consider college and skating options, the combination of The Arctic Edge in Canton and U-M seemed a natural. The family moved to Ann Arbor in 2007 and began training with Igor Shpilband and Marina Zueva, who also trained Meryl Davis and Charlie White. Both of the "ShIb Sibs" are graduates of Ann Arbor Huron High.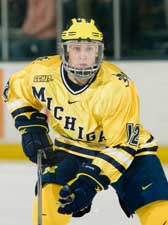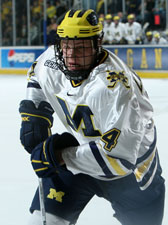 Max Pacioretty - USA Carl Hagelin - Sweden Brian Lebler - Austria
Michigan's three 2014 hockey Olympians were teammates on the 2007-08 squad that posted 34-5-4 record, won the CCHA title and advanced to the NCAA Frozen Four. The Wolverines were the #1 seed in the NCAA tourney but lost to Notre Dame in a semi-final game. Hagelin and Pacioretty were freshmen and Lebler was a sophomore, all three played forward. Pacioretty was named CCHA Freshman of the year but played only one season in Ann Arbor, signing with Montreal Canadiens. He has spent all or parts of six seasons in the NHL, tallying 68 goals and 85 assists through the 2013 season.
Hagelin, a native of Sodertalje, Sweden, played four seasons with the Wolverines, 2007-08 to 2010-11. He was the first Swede to play hockey for U-M. He was U-M's co-captain and leading scorer on the 2010-11 team that finished second in the NCAA tournament. In his senior year Hagelin won the Hal Downes MVP award, a fourth Academic All-Conference honor and was awarded the U-M's Big Ten Conference Medal of Honor. Hagelin played for Sweden in the 2008 World Junior Cup Championships, winning a silver medal. He signed with the New York Rangers and through 2013 had played in 113 NHL games, scoring 24 goals and 38 assists.
Brian Lebler is a native of Penticton, British Columbia, but has both Canadian and Austrian citizenship. He played for U-M 2006-07 to 2009-10, finishing his career with 33 goals and 29 assists. He has played three seasons with Linz EHC on the Austrian Hockey League and is currently leading his team in scoring.
<! -- END TEXT -- >
---
<! -- BEGIN UM RESULTS -- >
The U-M Results - 2010
Max Pacioretty
Ice Hockey
Carl Hagelin (Sweden)
Ice Hockey
Brain Leibler (Austria)
Ice Hockey
Meryl Davis and Charlie White
Ice Dancing
gold, 1st, 195.2
Skating Team Event
bronze, 3rd
Madison Chock and Evan Bates
Ice Dancing
8th, 164.4
Maia and Alex Shibutani
Ice Dancing
9th, 155.7
<! -- END UM RESULTS -- >
---
<! -- BEGIN CREDITS ETC -- >
Table of Contents| 2012 - London | 2016 - Rio De Janeiro | Name Index