Michigan in the Olympics

2016 - Rio De Janeiro
---
Twenty-five athletes with U-M ties, representing ten countries in seven sports, will be competing in the 2016 Olympic Games in Rio de Janeiro. Swimmer Michael Phelps will compete in his 5th Olympics, track men Nick Willis and Nate Brannen will run the 1500 meters for the 4th and 3rd times, two pairs of Wolverine siblings will make the trip to Rio, and U-M will have its first Olympic soccer player and a sailor for the first time since the 1948 games.
Sailing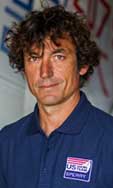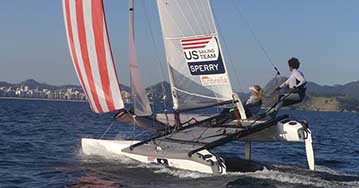 Bora Gulari was born in Istanbul, Turkey and grew up in Detroit, but U-M has been a big part of his life. His father, Erdogan Gulari, is Donald B. Katz Professor of Chemical Engineering and his mother teaches at Wayne State. Gulari received a degree in Aerospace Engineering in 2001 and began sailing dinghies with the U-M Sailing Club at Baseline Lake. Perfecting his racing skills on the Detroit River, he has been called "the greatest sailor of his generation." Gulari was world champion in the Moth class in 2009 and 2013, and was named Rolex Yachtsman of the Year in 2009. In Rio, Bora will team with Louisa Chaffee in the new NACRA 17 class, a double hulled boat class that is expected to be the fastest in Olympics. Gulari started sailing the NACRA 17 just over a year ago. Chaffee who was an all-American sailor at Brown, has been sailing the boat since 2014. Despite their short time together Gulari and Chaffee have put up some good times and have high hopes for a medal.
U-M's only other Olympic sailor was Ralph Craig who was an alternate in the 1948 yachting team. He was also a double gold medal winner in the 100 and 200 meter dashes in 1912. Craig's 1948 teammates gave him the honor of carrying the U.S. flag in the opening ceremony.
Swimming


Michael Phelps
Michael Phelps, the all-time Olympic medal winner (22 total, 18 gold) will compete in three individual events in Rio and likely one or more relays. He was selected as one of three co-captains for the U.S. men's team. Phelps served as volunteer assistant coach for the Wolverines while training with then U-M head coach Bob Bowman, 2005-2008. He had turned professional after the 2004 games and was not eligible to compete for U-M. Phelps had said 2012 would be his last Olympics and some poor performances and a suspension for substance abuse seemed to put Rio out of the picture. However, a stint in rehab and the birth of a son brought a renewed dedication and sense of leadership that was rewarded by teammates with his first selection as captain. Phelps has also been awarded the honor of carrying the U.S. flag in the opening ceremony.
Connor Jaeger (U-M 2011-2014) hopes to challenge for a gold medal in the 1500m freestyle after placing 6th in the event in 2012. He won both the 1500 and 400 meters at the U.S. trials and set an American record in capturing the silver medal at the 2015 World Championships. Jaeger was a three-time NCAA Champion while competing for U-M.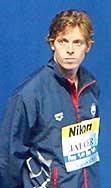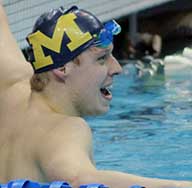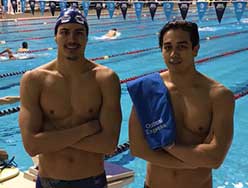 Connor Jaeger at 2016 World Championships, Anders Lie Nielsen at finish of NCAA 4x200m relay, Bruno and Miguel Ortiz.
Anders Lie Nielsen will make his second Olympic appearance as a member of Denmark's 4x200m freestyle relay team. He was a 10-time All-American on U-M relay teams 2013-2016. Nielsen anchored Denmark's team that finished in 13th place in 2012 and with his current teammates set a Danish national record at the 2015 World Championships.
The Ortiz brothers, Miguel (U-M 2010-2013) and Bruno (U-M 2012-2015), swam together on U-M's 2013 NCAA Champion 200-yard medley relay team and won 24 all-American honors between them. They were born in Madrid to a Spanish, international entrepreneur father and Japanese/Brazilian model mother. They grew up in Tokyo and attended the English speaking St. Mary's International School. Miguel accepted a late scholarship offer from U-M without ever meeting coach Bottom in person, partly on the advice of his younger brother Bruno who had attended a camp at Michigan. Miguel may not have been highly recruited, but good coaching and facilities and hard work transformed him from a run-of-the mill freshman to an NCAA champion and Olympian. Bruno followed Miguel to Ann Arbor and outdid him with 16-all-American honors and 16 Big Ten titles. Both brothers always looked to Spain as their home for international competition and were members of Spain's 2015 World Cup team. They were added to the Spanish Olympic team after the national trials and will be swimming the 400m freestyle relay.
Dylan Bosch (U-M 2013-2016) won the 2014 NCAA 200-yard butterfly title and 13 all-American citations and was the first man to win four Big Ten 200-yard butterfly titles. A native of Johannesburg, Bosch will be competing for South Africa in the 4x200 relay.
Incoming freshman Felix Auböck will represent Austria in the 200, 400 and 1500 meter freestyle events.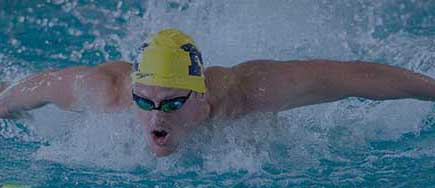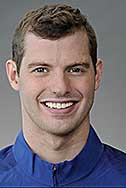 Dylan Bosch, South Africa, Sean Ryan, U.S.
Sean Ryan (U-M 2011-2014) will be U-M's first ever competitor in an open water event. He earned a spot on the U.S. team with a 4th place finish in the 10K race at the 2015 World Championships. Ryan was a 5-time all-American for U-M in freestyle distance events and relays. Ryan and U.S. teammate Jordan Wilimovsky, who won the 2015 World Championships, hope to become the first U.S. men to medal in the race since the 10K became an Olympic event in 2008.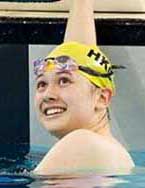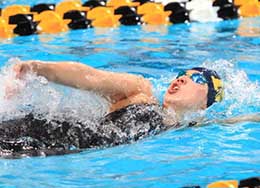 left: Siobhán Haughey, center and right: Claudia Lau
Freshman Siobhán Haughey of Hong Kong, a five time Big Ten Champion and Swimmer of the Championship in 2016, had secured a trip to Rio even before arriving in Ann Arbor. At the World Championships in Kazan, Russia, last August, Haughey posted a time of 2:13.07 in the 200m individual medley to meet the Olympic standard. Haughey led U-M women's team to its first conference title since 2004.
U-M alum Claudia Lau (2012-2015) will also be representing Hong Kong in Rio. She met the Olympic standard and set a Hong Kong record in 200m backstroke with a time of 2:09:33 at the Division 1 Age Group Long Course Competition on July 2nd. Lau was captain of the 2014/15 U-M team.
Track and Field
For the 5th consecutive Olympiad U-M will be represented in the men's 1500m race. New Zealand's Nick Willis (U-M 2002-2004) has been in four of them. After a 6th place finish at the 2015 World Championship he is hoping to match or better the silver medal he won in Beijing in 2008. For the first time three New Zealanders have qualified for the 1500m.
Nate Brannen (U-M 2002-2005) will be in his third Olympic 1500m and is also hoping to get past a disappointing London experience. He was running well in in the semi-final when he clipped the heel of a runner ahead of him, fell, and got spiked. He finished the race with a bleeding leg but was out of the medal chase. Now coaching high school cross country in Lakewood, Ohio while training for Rio, Brannen easily met the 2016 qualifying standard and just had to finish in the top two at the Canadian trials to win a guaranteed Olympic berth. In a relatively slow paced final race, Brannen admitted he had not positioned himself well and finished .11 seconds out of second place. He was later awarded a discretionary spot on the Canadian team and will get one more chance to make an Olympic final.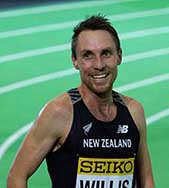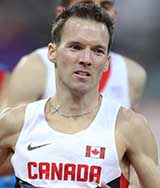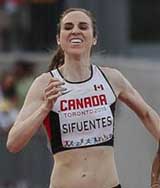 Nick Willis, New Zealand Nate Brannen, Canada Nicole Sifuentes. Canada
Nicole Edwards Sifuentes (U-M 2006-2009) did guarantee her second trip to the Olympics with a second place finish in the 1500m at the Edmonton trials. She had earlier met the Olympic qualifying time and notched a personal best 4:03.97 in June. Sifuentes trains with U-M Women's Cross Country coach Mike McGuire who will be in Rio as her personal coach.
The high hurdles competition will have Michigan family flavor. Tiffany Ofili Porter (U-M 2006-2009) and Cindy Ofili (U-M 2013-2016) will run the 100m hurdles for Great Britain. The Ofili's father is Nigerian and their mother English. Both daughters had competed for the UK in the Commonwealth Games and the World Championships. Cindy won silver in the 2014 and 2015 Commonwealth games, Tiffany scored third place finishes at the 2016 European Championships 100m and the World Indoor Championships 60m. Cindy has faced some of the same "plastic Brit" criticism that Tiffany got after making the 2012 UK team. Both should be in contention for medals in Rio.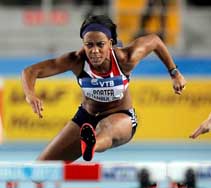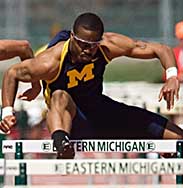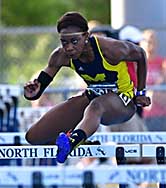 Tiffany Ofili-Porter Jeff Porter Cindy Ofili
Jeff Porter, Tiffany's husband, used a lean at the tape to claim third place at the U.S. trials and a second Olympic trip in the 110m hurdles. In 2012 a desperate lunge at the finish line of the U.S. trials sent him to London. Porter (UM 2005-2007) won the NCAA Indoor 60m hurdles title in 2007.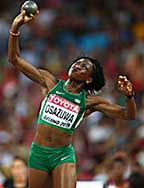 Uhunoma Osazuwa, who earned a PhD. from the School of Pharmacy in 2014 will be representing Nigeria in the heptathlon for the second time. Born in Oakland, California to Nigerian parents, she was a Big East Champion and NCAA all-American in the heptathlon at Syracuse. At the 2012 games she dropped out of the competition after five events. Osazuwa gave up international competition for almost two years after the London games. She returned to serious training in 2014 and has recently posted some personal bests and won the heptathlon gold medal at the 2016 African championships. She works for Walgreens and Carter Consulting in Las Vegas.

Osazuwa competing Women's Heptathlon Shot Put at the 15th IAAF World Athletics Championships in Beijing, 2015.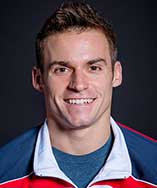 Sam Mikulak
Gymnastics
Sam Mikulak (U-M 2011-2014) took first place in the all-around at the U.S. trials to earn his second Olympic bid. He was three-time Big Ten Gymnast of the year, won 6 NCAA individual titles and led U-M to NCAA team titles in 2013 and 2014. At the 2012 London games Mikulak placed 5th in the individual vault competition. The young U.S. team finished a disappointing fifth in the finals after placing first in the qualifying round. Coming off his fourth consecutive national all-around championship, Mikulak placed first in the all-around at the 2016 U.S. trials and will lead a more experienced U.S. team to Rio, one that should be in the medal chase.
Rowing
The U-M women's rowing program continues its Olympic tradition with four athletes on the U.S. team. Rio will be the fourth consecutive Olympics with multiple U-M women rowers.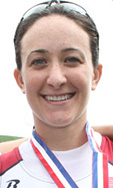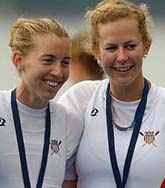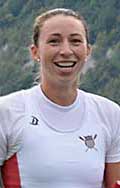 Ellen Tomek Felice Mueller, Grace Luczak Amanda Elmore
Ellen Tomek (U-M 203-2006) will return to compete in the double sculls at Rio. Tomek and Megan Kalmoe finished 5th in the event in 2008 in Beijing. In 2012 she was among the last rowers cut from the women's eight. Tomek then teamed with Meghan O'Leary (UVA, 2007, softball and volleyball) and began training with 2012 U-M Olympian Sarah Trowbridge at the USRowing training center in Princeton. Tomek and O'Leary won the U.S. trials in Sarasota in April by more than 12 seconds. The pair won a silver medal at the 2015 World Cup II and hope to be in the medal hunt in Rio. (Trowbridge, who is on the USRowing coaching staff and is married to U.S. national coach Bryan Volpenhien, likely won't be going to Rio as she is expecting a child this summer.)
Felice Mueller (U-M 2009-2012) joins Grace Luczak in the women's pair. Luczak (Ann Arbor Pioneer, 2007, Stanford, 2011) rowed for U-M as a freshman in 2008 before transferring to Stanford. It is the first Olympics for both, but they have had success internationally, including a gold medal in the 2016 World Rowing Cup II.
Amanda Elmore (U-M 2013/14) was a three-time All-American while competing for Purdue as an undergraduate. She joined the U-M squad for the 2013/14 season while enrolled in the Graduate Program in Biomedical Sciences in the Department of Microbiology and Immunology. She helped the first varsity eight to a fifth place finish in the NCAA championships. In Rio she will be part of a women's eight crew seeking a third consecutive gold medal.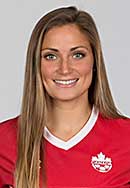 Women's Soccer
Shelina Zardosky was captain of the 2013 U-M women's soccer team that posted an 18-4-1 record and advanced to the quarterfinal of the NCAA tournament, losing to #1 rated Virginia. She anchored a U-M defense that gave up just twelve goals in 23 games. Zardosky then joined the Canadian national team and scored two goals in the 2015 Pan AM games and was part of Canada's 2016 Algarve Cup winning team. She has also played professionally in Australia for the Perth Glory and for Vittsjo GIK in the Swedish first division.
Cycling
Mike Woods
U-M, 2005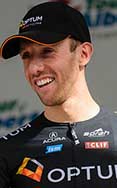 Cannondale
Cycling, 2015
Mike Woods (U-M XC 2004-2007, track 2005-2008) grew up in Ottawa, Canada and dreamed of playing for the Toronto Maple Leafs. Instead he joined the ranks of great Canadian milers at U-M. As a freshman he was part of a collegiate record setting 4xMile relay team, ran a career best 3:57.48 mile, and then set Canadian junior records in the 1500 and 3000 meter races. He captured the Big Ten indoor mile title in 2006 and was selected as a captain of the 2007 team, but a recurring foot injury hampered his career at Michigan. Woods initially took up cycling as part of a cross training program while recovering from injury and started competing in local races in 2011. He was invited to join the Canadian national team for the 1912 Tour De Beuce in Quebec. He has since been riding professionally for a number of teams, currently Cannondale Pro Cycling.

Coaches
The U-M coaching contingent in Rio will be smaller than for recent Olympics. Former U-M swimming coach Bob Bowman (now at Arizona State) will be head coach for the U.S. men's team. He had previously been an assistant coach in 2008 and 2012. Current U-M head coach Mike Bottom will be an assistant coach for the U.S. team. He has previously been personal coach for a number of Olympic swimmers, including Milor Cavic of Serbia who lost a gold medal in 100 meter butterfly by 1/100th of a second to Michael Phelps. Bottom himself had been a medal prospect in 1980, but the U.S. boycott of the Moscow games cost him his chance. Bruce Gemnell (UM-1980-83) swam distance events for coaches, Bill Farley, Gus Stager and Jon Urbanchek and then served as an assistant coach under Urbanchek for a season. He pursued a career in engineering but kept a hand in coaching by volunteering with several swim clubs. He eventually turned to full-time coaching with the Delaware Swim Club. He moved to the Nation's Capital Swim Club (NCAP) in 2012 where he inherited 16-year old Olympic gold medalist Katie Ledecky. Gemmell will serve as an assistant coach with the U.S. Swimming team.
Former men's track and cross country coach Ron Warhust will again be on hand for New Zealand's Nick Willis's fourth try in the 1500 meter run. Willis still lives and trains in Ann Arbor. Women's cross country coach Mike McGuire will be in Rio for Nicole Sifuentes' second Olympic 1500 meter race. Women's track coach James Henry will be working with Cindy Ofili and Arnett Chisholm will again be coaching Jeff Porter.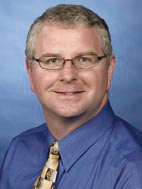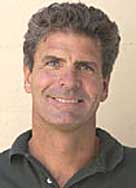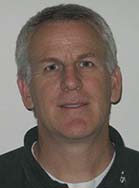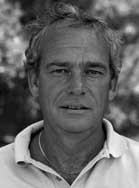 Bob Bowman Mike Bottom Bruce Gemmell Ron Warhurst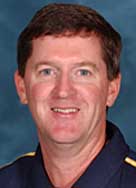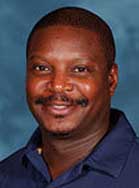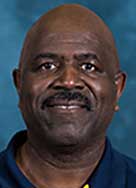 Mike Mcguire Arnett Chisholm James Henry
Keenan Robinson was trainer for U-M swimming under coach Bob Bowman and recently joined Bowman's staff at Arizona. He will serve as head trainer with the U.S. swimming team in Rio. Stephanie Kerska will be an assistant manager with the U.S. swimming team in Rio. She competed for UM women's swimming, 1988-1990, and was an assistant coach 1997-2012.
---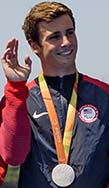 Paralympic Games
U-M College of Engineering student Zach Burns, who rowed with U-M's national champion club team, won a silver medal with the U.S. LTA Mixed Cox Four in LTA category. The U.S. team won its opening heat to advance direclty to the finals. They took an early lead in the medal race bu tlost tothe British team by 2.24 seconds. (The LTA category, Legs Trunks Arms now called PR3, is described as "Use of at least one leg, trunk and arms. Also for those with visual and intellectual impairments. Rowed with standard boats and sliding seats.")
Burns won a gold medal as part of TeamUSA at 2015 Paralympic World Championships.
---
The U-M Results - 2016 - Rio De Janeiro
Follow U-M Olympic results and stories at MGoBlue Olympics
Swimming
Michael Phelps (U.S.)
200m ind. medley
1st, gold, 1:54.66
100m butterfly
2nd, silver, 0:51.14
200m butterfly
1st, gold, 1:53.56
4x100m medley relay
1st, gold, 3:27.95 (OR]
4x100m freestyle relay
1st, gold, 3:09.92 (Phelps swam 2nd leg)
4x200m freestyle relay
1st, gold, 7:00.66 (Phelps swam anchor leg.)
Connor Jaeger (U.S.)
1,500m freestyle
2nd, silver, 14:49.38
400m freestyle
5th, 3:44.16
Sean Ryan (U.S.)
10K open water
14th, 1:53:15 (13 seconds behind bronze medal time)
Bruno Ortiz (Spain)
4x100m freestyle relay
14th, 3:16.71 (did not advance, national record)
Manuel Ortiz (Spain)
4x100m freestyle relay
14th, 3:16.71 (did not advance, national record)
Anders Lie Nielsen (Denmark)
4x200m freestyle relay
13th, 7:12.66 (Nielsen swam 1st leg, 1:47.62)
Dylan Bosch (South Africa)
4x200 freestyle relay
11th, 7:12.61 (Bosch swam anchor leg, 1:48.75)
Felix Auböck (Austria)
200m freestyle
1st, in heat 3, 1:47.24 (did not advance, 18th overall)
400m freestyle
8th in heat 6, 3:49.35 (25th, did not advance)
1500m freestyle
42nd, 15:36.24 (8th in heat 6)
Claudia Lau (Hong Kong)
100m backstroke
19th (2nd in heat) 1:01.75 (did not advance)
200m backstroke
18th, (6th in heat) 2:10.94 (did not advance)
Siobhán Haughey (Hong Kong)
200m individual medley
(scratched)
200m freestyle
13th (T), in semifinals 1:57.56
9th in prelim, 1:56.91 (advanced to semifinals)
Track
Nick Willis (New Zealand)
track - 1500m
3rd, bronze, 3:50.24
3rd in semifinal 1, 3:39.96 (advanced to finals)
prelims Heat 4, 6th, 338.55 (advanced to semifinals)
Nate Brannen (Canada)
track - 1500m
10th in final, 3:51.45
8th in semifinal 1, 3:40.20 (advanced to finals)
prelims Heat 2, 2nd, 3:37.07 (advanced to semifinals)
Jeff Porter (U.S.)
track 110m hurdles

2nd in heat 1, :13.50 (advanced to semifinals, eighth overall)
3rd in semifinal 1, :14.45 (did not advance, 10th overall in semifinals)

Tiffany Ofili Porter (Great Britain)
track - 100m high hurdles
7th, :12.76
4th in semifinal 1, :12.82 (advanced to finals)
prelims heat 4, 2nd, :12.87 (advanced to semifinals)
Cindy Ofili (Great Britain)
track - 100m high hurdles
4th, :12.63 (.02 seconds off bronze medal time)
2nd in semifinal 3, :12.71 (advanced to finals)
prelims heat 3, 1st :12.75 (advances to semifinals)
Nicole Edwards Sifuentes (Canada)
track - 1500m
12th in prelims, 4:07.43 (advanced to semifinals)
7th in semi-final heat, 18th overall, 4:08.53

Uhunoma Osazuwa (Nigeria)
track - heptathlon
29th overall, best event was 17th place finish in 200m run, disqualified in 800m so did not post an official final score.
Rowing
Linda Tomek (U.S.)
rowing - double sculls

6th in final, 8:06.14
12th opening round, 7:46.92 (go to repachage)
2nd in repachage, 7:00.56 (advance to semi-finals)
3rd in semi-finals, 6:52.92, (advance to "A" finals)

Felice Mueller (U.S.)
rowing - women's pair

4th in A final, 7:24.77
1st in heat 1, 6:06.34 (advance to semi-finals)
2nd, semi-final, 7:20.93 (advance to A final)

Grace Luczak (U.S.)
rowing - women's pair
4th in A final, 7:24.77
1st in heat 1, 6:06.34 (advance to semi-finals)
2nd, semi-final, 7:20.93 (advance to A final)
Amanda Elmore (U.S.)
rowing - women's eight
1st, gold, 6:01.49
1st, heat 1, 6:06.34 (advanced to A finals)
Sailing
Bora Gulari (U.S.)
sailing - 2 person mixed multi-hull
4th
Gymnastics
Sam Mikulak (U.S.)
team competition
U.S. placed 5th
individual - all-around
7th
individual - floor exercise
8th in finals, 14.333
1st in qualifying round
individual - high bar
4th in finals, 14.40
Cycling
Mike Woods (Canada)
road race - 256.4K
56th (of 136, only 65 finished the course)
Soccer
Shelina Zadorsky (Canada)
soccer

3rd, bronze
Opening Round Group F
defeated Australia 2-0
defeated Zimbabwe 3-1
defeated Germany 2-1
Quarter-Finals
defeated France 1-0
Semifinals
lost to Germany 0-2
defeated Brazil 2-1


Coaches
Mike Bottom (U.S.)
Swimming, assistant coach
Bob Bowman (U.S.)
Swimming, head coach
---
Table of Contents | 2014-Sochi | 2018-PyeongChang | Name Index