Michigan in the Olympics

2018 - PyeongChang
<! -- BEGIN TEXT -- >
U-M again had a major presence in Ice Dancing, making up half of the U.S. team in PyeongChang. The "Shib Sibs" (Alex and Maia Shibutani) captured bronze in both the team event and the pairs competition. Evan Bates, competing in his third Olympics, finished ninth with partner Madison Chock.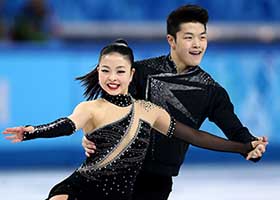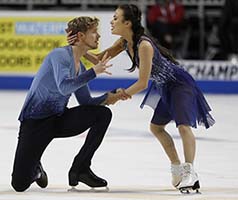 Maia and Alex Shibutani Evan Bates and Madison Chock
Chad Kolarik, hockey letterman 2005-2008, played for the U.S. hockey team which placed seventh, losing to the Czech Republic in the quarterfinal round. Andrew Ebbett, U-M 2003-2006, won a bronze medal competing for Canada. Ebbett scored two goals in the Canadians' 6-4 win over the Czech Republic in the bronze medal game. They brought the total of U-M hockey Olympians to 17, making this the fifth consecutive Games with a Michigan hockey representative.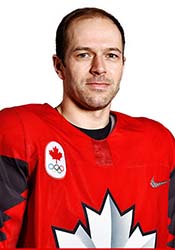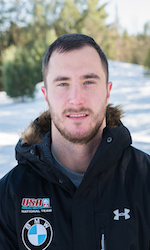 Chad Kolarik Andrew Ebbett Sam McGuffie
Sam McGuffie, U-M football 2008, completed his collegiate career at Rice University. After brief stints in the NFL and CFL, McGuffie was recruited to the U.S. bobsled team as a pusher. He placed 25th in the two-man event with pilot Codie Bascue. In the four-man event McGuffie was again paired with Bascue and two other Olympic rookie pushers and finished in ninth place, the best showing of the three U.S. sleds. McGuffie hopes to make the U.S. rugby team for the 2020 games.
<! -- END TEXT -- >
---
<! -- BEGIN UM RESULTS -- >
The U-M Results - 2018
Madison Chock and Evan Bates
Ice Dancing
9th
Maia and Alex Shibutani
Ice Dancing
Bronze
Ice Dancing-Team
Bronze
Chad Kolarik
Ice Hockey
7th
Andrew Ebbett (Canada)
Ice Hockey
Bronze
Sam McGuffie
Bobsled 2-man
25th
Bobsled 4-man
9th
<! -- END UM RESULTS -- >
---
<! -- BEGIN CREDITS ETC -- >