Opening Day, Oct. 1, 1927, UM vs. Ohio
<! -- BEGIN TEXT -- >
By the end of September 1927 the massive stadium construction project was nearing completion. Lorenzo "Tommy" Thomas, who twenty-five years earlier had built the gridiron at Ferry Field, was overseeing the final grooming of the playing field. Telephone lines were installed in the press box and work on the concourse was completed. While a few things remained unfinished, "Hurry-up" Yost had overseen every detail of construction and met a seemingly impossible deadline.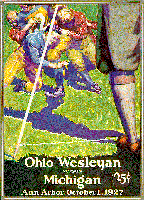 Yost had scheduled Ohio Wesleyan for the inaugural game at Michigan Stadium - a fitting choice since Wesleyan was where he had started his coaching career in 1897. Michigan had compiled a 1-0-1 record in two previous meetings with Wesleyan. In 1897, Yost, fresh out of the University of West Virginia, brought the Wesleyan Bishops to Ann Arbor and played Michigan to a scoreless tie. When the Wolverines next played Wesleyan in the opening game of 1905 at Ferry Field, Yost had established his point-a-minute dynasty at Michigan, going undefeated over four seasons. The '05 squad kept up the pace, defeating Wesleyan 65-0.
Elton "Tad" Wieman, who played for Yost in 1916-1917 and 1920 and had been an assistant coach since 1921, took over the reigns as head coach in 1927 when Yost resigned to devote full-time to his duties as Athletic Director. Coming off a 7-1 season and a share of the conference title in 1926, the 1927 squad was expected to challenge for the title again. Three-time All-American end Bennie Oosterbaan captained the 1927 team. Halfback Louis Gilbert was expected to take over Benny Friedman's role of all-purpose offensive threat. Leo Hoffman would handle the quarterback slot and George Rich and Joe Gembis shared the fullback job. The line was anchored by Otto Pommerening, who would earn all-American honors in 1928, and Ray Baer. Sophomore Kip Taylor was counted on to man the end position opposite Oosterbaan.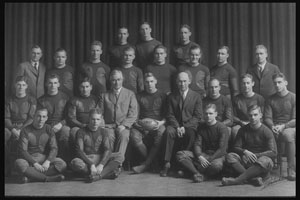 1927 UM Football Team
The Ohio Wesleyan team that came to Ann Arbor was defending champion of the Ohio Conference and promised to be one of the stronger teams Michigan had faced in an opening game. The Bishops had held out several regulars and didn't open up their offense in a 20-19 win over Wilmington the previous week. Scouting reports suggested a strong line but a weak pass defense.
One opening day detail Yost had not accounted for was the weather. A rainstorm on Thursday had thoroughly soaked the field and another downpour on Saturday morning did not let up until after the opening kickoff. Inch-deep puddles dotted the gridiron; leaving it, in one reporter's view, "better suited for water polo than football." Nevertheless, a record opening game crowd, braved the weather. Official records list the attendance as 17,483, but newspaper accounts placed the total at between 30,000 and 40,000. The difference may be accounted for by the thousands of high school students the Athletic Department invited to attend the game for free.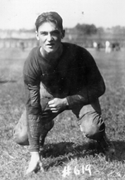 Kip Taylor, scored the
first touchdown at
Michigan Stadium.
Taylor aggravated a
back injury in the
opener and never
played another game.
The game, and Michigan Stadium tradition, got underway with Louis Gilbert's kickoff. The Wolverine defense held and on Michigan's first offensive sequence Gilbert lofted a 15 yard pass to Kip Taylor for the first touchdown in the new stadium. Gilbert would figure in all of Michigan's points enroute to a 33-0 victory. He threw touchdown passes to Taylor, Oosterbaan and Hoffman, returned a deflected punt for a score and dashed off a 90 yard kickoff return to open the second half. He also kicked three extra points and averaged over 40 yards per punt.
The conditions affected the quality of play, in the Michigan Alumnus reporter's words "what actually happened and what might have happened on a reasonably dry field are probably two very different stories," but the Wolverines' opening game showed a solid defense and a passing attack that would serve them well in the next home games against Michigan State and Ohio State. And, as the Michigan Daily pointed out, it confirmed that Gilbert could take "the mantle of all-around man left last June by All-American Bennie Friedman."


Gilbert eludes Ohio Wesleyan tacklers
<! -- END TEXT -- >
---
<! -- BEGIN IMAGE CREDITS--- >
Image Credits:
Ohio Wesleyan Program - BHL, Ath. Dept., Box 16C
1927 Football Team - BHL, Bd. In Control of Ath., Box 47
Kip Taylor - BHL, Ath. Dept., Box 9 out., scrapbook
Gilbert eludes Ohio Wesleyan tacklers - BHL, Michiganensian, 1927
<! -- END IMAGE CREDITS--- >
---
top | previous | next

| Stadium Home Page | Ath. Dept. MGOBLUE | Ath. History | Bentley Library