Michigan's Radio Football Announcers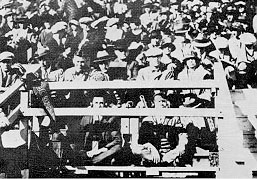 Ty Tyson (in the center behind mike, wearing
white hat with black band) broadcasting the
1924 Wisconsin game from Ferry Field. Spotter
and commentator "Doc" Holland is at his left.
Detroit radio station WWJ, which went on the air in 1920, is generally considered to be the first commercial radio station in the United States. It lays claims to a number of firsts in broadcast history. For Michigan football fans, the most important first came at the 1924 Wisconsin game at Ferry Field when Edwin L. "Ty" Tyson and Leonard "Doc" Holland set up a microphone in the east end zone stands and did the first radio broadcast of a Michigan home game. It is believed to be the first "live" broadcast originating directly from a football stadium.
College football games had been broadcast as early as 1920 but these were "re-creations." A reporter in the press box wired or telephoned an account of the action back to the studio where an announcer relayed the "play-by-play" to the radio audience, sometimes supplying sound effects and commentary as well. At least two of Michigan's earlier 1924 games had been carried over the radio waves. The Michigan Union had installed a radio receiver in the Tap Room for the 1924 World Series and also picked up a broadcast of the October 11 game against Michigan Agricultural College from East Lansing. It is unclear what station provided the coverage. The following week, Chicago station WGN carried the Michigan-Illinois game played at Champaign.
When Tyson first approached the Athletic Department with a proposal to broadcast the Wisconsin game, Fielding Yost was initially hesitant to agree. Like many Athletic Directors, Yost was concerned that providing a free broadcast of the game might hurt attendance. In the end he agreed to let Tyson broadcast the game provided it was a sellout. After Michigan's controversial 6-3 win over the Badgers in Madison in 1923, there was no question that the Ann Arbor game would be a sellout. Yost, in fact, had expanded the east-end bleachers to accommodate the demand for tickets.
Tyson would later reminisce that "It sure was a sellout, Doc (Holland) and I had to pay to get in just like everyone else." On another occasion, however, he recalled "The university athletic department gave us five seats to set up our microphones and power equipment."
The broadcast proved to be popular, and may actually have increased demand for tickets to the two remaining home games. The Wisconsin game marked the beginning of a long association with WWJ. Tyson would cover Michigan football through he 1950 season. Three years after his first broadcast from Ferry Field, Tyson did the first broadcast of a Detroit Tigers baseball game and went on to become one of the country's best known sports announcers.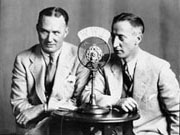 Commentator Doc Holland, left,
and Ty Tyson broadcast Michigan
football over WWJ for 27 years.
Holland served as Tyson's spotter and color commentator for 27 years and stayed on in the WWJ booth through the 1970 season. He worked with Tyson's successors Bud Lynch, 1951-1952 (best known as the voice of the Detroit Red Wings), Bill Fleming, 1953-1959, and Don Kremer 1960-1970.
The popularity of Michigan football soon attracted other stations. WJR began broadcasting the Wolverines in 193? . Ann Arbor's WPAG went on the air in the 1940s And gave Bob Ufer his start in the broadcast booth. Former Wolverine player and coach Wally Weber provided commentary on WPAG for many years. The University's own station, WUOM, first carried Michigan football in 1948.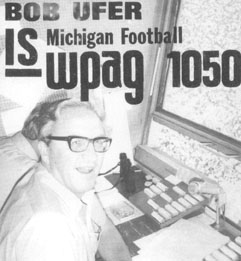 Bob Ufer covered his first Michigan games
for WPAG but went on to greater fame as
the voice of "Meechigan" football on WJR.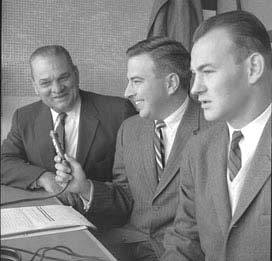 WWJ's Bill Fleming (center) interviews Harry Kipke,
All-America halfback, 1922, and former Michigan
coach, 1929-1936, shortly after Kipke's selection
to the College Football Hall of Fame in 1958.
Fleming got his start in broadcasting at WUOM
and later went on to fame with national networks.
At right is Fleming's assistant Wally Teninga, who
played on Michigan's 1947 and 1948 national
championship teams. Kipke provided expert
commentary for WJR broadcasts in the 1940s.
---
Image Credits:
Tyson Holland broadcasting from stands, 1924 - BHL, 1970 Michigan State game program
Tyson and Holland at WWJ mike - BHL, Ath. Dept. Box2 12, Radio Broadcasting
Bob Ufer, WPAG - BHL, Ath. Dept. Box 12, Ufer
Fleming, Kipke and Teninga, 1958 - BHL, News and Information Services, Ser. B. Box 3, 878
---
top | previous | next

| Stadium Home Page | Ath. Dept. MGOBLUE | Ath. History | Bentley Library