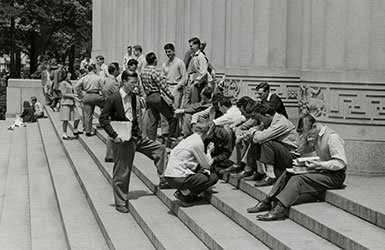 In 2017, the University of Michigan will celebrate two centuries of existence since its founding in Detroit in 1817. The Bentley Historical Library has a wealth of materials and history to help celebrate this milestone event. If you're a University unit in need of help researching your bicentennial history, please contact Brian Williams at bwms@umich.edu.
Snapshots of U-M History
This little calendar from 1899 is inscribed "With compliments of the season and of the university editor." Each day has a printed factoid on it about the University of Michigan. This year, on the occasion of U-M's Bicentennial, the days of 1899 and 2017 are an exact calendar match.

…

Complete Story

Sixty-five years ago, scientist and educator Pearl Kendrick became a lecturer in the Department of Epidemiology at U-M. It was a capstone in an incredible career that would change the landscape of infectious disease and save countless lives.

…

Complete Story

On the 42nd anniversary of Lyndon Johnson's death, the Bentley takes a look back at how months of persistence and planning came to unveil the president's monumental speech at the University of Michigan—and how the Bentley received a treasure after it was all over.

…

Complete Story
Making History at U-M
Much can happen in 200 years. Click through our slideshows below to glimpse achievements from U-M's past. While not a comprehensive history, it's an invitation for the curious to dig into the Bentley archives and to discover more.
A Culture of Sport
Milestones
Early U-M History