Michigan in the Olympics

2004 - Athens
As the opening of the 2004 Athens Olympics approaches, "Team Michigan" is taking shape. Twelve current, former and future Wolverines have qualified for the games and several are on the cusp. Five swimmers have made the grade, three 1500-meter runners, a men's and women's 5000 meter runner, varsity a swimmer turned triathlete, and three rowers -- the first ever women rowers and a former member of the UM men's rowing club team.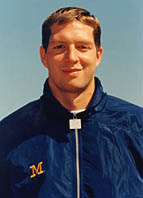 Tom Malchow
Tom Malchow returns for his third Olympics as defending gold medalist in the 200-meter butterfly. He swam for UM 1996-1999 and now competes with Club Wolverine. Malchow, second in the U.S. trials with a time of 1:57.37, must protect his title against world record-holder Michael Phelps who beat Malchow by three seconds in the U.S. trials. Malchow will serve as co-captain of the U.S. swimming team.
UM 2004 junior Peter Vanderkaay won a spot on the U.S. 800-meter freestyle relay team with a third-place finish in the 200-meter freestyle at the U.S. trials. He will be joined by senior Dan Ketchum who was named to the 800-meter freestyle relay team after a fifth-place finish in the 200-meter freestyle trials.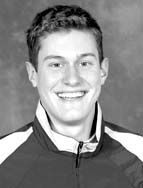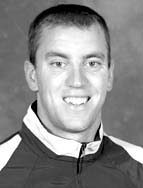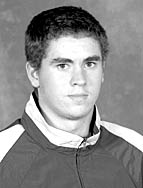 Peter Vanderkaay Dan Ketchum Andrew Hurd
Canadian Andrew Hurd is the only Michigan swimmer to qualify for a foreign Olympic team in 2004. Hurd turned in a record breaking performance in winning the 400-meter freestyle at the Canadian trials. His time of 3:49.67 broke the Canadian record set in the 2000 trials by 0.32 seconds.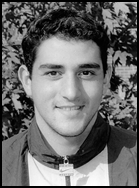 4-time Olympians
Gustavo Borges and Derya Buyukuncu
Brazil's Gustavo Borges qualified for his fourth Olympics, competing for Brazil in the 4x100m freestyle relay. The 1995 UM graduate was a seven-time NCAA champion and owns nineteen Pan-American Games medals to go along with two silver and two bronze Olympic medals. Derya Buyukuncu, a ten-time All-American 1995-1998, also made his fourth Olympic team for Turkey.
Incoming freshman Michael Phelps from the Baltimore Aquatic Club has positioned himself to challenge Mark Spitz's record of seven swimming gold medals. Phelps qualified for six individual events at the trials in California, but later dropped out of the 200-meter backstroke. He hopes to add at least two, possibly three, relay events--giving him a chance for eight medals. Phelps is considered a favorite in the individual medleys, but is up against much tougher competition than Spitz faced in 1972. In the 200-meter freestyle, which could be the glamour event of the 2004 games, Phelps will face Australian world record-holder Ian Thorpe and defending Olympic champion Pieter van den Hoogenband of the Netherlands. In the 100-meter butterfly his challenge will come from Ian Crocker who broke his own world record and beat Phelps by .39 seconds at the U.S. trials.
Another future Wolverine competing in Athens was Valeria Silva from Peru who competed in the 100-meter breaststroke.
In track, the 1500-meter race in Athens could have a strong Michigan flavor. Kevin Sullivan, who finished fifth in Sydney, again will be representing Canada. Sullivan won the Canadian trials with a comparatively slow time of 3:53.68. For most of the race he was content to run in the middle of pack before taking the lead with 500 meters remaining and pulling away from the field. Sullivan had earlier met the Olympic "A" qualifying time with 3:35.93 second place finish at the Oregon Track Classic on June 5th.
UM junior Nick Willis of New Zealand finished third behind Sullivan at the Oregon Track Classic, but missed the "A" qualifying time of 3:36.20 by a mere .04 seconds. A month later, in his fourth attempt to make the qualifying time, Willis turned in a personal best time of 3:32.68 at the Golden Gala meet in Rome. Willis had been granted an exemption from the New Zealand trials and had only to make the "A" qualifying time to win a spot on the national team.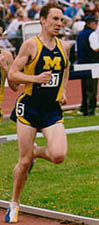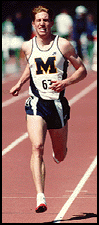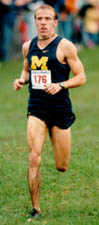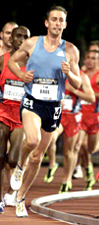 Nick Willis Kevin Sullivan Alan Webb Tim Broe
Former Wolverine track and cross country runner Alan Webb, who left school after one year to turn pro, used an early burst of speed to build a commanding lead enroute to winning the U.S. 1500-meter trials in a time of 3:36.13. Webb earlier met the "A" qualifying time in May and on June 8 in Ostrava, Czech Republic, he posted the fastest time in the world this year at 3:32.73.
Michigan volunteer assistant track coach Tim Broe won the 5000-meter title at the U.S. Olympic Trials (July 6) but still needed to meet at least the Olympic "B" qualifying time to guarantee his trip to Athens. Broe met the "A" qualifying time on July 30 with a personal-best 13:18.61 at the Norwich Union London Grand Prix. He finished seventh in an international field, 23 seconds off the winning time. Broe's time was 2.89 seconds under the "A" time and 5.52 seconds better than his previous personal-best.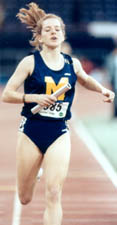 Courtney Babcock, winner of seven varsity letters in women's cross country and track, 1992-1996, will represent Canada in Athens. The Canadian record holder in the 5,000 (14:54.98) and 10,00 meter (31:44.74), Babcock will compete in the 5,000 and possibly the 1500 meter races. Babcock has overcome a severe asthmatic condition to become one of the elite international runners-a year ago she finished eighth in the 5000 meters at the World Championships in Paris. While at Michigan, Babcock was a seven-time All-American in track and cross country and ran the opening leg on the 1994 NCAA champion distance medley team.
Three rowers will be representing the U.S. in Athens: Steve Warner, member of the UM men's club team (1997-2000) and women's varsity rowing letterwinners Kate Johnson (1998-2001) and Kate MacKenzie (1997-1998).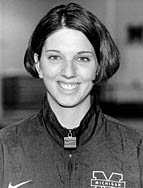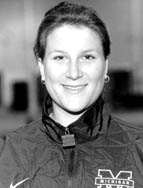 Kate MacKenzie Kate Johnson
MacKenzie was a member of the inaugural UM women's varsity team in 1997 and in 1998 was Michigan's rowing athlete of the year. A three-time member of the U.S. National team, MacKenzie stroked the U.S. eight to a gold medal in the FISA World Championships and was USRowing's female athlete of the year in 2002. MacKenzie clinched her spot in the U.S. pairs by winning both of the qualifying competitions at the end of June.
Johnson was formally named to the U.S. eight on July 7, but she was essentially assured a spot after the U.S. eight won 2004 World Cup races on May 29 in Munich, Germany, and on June 20 in Lucerne, Switzerland. Johnson was a three-time All-American (1999-2001), two-time Big Ten Conference Rowing Athlete of the Year (2000, 2001) and three-time U-M rowing Athlete of the Year (1999-2001).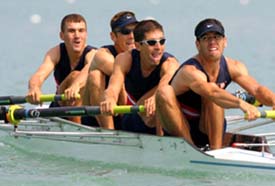 2003 FISA bronze medal lightweight four
L-R:Matt Stephens, Erik Miller, Steve Warner,
Paul Teti (Pat Todd replaces Miller on the
Olympic team)

Warner will be racing in the men's lightweight four event at Athens. He is the first UM athlete from a men's club sport to make an Olympic team.

Warner was part of the bronze medal winning U.S. lightweight four at the 2003 FISA World Rowing Championships in Milan, Italy. In the lightweight four event, the team must average no more than 155 pounds and no member can be more than 160 pounds.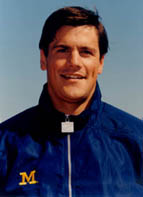 Andy Potts Andy Potts represents another first for UM Olympians. The former swimmer (1996-1999) and a walk-on member of the UM track team (1999-2000), finished fourth in the 1996 U.S. Olympic 400-meter individual medley trials behind U-M's Tom Dolan and Eric Namesnik. In Athens he will be fulfilling his Olympic dreams as a member of the U.S. men's triathlon team. After graduating from UM, Potts worked in a corporate job in Chicago and did not compete in his first triathlon until June 2002. With encouragement from 2000 Olympic triathlete Sheila Taormina and an invitation from USA Triathlon, he moved to Colorado Springs, Colorado in October 2002 to begin serious training. Within 18 months he had risen from virtual unknown to the forefront of U.S. triathletes. Potts secured his Olympic spot by placing eleventh and being the second American finisher at the 2004 World Triathlon Championships.
Sada Jacobson, a two-time NCAA fencing champion while at Yale who would enroll in the U-M Law School following the 2008 Olympics, won bronze medal in the first Olympic competition in women's saber.
Steve Fraser, gold medalist in Greco-Roman wrestling in 1984, is head coach of U.S. Greco-Roman team. Fraser's gold was the first ever for the United States in the sport. He was a four-time wrestling letter winner for U-M, 1977-1980, and served as an assistant coach.
New U-M head swimming coach Bob Bowman and his predecessor Jon Urbanchek are serving as assistant coaches for the U.S. swimming team. Athens is the fifth consecutive Olympics in which Urbanchek has been an assistant U.S. coach. Greg Ryan, who would be hired as U-M women's soccer coach in 2008, was an assistant coach for the gold medal winning U.S. women's soccer team in Athens.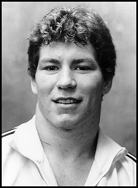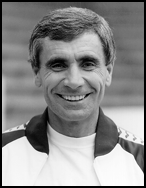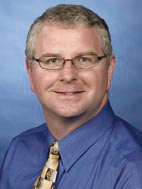 Steve Fraser, Jon Urbanchek, Bob Bowman
---
The U-M Results - 2004
Tom Malchow
200m butterfly
8th, 1:57.48
Peter Vanderkaay
800m freestyle relay
1st, 7:07.33
(swam 3rd leg in final in 1:47.78)
Dan Ketchum
800m freestyle relay
1st, (swam 3rd leg in preliminary heat in 1:48.10, did not swim in final)
Andrew Hurd (Canada)
400m freestyle
4th in prelim heat, 13th overall in prelims
800m freestyle relay
5th, 7:13.33
Michael Phelps
200m ind. medley
1st, 1:57.14 (Olympic record)
400m ind. medley
1st, 4:08.26 (world record)
200m freestyle
3rd, 1:45.32 (American record)
100m butterfly
1st, :51.25 (Olympic record)
200m butterfly
1st, 1:54.04 (Olympic record)
4x100m free. relay
3rd, 3:14.62 (swam 2nd leg)
4x200m free. relay
1st, 7:07.33 (swam first leg in 1:46.49)
4x100m medley relay
1st, swam in preliminary heat
Gustavo Borges (Brazil)
4x100m freestyle relay
6th in preliminary heat (3:20.20)
Derya Buyukuncu (Turkey)
100m backstroke
4th in preliminary heat 56.34 (26th overall)
200m backstroke
2nd in preliminary heat, 2:02.20 (22nd overall)
Valeria Silva (Peru)
100m breaststroke
5th in preliminary heat (2:02.69)
Kevin Sullivan
1500m
6th in heat 1 (3:39.30) qualified for semis 9th in semi-heat 2 (3:42.68
Nick Willis
1500m
3rd in heat 2 (3:39.80) qualified for semis 6th inn semi-heat 2 (3:41.36)
Alan Webb
1500m
9th in heat 2 (3:41.25)
Tim Broe
5000m
11th in final (13.33.06) 6th in prelim heat 1 (13:39.80)
Courtney Babcock
5000m
13th in heat 2 (14:47.35)
1500m
9th in heat 1 (4:08.18)
Kate Johnson
rowing eight
2nd (6:19.56)
Kate Mackenzie
rowing pairs
9th place overall
Steve Warner
lightweight four
9th place overall
Andy Potts
triathlon
22nd place
Sada Jacobson
fencing -- saber
3rd
---