Michigan's Bowl Game History
1948 Rose Bowl
<! --BEGIN PORGRAMS-->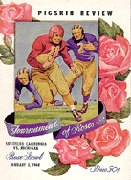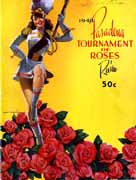 Michigan vs Southern California
Pasadena, California
Jan. 1, 1948
Attendance: 87,516
Scoring by Quarter
Michigan
7
14
7
21
49
USC
0
0
0
0
0
<! --END PORGRAMS-->
In 1947 the Wolverines rolled up nine consecutive victories (four of them shutouts), and won their first outright Big Ten title since the National Championship season of 1932, earning Fritz Crisler coach of the year honors.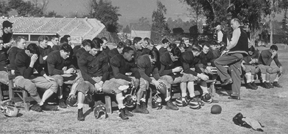 Crisler talks to teama t Rrose Bowl practice field



Led by All-Americans Bob Chappuis (left) and Bump Elliott (right), Michigan led the nation in total offense (412.7 yards/game) and passing average (173.9 yards/game). Chappuis, runner-up in the Heisman Trophy balloting, was the Big Ten leader in total offense for the second straight year and Elliott, the team's only two-way player, was named Most Valuable Player for Michigan and the Big Ten after leading the league in scoring.
When the Wolverines arrived in Pasadena, they were 15-point favorites and Crisler felt it was necessary to call a team meeting to stifle over-confidence. Ten minutes into the game, on Michigan's second possession, Jack Weisenburger spun across the line from the one to cap an 11 play, 64 yard drive and initiate the day's scoring. In the second quarter, Weisenburger gained another one-yard touchdown, and Chappuis jump-passed to Elliott from the 11 to give the Maize and Blue a 21-0 half-time lead.

Jack Weisenburger, #48
ran for 3 tds In the second half, Weisenburger collected his third touchdown of the game and the Wolverines saw three td passes from three different passers, including tosses of 18 yards from Chappuis, 45 yards from Hank Fonde, and 29 yards from Howard Yerges as Michigan rolled to a 49-0 victory. The score, stood as USC's largest margin of defeat until 1966. In the game, Michigan shattered nine Rose Bowl records and accumulated 491 yards to the Trojans' 133. Jim Brieske's record of seven PATs remains unbroken.

In a special Associated Press poll following the game, Michigan replaced Notre Dame as the 1947 National Champion by a 226 to 119 margin.
---
SCORING
First Quarter
M
Weisenburger, 1-yard run (Brieske kick)
Second Quarter
M
Weisenburger, 1-yard run (Brieske kick)
M
Bump Elliott, 11-yard pass from Chappuis (Brieske kick)
Third Quarter
M
Yerges, 18-yard pass from Chappuis (Brieske kick)
Fourth Quarter
M
Weisenburger, 1-yard run (Brieske kick)
M
Derricotte, 45-yard pass from Fonde (Brieske kick)
M
Rifenburg, 29-yard pass from Yerges (Brieske kick)
---
Game Statistics
Wolverines
Trojans
21
First Downs
10
219
Net Yards Rushing
91
272
Net Yards Passing
42
72
Total Plays
55
491
Total Yards
133
27/17/1
PA/PC/Int
11/6/1
4/38.3
Punts/Avg.
8/43.8
60
Return Yards
16
2/1
Fumbles/Lost
4/2
4/40
Penalties/Yards
1/10
Rushing-- (M): Chappuis 13-91; Weisenburger 20-91; Ford 2-21; Derricotte 3-8; Peterson 1-4; Elliott 5-4; (SC): Garlin 5-25; Betz 4-16.
Passing-- (M): Chappuis 14-24-188; Fonde 1-1-45; Yerges 1-1-29; Derricotte 1-1-10; (SC): Powers 4-5-22; Robertson 1-1-22.