Michigan Political Parties: Greenback Labor Party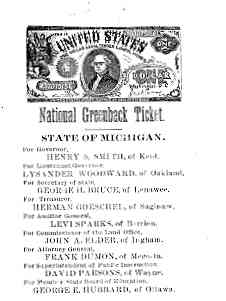 The greenback movement, which often used the name Greenback Labor Party, developed in the early 1870s to promote an inflationary economic policy intended to aid farmers. The movement later added a variety of progressive causes to its platform, including women's suffrage and labor law reform. In Michigan the high point of the greenback movement came in 1882, when Josiah Begole, a Fusionist candidate supported by both the Greenbackers and the Democrats, was elected governor. Several Greenbackers were elected to the Legislature during the 1880s, but the party lost support later in that decade as other reform parties developed.
This party is documented in several collections, including the Charles C. Comstock memoir, Charles F. Bates papers, David Woodman scrapbook, and George L. Yaple scrapbooks.