Michigan Political Parties: Prohibition Party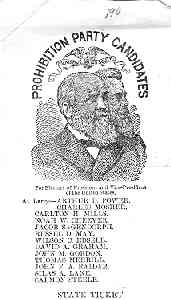 The Prohibition Party was founded in 1869 to promote national prohibition. The party's strength in Michigan seems to have peaked in the 1880s, when the party regularly received 20,000 to 30,000 votes for governor. The party is still active, although no Prohibition candidate has run for governor since 1960.
This party is documented in the papers of Earl F. Dodge, Delmar Gibbons, and Merritt Moore, and in the records of the Prohibition Party National Committee.
National Prohibition Party web sites:
http://www.prohibition.org/
http://www.prohibitionists.org/