Michigan Political Parties: Republican Party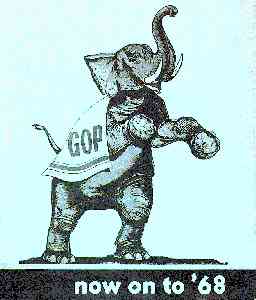 Michigan is noted as one of the birthplaces of the Republican Party, and for many years was a Republican stronghold. The state party was founded in Jackson at a convention in the summer of 1854. Later that year the new party took control of the governorship and both houses of the legislature. The legislature remained overwhelmingly Republican for over a century, with the party controlling both houses for all but twelve years between 1855 and 1964.
Although Republicans controlled the governor's office for most of the century after 1854, their control was not as total as in the legislature. Democratic candidates for governor were elected to four two-year terms between 1882 and 1914 and again to three two-year terms during the Franklin Roosevelt era, 1933 to 1945.
Following World War II, the Democratic Party was revitalized and the two parties became more competitive. It became common for one party to control the governor's office and the other the Legislature. One party controlled the governor's office and both houses of the Legislature for only eleven years between 1949 and 2003.
The Bentley Historical Library holds the records of the Michigan Republican State Central Committee, as well as the papers of many prominent Republicans.
One group of collections documents the career of progressive Republican governor Chase S. Osborn. In addition to Osborn's papers, the library holds the papers of Murl H. Defoe, Frank Knox, Stellanova Osborn, F. H. Townsend, and others.
A second group of collections documents the careers of governors George W. Romney and William G. Milliken, who dominated Michigan politics in the 1960s and 1970s. In addition to the papers of Romney and Milliken, the library holds the papers of Albert Applegate, Walter De Vries, Helen Milliken, Lenore Romney, Richard C. Van Dusen, Andrew F. Wilson, and others.
See the separate listings of the papers of Michigan governors, U.S. senators, and members of Congress.