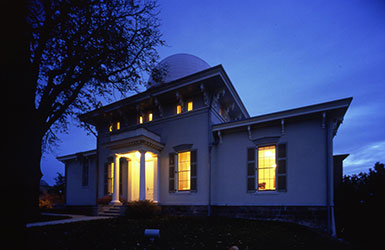 The Detroit Observatory was the first observatory built in the state of Michigan and is the second-oldest building on U-M's campus. In 2005, the Detroit Observatory became a division of the Bentley Historical Library.
Having undergone a full restoration in 1998, the building stands essentially as it was in 1854.
Please email Karen Wight at kwight@umich.edu with questions or for more information.
The Detroit Observatory is Temporarily Closed for Repairs
While addressing some minor maintenance this past summer, workmen found more damage than expected in the fabric of our dome (although in an 1854 building, one can almost expect such surprises!). The good news is that the University immediately began repairs that will ensure the Detroit Observatory continues to be active and accessible far into the future. The less welcome news is that those repairs will continue into – and throughout – the fall.
We will resume daylight tours exploring UM history and evening viewings exploring the cosmos in March 2018.
In the meantime, if you will be spending time on our Ann Arbor campus, you may wish to check out the Angell Hall Observatory and Planetarium. UM students offer programs several evenings each month. You can find further info about their events on the Astronomy department's web site here.
Address
1398 E. Ann Street (at the corner of Ann and Observatory Streets)
Ann Arbor, MI 48109-2051