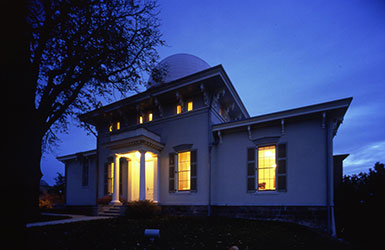 The Detroit Observatory was the first observatory built in the state of Michigan and is the second-oldest building on U-M's campus. In 2005, the Detroit Observatory became a division of the Bentley Historical Library.
Having undergone a full restoration in 1998, the building stands essentially as it was in 1854. The Observatory is a cultural treasure waiting to be explored.
Come look through our telescope! The Observatory has public viewing nights hosted in conjunction with the Department of Astronomy. Viewing nights can be found by clicking here.
Please email Karen Wight at kwight@umich.edu with questions or for more information.
Address
1398 E. Ann Street (at the corner of Ann and Observatory Streets)
Ann Arbor, MI 48109-2051