Michigan's Bowl Game History
1966 Rose Bowl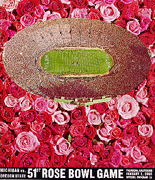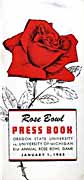 Michigan vs Oregon State
Pasadena, California
Jan. 1, 1965
Attendance: 100,243
Scoring by Quarter
Michigan
0
12
51
7
34
Oregon State
0
7
0
0
7
After finishing no higher than fifth in the Big Ten during the previous seven years, all the pieces finally fell into place for the 1964 Wolverines. Air Force and Navy were forced to the air in the first two games, throwing a combined total of 75 passes. Michigan then ran off six victories in seven Big Ten games, dropping a one-point contest to Purdue, and shutting out Northwestern and Ohio State. The Wolverines' 8-1 record earned them the conference championship, and the team headed to Pasadena, breaking a drought of 14 years.
After USC upset top-ranked Notre Dame in the regular-season finale, it appeared that the Trojans would be Michigan's New Year's Day opponent. However, the Pac Eight Conference instead ruled in favor of the Oregon State Beavers, who had tied Southern Cal for the conference lead. The fourth- ranked Wolverines were installed as 11-point favorites over the eighth ranked Beavers as Oregon State brought an 8-2 mark into the game.
After a scoreless first quarter, the Beavers broke open the scoring with a five-yard pass from Paul Brothers to Doug McDougall early in the second period. Steve Clark kicked the extra point, and Oregon State had a 7-0 start on their upset bid. Three possessions later, Wolverine tailback Mel Anthony broke free virtually untouched for 84 yards and the score. On the Wolverines' next possession, Carl Ward rambled 43 yards around right end to put Michigan in the lead for good. Bob Timberlake's pass to Ben Farabee was broken up in the end zone, but the Wolverines still held a 12-7 advantage going into the locker room.
Anthony paced the Michigan third quarter attack after recovering a blocked Beaver punt, and extending the Wolverine lead with one- and seven- yard scores. Timberlake added a 24-yard td run down the sideline in the fourth quarter, to close the scoring and give Michigan a 34-7 triumph.
Anthony earned Player-of-the-Game kudos for his efforts that day, and the Wolverines raised their post-season record to four victories against no losses.
---
SCORING
Second Quarter
OSU
McDougal, 5-yard pass from Brothers (Clark kick)
M
Anthony, 84-yard run (kick failed)
M
Ward, 43-yard run (pass failed)
Third Quarter
M
Anthony, 1-yard run (Timberlake run)
M
Anthony, 7-yard run (Timberlake kick)
Fourth Quarter
M
Timberlake, 24-yard run (Timberlake kick)
---
Game Statistics
Wolverines
Beavers
18
First Downs
14
332
Net Yards Rushing
64
83
Net Yards Passing
179
62
Total Plays
64
415
Total Yards
243
11/8/0
PA/PC/Int
33/19/0
5/33.6
Punts/Avg.
9/43.5
133
Return Yards
89
2/1
Fumbles/Lost
1/1
6/55
Penalties/Yards
5/57
Rushing-- (M): Anthony 13-123; Ward 10-88; Timberlake 12-57; Fisher 5-30; Detwiler 5-16; (OSU): Shaw 4-28; Watkins 8-24; Washington 3-15.
Passing-- (M): Timberlake 7-10-77; Evashevski 1-1-6; (OSU): Brothers 9-17-89; Queen 10-16-90
Receiving-- (M): Henderson 4-34; (OSU): Moreland 4-29; Watkins 3-43; Grim 3-42; Miller 3-21; Frketich 2-23.