Michigan's Bowl Game History
1970 Rose Bowl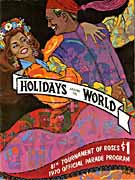 Michigan vs Southern California
Pasadena, California
Jan. 1, 1970
Attendance: 103,878
Scoring by Quarter
Michigan
0
3
0
0
3
USC
3
0
7
0
10
In Bo Schembechler's debut at Michigan Stadium, the Wolverines outrushed Vanderbilt 367-55 en route to a 42-14 triumph, and a new era in Michigan football had begun. Heading into the season's final game, the 7-2 Wolverines were slated to meet the top-ranked and undefeated Ohio State Buckeyes. Michigan responded by pounding out 266 yards on the ground and 108 through the air while intercepting six Buckeye passes before the largest crowd ever to see a college football game up to that date. It also snapped OSU's 22-game winning streak, 24-12, and earned the Big Ten's Rose Bowl berth.
Facing the Wolverines in Pasadena was the University of Southern California. The Trojans compiled a 9-0-1 record and were ranked fourth in the polls. USC, coached by John McKay, was led by Pac Eight rushing leader Clarence Davis. The 1970 game marked the fourth consecutive Rose Bowl appearance for the Trojans.
Fate was not with the Wolverines from the beginning of their California trip. While running in practice out on the coast, Glenn Doughty, Michigan's second-leading rusher, injured his knee and was forced to undergo surgery. Then, the night before the game, Schembechler suffered a heart attack which kept him off the sideline and in the hospital during the contest. Defensive coordinator Jim Young assumed the coaching responsibilities for the game, but the players were unable to shake off their discouragement by kickoff time.
Southern Cal opened the scoring in the first quarter with a 25-yard field goal by Ron Ayala. Michigan added a field goal of its own two possessions later as Tim Killian nailed one from 20 yards out, and the teams had a 3-3 deadlock at half-time.
On third down with six yards to go late in the third quarter, Trojan quarterback Jimmy Jones hit Bob Chandler 13-yards downfield. Chandler broke several Wolverine tackles, scampered another 20 yards, and gave USC its margin of victory. Michigan saw fourth quarter drives stall at the Trojan 13, nine, and finally the 38 as time ran out, and returned to Ann Arbor with its first post- season defeat ever.
---
SCORING
First Quarter
USC
Ayala, 25-yard field goal
Second Quarter
M
Killian, 20-yard field goal
Third Quarter
USC
Chandler, 33-yard pass from Jones (Ayala kick)
Rushing-- (M): Moorhead 18-60; Taylor 18-56; Scheffler 9-29; Craw 6-15; (USC): Davis 15-76; Berry 23-65; Evans 6-28; Jones 7-17.
Passing-- (M): Moorhead 14-32-127; (USC): Jones 10-17-128
Receiving-- (M): Mandich 8-79; Oldham 2-19; Harris 1-12; Hankwitz 1-7; B. Taylor 1-6; (USC): Chandler 3-78; Debrah 3-27; Evans 3-15; Davis 1-8
---
Game Statistics
Wolverines
Trojans
20
First Downs
16
162
Net Yards Rushing
195
127
Net Yards Passing
128
85
Total Plays
70
289
Total Yards
323
32/14/1
PA/PC/Int
17/10/0
6/36.2
Punts/Avg.
5/40.6
56
Return Yards
75
1/0
Fumbles/Lost
2/0
2/20
Penalties/Yards
6/38
Rushing-- (M): Moorhead 18-60; Taylor 18-56; Scheffler 9-29; Craw 6-15; (USC): Davis 15-76; Berry 23-65; Evans 6-28; Jones 7-17.
Passing-- (M): Moorhead 14-32-127; (USC): Jones 10-17-128
Receiving-- (M): Mandich 8-79; Oldham 2-19; Harris 1-12; Hankwitz 1-7; B. Taylor 1-6; (USC): Chandler 3-78; Debrah 3-27; Evans 3-15; Davis 1-8