Michigan's Bowl Game History
1972 Rose Bowl
<! --BEGIN PORGRAMS-->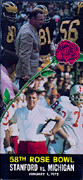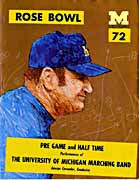 Michigan vs Stanford
Pasadena, California
Jan. 1, 1972
Attendance: 103,154
Scoring by Quarter
Michigan
0
3
0
9
12
Stanford
0
0
3
10
13
<! --END PORGRAMS-->
By 1971, Bo had the foundation in place for a Big Ten dynasty. After stopping the Buckeyes, 10-7, in the regular season finale Michigan had completed its first undefeated and untied season since 1948 and prepared to meet Stanford in Pasadena.
Stanford entered the contest with an impressive 8-3 record despite the loss of Heisman Trophy winner Jim Plunkett to graduation the previous spring. John Ralston's Indians thrived on the talents of quarterback Don Bunce, and running back Jackie Brown.
Dana Coin made a 30-yard field goal in the second quarter to produce the only points scored by either team in the first half. When the gun sounded after 30 minutes, Michigan held a 3-0 edge as they left the soggy Rose Bowl turf for the locker room.
Stanford egressed from the locker room to start the third period and held the Wolverines inches short of the game's first touchdown with a dramatic goal line stand. The Indians gained control of the ball and marched down the field where soccer-style kicker Rod Garcia added a field goal of his own, this one from 42 yards away. Early in the fourth quarter, Michigan fullback Fritz Seyferth plunged across from the one-yard line, and the Wolverines regained the lead, 10-3.
Facing fourth down on their own 33-yard line, Stanford used a fake punt to spring Brown for a 31-yard gain. Several plays later, Brown again broke free, this time for 24 yards and the score that tied the contest at ten apiece. Minutes later, when Coin's 42-yard field goal attempt fell short, Indian Jim Ferguson caught and intended to return the ball, but Ed Shuttlesworth dropped him in the end zone to give Michigan two points on the safety and a 12-10 advantage. Following a Michigan punt the Indians took over on their 22-yard line, and Bunce proceeded to complete five of his next six passes to move his squad down the field. With 16 seconds remaining in the game, Ralston sent in Garcia for one final play. The kick sailed 31 yards straight over the crossbar, and Stanford claimed a narrow victory, 13-12
---
<! -- BEGIN SCORING-- >
SCORING
Second Quarter
M
Coin, 30-yard field goal
Third Quarter
S
Garcia, 42-yard field goal
Fourth Quarter
M
Seyferth, 1-yard run (Coin kick)
S
Brown, 24-yard run (Garcia kick)
M
Safety-Ferguson tackled in end zone by Shuttlesworth
S
Garcia, 31-yard field goal
<! -- END SCORING-- >
---
<! -- BEGIN STATISTICS-- >
Game Statistics
Wolverines
Indians
16
First Downs
22
264
Net Yards Rushing
93
26
Net Yards Passing
290
85
Total Plays
67
290
Total Yards
383
11/3/1
PA/PC/Int
44/24/0
7/38.9
Punts/Avg.
4/41.5
122
Return Yards
65
2/1
Fumbles/Lost
4/4
2/23
Penalties/Yards
3/14
Rushing-- (M): W. Taylor 32-82; Shuttlesworth 13-62; Slade 13-41; Doughty 11-56; (S): Brown 6-60; Winesberry 4-15; Sanderson 5-16.
Passing-- (M): Slade 3-10-26; Cipa 0-1-0; (S): Bunce 24-44-290
Receiving-- (M): Doughty 2-13; Seymour 1-13; (S): Winesberry 8-112; Scott 5-55; Brown 5-30; Moore 3-52; Sanderson 3-45
<! --END STATISTICS-- >