Michigan's Bowl Game History
1976 Orange Rose Bowl
<! --BEGIN PORGRAMS-->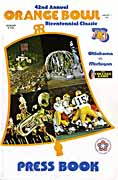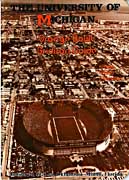 Michigan vs Oklahoma
Miami, Florida
Jan. 1, 1976
Attendance: 80,397
Scoring by Quarter
Michigan
0
0
0
6
6
Oklahoma
0
7
7
0
14
<! --END PORGRAMS-->
Under pressure from the conference coaches, led by Michigan's Bo Schembechler, the Big Ten finally lifted its long standing policy of limiting post season games to only the Rose Bowl. As a consequence, once the Wolverines lost their only regular season game to top ranked Ohio State, Michigan accepted an invitation to meet the Oklahoma Sooners in Miami's Orange Bowl.
The fourth ranked Wolverines left for Miami armed with Gordie Bell, who led the nation's second-leading rushing team with 121.4 yards per game, and under the guidance of freshman field general Rick Leach. Oklahoma came in as defending Associated Press Nation Champions despite making its first postseason appearance since 1972, due to two years of NCAA and Big Eight probation. The Sooners' 10-1 record placed them second in both wire service polls, and they marked Michigan's first experience against a wishbone offense since meeting UCLA three years earlier.
The first quarter was a defensive battle, with the Wolverines putting together the only substantial drive, starting at the Michigan five yard line and stalling at the Oklahoma 38. Following Bob Wood's attempted 51 yard field goal, the Sooners opened the scoring with successive passes of 40 yards from Steve Davis to Tinker Owens and a 39 yard reverse by Billy Brooks for the score.
The Wolverines drove as far as the Oklahoma nine yard line in the third quarter, before being thwarted by a pass interception in the end zone. On the first play of the fourth quarter, Davis ran 10 yards around the left end to increase the Sooner lead to 14-0. Michigan finally got on the scoreboard following an Oklahoma fumble on its own two. Bell carried it over on the next play, but Leach's two point conversion attempt was stopped. The Wolverines were only able to make it as far as midfield for the duration of the game, and the Sooners went on to a 14 6 victory.
Oklahoma was led by the defensive efforts of Leroy and Dewey Selmon (10 and 13 tackles, respectively) and, following Ohio State's 23 10 loss in the Rose Bowl to UCLA, was named national champion in both polls. Leroy Selmon went on to become the first draft choice in the NFL college draft later that spring.
---
<! -- BEGIN SCORING-- >
SCORING
First Quarter
O
Brooks, 39-yard run (DiRienzo kick)
Fourth Quarter
O
Davis, 9-yard run(DiRienzo kick)
M
Bell, 2-yard run (Leach run failed)
<! -- END SCORING-- >
---
<! -- BEGIN STATISTICS-- >
Game Statistics
Wolverines
Sooners
12
First Downs
16
169
Net Yards Rushing
282
33
Net Yards Passing
63
72
Total Plays
70
202
Total Yards
345
20/2/3
PA/PC/Int
5/3/0
10/38.6
Punts/Avg.
9/34.9
52
Return Yards
16
1/0
Fumbles/Lost
4/3
5/2
Penalties/Yards
9/90
Rushing-- (M): Leach 13‑62; G. Bell 18‑53; Lytle 10‑32; J. Smith 5‑18; Elzinga 6‑4; (0): Washington 17‑73; Culbreath 11‑63; Davis 19‑55; Brooks 1‑39; Littrell 11‑28; Peacock 6‑24
Passing-- (M): Leach 2‑16‑33; Elzinga 0‑4‑0; G. Bell 0‑1‑0; (0): Davis 3‑5‑63
Receiving-- (M): G. Bell 1‑17; K. Johnson 1‑16; (0): T. Owens 3‑63
<! --END STATISTICS-- >