Michigan's Bowl Game History
1978 Rose Bowl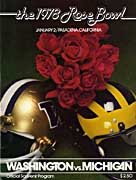 Michigan vs Washington
Pasadena, California
Jan. 1, 1978
Attendance: 105,312
Scoring by Quarter
Michigan
0
0
7
13
20
Washington
7
10
10
0
27
With a defense featuring Curtis Greer and Chris Godfrey on the line, Mel Owens at outside linebacker, and Dwight Hicks and Mike Harden in the backfield, the Wolverines held all but three of their opponents under 10 points during the 1977 season. Michigan had won 10 of 11 games and outscored its opposition by a three-to-one margin heading into the Rose Bowl to face the University of Washington Huskies.
1977 Team Photo


view larger image
Michigan failed to get out of the gate quick enough and even a 20-point second half could not rescue the Wolverines. A low center snap resulted in a 13-yard loss on a fourth down punt and gave Washington field position early. Ten plays later, quarterback Warren Moon scored from the two yards out. A field goal and Moon's second td put the Huskies up 17-0 at half-time.
Moon's 28-yard scoring pass to Spider Gaines after Washington had stopped Michigan on the Huskey three-yard line appeared to put the game away in the third quarter, but Wolverine quarterback Rick Leach launched one of the finest aerial assaults in the history of this classic contest. First, he fired a Rose Bowl record td pass of 76-yard td pass to Curt Stephenson. Washington countered with a 18-yard field goal, but Leach completed four straight passes, and Russell Davis scored from the two. Later in the fourth quarter, Leach fired first down passes of 11 and 12 yards to Ralph Clayton, then connected with Stanley Edwards, filling in for the injured Harlan Huckleby, for 32 yards and a td.
Leach led another dramatic drive to the Washington eight-yard line, but a diving interception by linebacker Michael Jackson stopped Michigan and preserved the 27-20 Washington win.
---
SCORING
First Quarter
W
Moon, 2-yard run (Robbins kick)
Second Quarter
W
Robbins, 30-yard field goal
>
W
Moon, 1-yard run (Robbins kick)
Third Quarter
W
Gaines, 28-yard pass from Moon (Robbins kick)
M
Stephenson, 76 yard pass from Leach (Willner kick)
W
Robbins, 18-yard field goal
Fourth Quarter
M
R. Davis, 2-yard run (Willner kick)
M
Edwards, 32-yard pass from Leach (kick failed)
---
Game Statistics
Wolverines
Huskies
22
First Downs
17
149
Net Yards Rushing
164
239
Net Yards Passing
234
75
Total Plays
72
388
Total Yards
398
27/14/2
PA/PC/Int
24/13/2
4/42.5
Punts/Avg.
5/39.0
124
Return Yards
92
2/1
Fumbles/Lost
0/0
3/11
Penalties/Yards
6/47
Rushing-- (M): R. Davis 18-79; Edwards 51-74; Clayton 2-12; Leach 9-5; (W): Steele 13-77; Gipson 15-48; Rowland 8-32.
Passing-- (M): Leach 14-27-239; (W): Moon 12-23-188; Wilson 1-1-46
Receiving-- (M): Clayton 5-84; R. Davis 3-26; Edwards 2-41; R. White 2-8; Stephenson 1-76; (W): Gaines 4-122; Greenwood 3-28; Gipson 2-24; Stevens 1-46.