Michigan's Bowl Game History
1979 Rose Bowl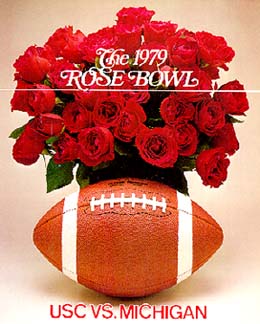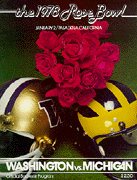 Michigan vs Southern Califonria
Pasadena, California
Jan. 1, 1979
Attendance: 105,629
Scoring by Quarter
Michigan
0
3
7
0
10
USC
7
10
0
0
17
After shutting out the Fighting Illini of Illinois in the season opener, the Wolverines won nine of their next ten games, including their third straight victory over Ohio State, and qualified for their third Rose Bowl in as many years.

view larger image
Michigan played one of its finest defensive games in years, but a combination of circumstances and a relentless Southern California ground attack lifted the Trojans to a 17-10 victory in the 65th annual Rose Bowl Classic in Pasadena. An intercepted pass returned to the Wolverine 16-yard line set up USC's first touchdown of the game, a Paul McDonald to Hoby Brenner pass covering nine yards.
Michigan later drove to the Trojan 21-yard line, but a dropped pass stalled the Wolverines' progress, and allowed Gregg Willner to put the first "Big Blue" points on the board with a 36-yard field goal in the second quarter. USC extended its lead moments later on one of the more controversial calls in Rose Bowl history. On second down at the Michigan three-yard line, Trojan tailback Charles White dove through the heart of the offensive line in an attempt to score. During the ensuing contact, White lost the ball and Wolverine linebacker Jerry Meter came up with an apparent fumble recovery on the one-yard line. However, the line judge determined that White had crossed the goal line before losing control of the ball and signaled for the touchdown that put USC up by 11. Late in the half, the Trojans intercepted a Rick Leach pass and set up a Frank Jordan field goal from 35 yards away to increase their lead to 17-3 at half-time.
It didn't take long after leaving the locker room for the Wolverines to narrow the score. Midway through the third period, Leach tossed a 44-yard scoring strike to tailback Roosevelt Smith to close within seven points. Michigan held the strong USC offense scoreless for the remainder of the game, but was unable to put more points on tahe board as the score stayed unchanged for the duration. Playing in his third stright Rose Bowl, Leach set career records for total plays (94), total yards running and passing (523), and most yards passing (452) in the New Year's game. Leach shared Most Valuable Player honors with USC's White.
---
SCORING
First Quarter
USC
Brenner, 9-yard pass from McDonald (Jordan kick)
Second Quarter
M
Willner, 36-yard field goal
USC
White, 3-yard run (Jordan kick)
USC
Jordan, 35-yard field goal
Third Quarter
M
R. Smith, 44-yard pass from Leach (Willner kick)
---
Game Statistics
Wolverines
Trojans
12
First Downs
14
99
Net Yards Rushing
134
137
Net Yards Passing
23
62
Total Plays
63
236
Total Yards
157
22/10/2
PA/PC/Int
9/4/0
8/29.5
Punts/Avg.
9/38.6
51
Return Yards
80
2/0
Fumbles/Lost
2/1
3/30
Penalties/Yards
2/21
Rushing-- (M): Davis 8-28; Huckleby 9-28; R. Smith 10-22; (USC): White 32-99; Cain 14-90
Passing-- (M): Leach 10-21-137; (USC): McDonald 4-9-23
Receiving-- (M): R. Smith 4-58; Clayton 2-40; G. Johnson 2-23; (USC): Garcia 1-12