Michigan's Bowl Game History
1979 Gator Bowl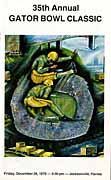 Michigan vs North Carolina
Jacksonville, Florida
Dec. 28, 1979
Attendance: 70,407
Scoring by Quarter
Michigan
0
9
0
6
15
North Carolina
0
7
7
3
17
"Bo Schembechler is looking UP into football's valhalla and saying, 'Thank you, Fielding Yost, thank you, Fielding Yost for that one'. . . They aren't even going to try the extra point. Who cares! Who gives a damn! I've never been so happy in all my cotton pickin' 59 years." So said the Wolverines' all time No. I cheerleader, Bob Ufer, describing the mayhem following "the greatest play in 100 years of Michigan football." Anthony Carter's dramatic, gamewinning reception against Indiana was easily the season highlight of the 8-3 Wolverines as they headed to the Gator Bowl to oppose North Carolina's 7-3-1 Tar Heels.

view larger image
Quarterback John Wangler opened the game with a 47 yard pass completion to Carter, but 20 yards in penalties took Michigan out of field goal range, giving the Wolverines a preview of events to come. Bryan Virgil booted a 20-yard field goal early in the second quarter and Wangler, hitting receivers at will, threw 53 yards to Carter for a 9-0 lead after Michigan missed the extra point. On the next series, Wangler was tackled by UNC linebacker Lawrence Taylor on a sprint out, suffering a severe knee injury, ending his playing time that night. Up to that point, he had accumulated 203 yards through the air. North Carolina finally scored on a one-yard plunge by Doug Paschal late in the quarter, and trailed 9-7 at the half.
Midway through the third quarter, the Tarheels took control of the game, driving 97 yards in 15 plays behind the running of Amos Lawrence, and scoring on a 12-yard pass from Matt Kupec to Phil Farris. North Carolina added a field goal with 7:31 remaining in the game to move ahead 17-9. However, the Wolverines never gave up, and with 1:28 to go, backup quarterback B.J. Dickey, Wangler's replacement, connected with A.C. on a 30 yard bomb to bring the game to within two. In an attempt to tie, Dickey's pass to Carter in the endzone failed, and Michigan fell short. Hindering the Wolverines throughout the game were two lost fumbles, two pass interceptions, the loss of Wangler and 87 yards in penalties.
---
SCORING
Second Quarter
M
Virgil, 20-yard field goal
M
Carter, 53-yard pass from Wangler (kick failed)
NC
Paschal, 1-yard run (Hayes kick)
Third Quarter
NC
Farris 12-yard pass from Kupec (Hayes kick)
Fourth Quarter
NC
Hayes 32-yard field goal
M
Carter 30-yard pss from Dickey (Dickey pass failed)
---
Game Statistics
Wolverines
Tarheels
18
First Downs
20
152
Net Yards Rushing
169
328
Net Yards Passing
161
68
Total Plays
79
480
Total Yards
330
26/17/2
PA/PC/Int
28/19/0
6/35.1
Punts/Avg.
6/45.4
39
Return Yards
68
2/2/X
Fumbles/Lost
3/2
8/87
Penalties/Yards
8/74
Rushing-- (M): ): Woolfolk 16-63; Smith 8-51; Dickey 11-42; Edwards 4-15; (NC): Lawrence 2-118; Paschal 14-49
Passing-- (M): Wangler 6-8-;203; Dickey 11-18-125 (NC): Kupec 18-28-161
Receiving-- (M): Carter 4-141; Woolfolk 5-43; Marsh 3-46; Betts 3-41; (NC): Lawrence 5-38; Chatham 5-37