Michigan's Bowl Game History
1983 Rose Bowl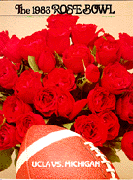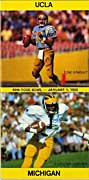 Michigan vs UCLA
Pasadena, California
Jan. 1, 1983
Attendance: 104,991
Scoring by Quarter
Michigan
0
0
7
7
14
UCLA
7
3
7
7
24
Michigan dominated the Big Ten in 1982, rolling through its conference schedule and winning the title outright in the second-to-last-game against Purdue. Even a loss to Ohio State in the regular season finale could not take the roses from the Wolverines as they prepared to face the UCLA Bruins in Pasadena. The game featured a rematch of the previous season's Bluebonnet Bowl participants, and gave the Maize and Blue an opportunity to avenge the 31-27 loss suffered at the hands of the Bruins earlier in the season. This contest, however, would be played in the Rose Bowl, a stadium UCLA had claimed as its home field for the 1982 regular season.

view larger image
A one-yard plunge by Ramsey on UCLA's second drive put the Bruins up 7-0 in the first quarter, a lead they never relinquished. In the second quarter, Wolverine quarterback Steve Smith ran an eight-yard option for a first down, but took a vicious hit from Bruin free safety Don Rogers. Smith left the game with a separated shoulder and did not return. Junior Dave Hall, with seven completions in 14 attempts for the season, finished the game in admirable fashion, but his inexperience hurt the Wolverines.
Late in the second quarter, kicker John Lee gave UCLA a 10-0 lead with a 39-yard field goal. However, the Wolverines stormed back after the intermission and drove 55 yards for a touchdown. Hall passed the final yard to fullback Eddie Garrett in the third quarter to bring U of M within three points at 10-7.
On the next drive the Bruins took control with Ramsey leading the way, passing for 33 yards and running for 20 in an 80-yard td drive. With UCLA up 17-7 and nine minutes left to play, the Wolverines took over deep in their own territory. Here Hall showed his inexperience by lobbing a pass into the hands of Bruin Blanchard Montgomery. The 230-pound linebacker galloped 11 yards into the end zone to seal the Wolverines' fate.
After Hall passed to fullback Dan Rice for a 1-yard touchdown in the fourth quarter, the score read 24-14 in UCLA's favor. Michigan could not muster another scoring drive, and UCLA took home the roses.
---
SCORING
First Quarter
UCLA
Ramsey, 1-yard run (Lee kick)
Second Quarter
UCLA
Lee, 39-yard field goal
Third Quarter
M
Garrett, 1-yard pass from Hall (Haji-Sheikh kick)
UCLA
Andrews, 9-yard run (Lee kick)
Fourth Quarter
UCLA
Montgomery, 11-yard pass interception return (Lee kick)
M
Rice, 4-yard pass from Hall (Haji-Sheikh kick)
---
Game Statistics
Wolverines
Bruins
19
First Downs
19
110
Net Yards Rushing
181
209
Net Yards Passing
162
72
Total Plays
72
319
Total Yards
343
34/19/3
PA/PC/Int
25/18/0
6/40.3
Punts/Avg.
6/32.2
63
Return Yards
57
1/1
Fumbles/Lost
1/0
3/17
Penalties/Yards
2/10
Rushing-- (M):Ricks 23-88; S. Smith 3-15; Rogers 2-12; (UCLA): Nelson 11-48; Cephous 8-4 6; Andrews 12-42; Ramsey 10-25.
Passing-- (M): Hall 13-24-155; S. Smith 6-9-54; Carter 0-1-0; (UCLA): Ramsey 18-25-162.