Michigan's Bowl Game History
1984 Sugar Bowl
<! --BEGIN PORGRAMS-->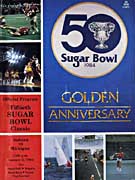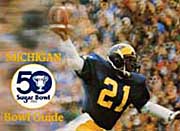 Michigan vs Auburn
New Orleans, Louisiana
Jan. 2, 1984
Attendance: 77,893
Scoring by Quarter
Michigan
7
0
0
0
7
Auburn
0
0
3
6
9
<! --END PORGRAMS-->
Buoyed by back to back shutouts of Michigan State and Northwestern and a last second victory over Iowa, the 1983 Wolverines charged to a second-place finish in the Big Ten, suffering its only conference setback to the Illinois squad that went on to play in the Rose Bowl. By holding off a late Ohio State comeback bid in the season finale, the Wolverines raised their record to 9-2 and gained a trip to New Orleans to meet the Auburn Tigers in the Sugar Bowl.

view larger image
Steve Smith led a powerful offensive attack early in the game during which Michigan held the ball for over nine minutes of the first quarter and gained 116 yards to the Tigers' 61. The Wolverines' second offensive drive in the game was highlighted by a 19-yard Smith to Triando Markray completion and 38 yards on four carries by Rick Rogers. Smith's four yard keeper midway through the first quarter gave the Wolverines a lead they would keep for 52 minutes of the 60 minute contest.
Each team showed a strong defense for the remainder of the half, and Michigan took its 7-0 lead into the locker room.
Campbell attempted only two passes in the second half and handed off 42 times to backs Lionel James, Bo Jackson, and Tommy Agee, who together collected 306 yards on the ground.
While Michigan's offense was thwarted time and time again, the Tigers ran all over the tiring Wolverine defense, controlling the ball for over 23 minutes of the second half. After a 26-yard Don Bracken punt one of a season-high eight punts Auburn marched 68 yards, all on the ground, to set up a 31-yard Al DelGreco field goal, The Tigers got a break when Smith was hit as he released the ball and Auburn's Gregg Carr grabbed it at the Michigan 41-yard line. Seven plays later, DelGreco chalked up his second three pointer, a 32 yarder.
After another Michigan punt, Auburn took over on its own 39-yard line. The Tigers ran a ball control offense, using 15 rushing plays and 7:21 off the clock in reaching the Wolverines' one yard line with 27 seconds to play in the game. Michigan called a timeout, but DelGreco booted the 19-yard field goal to send the Wolverines back to Ann Arbor with a taste of New Orleans but no sugar.
---
<! -- BEGIN SCORING-- >
SCORING
First Quarter
M
S. Smith, 4 yard run (Bergeron kick)
Third Quarter
A
DelGreco, 31 yard held goal
Fourth Quarter
A
DelGreco, 32 yard field goal
A
DelGreco, 19 yard field goal
<! -- END SCORING-- >
---
<! -- BEGIN STATISTICS-- >
Game Statistics
Wolverines
Tigers
12
First Downs
21
118
Net Yards Rushing
301
125
Net Yards Passing
21
56
Total Plays
73
243
Total Yards
322
25/19/1
PA/PC/Int
6/2/1
8/38.3
Punts/Avg.
4/42.0
13
Return Yards
8
2/1
Fumbles/Lost
4/3
6/49
Penalties/Yards
3/15
Rushing-- (M):Rogers 17‑86; Garrett 5‑18; S. Smith 9‑14; (A): Jackson 22‑130;
Agee 16‑93; James 18-83; Collins 2‑1
Passing-- (M): S. Smith 9‑25‑125; (A): Campbell 2‑6‑21
Receiving-- (M): Markray 3‑68; Bean 3‑37; Nelson 3‑20; (A): James 1‑15; Jackson 1‑6
<! --END STATISTICS-- >