Michigan's Bowl Game History
1984 Holiday Bowl
<! --BEGIN PORGRAMS-->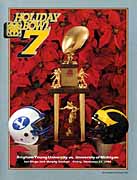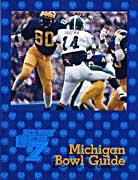 Michigan vs Brigham Young
San Diego, California
Dec. 21, 1984
Attendance: 61,243
Scoring by Quarter
Michigan
0
7
7
3
17
Brigham Young
0
10
0
14
24
<! --END PORGRAMS-->
After upsetting top-ranked Miami in the season opener, Michigan's fortunes looked bright for 1984. But when quarterback Jim Harbaugh broke his arm against Michigan State, it took a great effort for the Wolverines to limp to a 6-5 record. Despite their less-than-spectacular season mark, Michigan found itself paired against No. I-ranked Brigham Young in the Holiday Bowl. The Wolverines accepted the opportunity, and ended the season just how they had started-facing the nation's top-ranked team.

view larger image
Aided by six Brigham Young turnovers and a blocked field goal attempt, Michigan held a 17-10 lead early in the fourth quarter. But BYU quarterback Robbie Bosco, hampered by an injured left knee and ankle suffered in the first stanza, led the Cougars to 80- and 83-yard TD drives to give BYU a 24-17 victory.
After a scoreless first quarter, BYU jumped on the scoreboard when Kelly Smith capped an 11-play, 80-yard drive with a five-yard TD run. The Wolverines knotted the score at seven after Rick Rogers scampered in from five yards out with 1:13 left in the half. But Bosco led BYU down the field in the last minute, and Lee Johnson booted a 31-yard field goal giving the Cougars a slim 10-7 halftime lead.
Michigan went ahead late in the third quarter, moving 47 yards after Tim Anderson blocked Johnson's field goal attempt and Chris Zurbrugg threw a 10-yard TD pass to Bob Perryman. Early in the fourth quarter, Bob Bergeron pushed the Michigan lead to 17-10 with a 32-yard field goal. Then Bosco went to work, driving BYU for two late TDs-the last coming with just 1:23 to play-and the win.
In collecting its 24th consecutive victory, BYU put together some impressive offensive figures (483 yards in total offense, 32 first downs) and went on to claim the national championship.
---
<! -- BEGIN SCORING-- >
SCORING
Second Quarter
BYU
K. Smith, 5-yard run (Johnson kick)
M
Rogers, 5-yard run (Bergeron kick)
BYU
Johnson, 31-yard field goal
Third Quarter
M
Perryman, 10-yard pass from Zurbrugg Bergeron kick)
Fourth Quarter
M
Bergeron, 32-yard field goal
BYU
Kozlowsli, 7-yard pass from Bosco (Johnson kick)
BYU
K. Smith, 13-yard pass from Bosco (Johnson kick)
<! -- END SCORING-- >
---
<! -- BEGIN STATISTICS-- >
Game Statistics
Wolverines
Cougars
13
First Downs
32
120
Net Yards Rushing
112
82
Net Yards Passing
371
64
Total Plays
76
202
Total Yards
483
15/7/1
PA/PC/Int
9/35/3
7/39.1
Punts/Avg.
1/45.0
35
Return Yards
35
2/0
Fumbles/Lost
4/3
9/82
Penalties/Yards
9/82
Rushing-- (M): Perryman 13-110; Rogers 19-60; (B): Heimuli 16-82
Passing-- (M): Zurbrugg 7-15-82; (B): Bosco 30-42-343; Fowler 5-7-28
Receiving-- (M): Bean 3-46: Perryman 2-15; (B): Mills 11-103; K Smith 10-88; He,fnuli 4-40; Bellini 3-48, Haysbert 3-42
<! --END STATISTICS-- >