Michigan's Bowl Game History
1986 Fiesta Bowl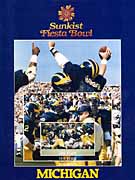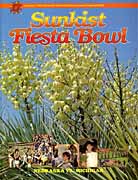 Michigan vs Nebraska
Tempe, Arizona
Jan. 1, 1986
Attendance: 72,454
Scoring by Quarter
Michigan
3
0
24
0
27
Nebraska
0
14
0
9
23
The surprising 9-1-1 Wolverines--equipped with the nation's top scoring defense--found themselves matched against Nebraska in the Fiesta Bowl.

view larger image
After a 21-yard run by Michigan's Jamie Morris set up a 42-yard field goal by Pat Moons to open the scoring, the Cornhuskers got rolling. Nebraska used 10 plays to move 74 yards for the touchdown that gave Nebraska a 7-3 lead early in the second quarter. McCathorn Clayton hit Doug DuBose in the endzone from five yards out for the score. The Cornhuskers added another tally when a 15-yard run by fullback Tom Rathman set up DuBose's second touchdown of the game, giving Nebraska a 14-3 halftime lead.
In the second half, an inspired Wolverine defense began forcing turnovers to help U-M climb back into contention. On its third play from scrimmage, Nebraska's DuBose fumbled, and Michigan's Jeff Akers recovered. A 19-yard run by Jamie Morris set up Gerald White's one-yard dive for a TD, pulling the Wolverines to within 14-10 early in the third quarter. Another fumble by Nebraska, this one by Clayton, was recovered by Michigan's Mark Messner on the next series, and White's 19-yard run set up a one-yard plunge by Harbaugh to give the Maize and Blue the lead at 17-14. The Wolverine defense forced Nebraska to punt on the next series, and Dave Arnold rushed in untouched to block his third punt of the season to set up a short Moons field goal. The Wolverines scored again on their next possession when a 14-yard run by Morris set up Harbaugh's second TD of the afternoon, giving Michigan a seemingly comfortable 27-14 lead.
The excitement was not quite finished, thanks to an elusive freshman quarterback for Nebraska. Steve Taylor moved the Cornhuskers 77 yards in four minutes to cut the Michigan lead to 27-21. With the Wolverines in a hole late in the game, Schembechler elected to take an intentional safety, and Nebraska was unable to mount a drive on its final possession.
The win gave Schembechler his third bowl victory in six years, and vaulted Michigan to the No. 2 spot (behind Oklahoma) in the final polls.
---
SCORING
First Quarter
M
Moons, 42-yard field goal
Second Quarter
N
DuBose, 5-yard pass from Clayton (Klein kick)
N
DuBose, 3 yard run (Klein kick)
Third Quarter
M
White, 1-yard run (Moons kick)
M
Harbaugh, 1-yard run (Moons kick)
M
Moons, 19-yard field goal
M
Harbaugh, 2-yard run (Moons kick)
Fourth Quarter
N
Taylor, 1-yard run (Klein kick)
N
Safety-Robbins steps out of endzone
---
Game Statistics
Wolverines
Cornhuskers
16
First Downs
20
171
Net Yards Rushing
304
63
Net Yards Passing
66
65
Total Plays
75
234
Total Yards
370
16/6/0
PA/PC/Int
15/6/1
5/43.8
Punts/Avg.
3/40.3
3
Return Yards
20
2/0
Fumbles/Lost
6/3
8/43
Penalties/Yards
7/46
Rushing-- (M): Morris 22-156; White 13-38; (N): Clayton 14-68; DuBose 17-99; Rathman 9-47; Sheppard 7-13; Taylor 10-76
Passing-- (M): Harbaugh 6-15-63; (N): Clayton 4-6-51; Taylor 2-9-15
Receiving-- (M): Kattus 3-38; Jokisch 1-15; Morris 2-10; (N): Frain 3-46;
Smith 1-8