Michigan's Bowl Game History
1987 Rose Bowl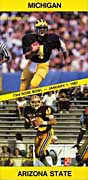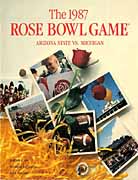 Michigan vs Arizona
Pasadena, California
Jan. 1, 1987
Attendance: 103,168
Scoring by Quarter
Michigan
8
7
0
0
15
Arizona State
0
13
6
3
22
The Maize and Blue returned to the grass of the Rose Bowl after a four year drought to face seventh-ranked Arizona State, a team that had rolled to the PAC 10 title by running through its schedule unbeaten before slipping in their final game against Arizona.

view larger image
Michigan made its first drive look easy. After Jim Harbaugh passed 24 yards to Greg McMurtry on the second play from scrimmage, the Wolverines quickly moved into scoring position. Jamie Morris took the handoff at the 18-yard line, broke two tackles, and smashed into the end zone. On the point -after attempt, the Sun Devils were caught when kicker Mike Gillette took the snap and passed to Gerald White in the end zone while the rest of the team remained huddled to the side. As the ecstatic Wolverine contingent cheered, the scoreboard flashed the score: Michigan 8, ASU 0.
Early in the second quarter, the Sun Devils' Kent Bostrom booted a 37-yard field goal. Michigan roared right back by powering the ball to the 2-yard line before Harbaugh plunged to paydirt. Gillette kicked the conversion, and Michigan led 15-3. After adding a 27-yard field goal, Arizona State used the last four minutes of the half to mount a 60-yard drive that commenced when Jeff Van Raaphorst passed to Bruce Hill for the Sun Devils' first touchdown. As the teams took to the locker room, the Wolverines hald a 15-13 advantage.
Opening the second half, Arizona State launched an 80-yard drive. Van Raaphorst again found Hill in the end zone, and after the two-point conversion failed, Michigan trailed by four. The Wolverines only touched the ball twice in the entire quarter, and netted just 22 yards, all from Harbaugh's pass completion in the third quarter. With 14:16 to go in the game, Bostrom added a 25-yard field goal and Arizona State had all the points needed for the victory.
Despite the disappointment of the final game, the 1986 season was a good one for Michigan football. Wolverine fans were treated to the 32nd Big Ten title in school history, Bo Schembechler's 200th career victory and the passing of Fielding H. Yost as the winningest coach in Michigan history.
---
SCORING
First Quarter
M
Morris, 18-yard run (White 2-yard pass from Gillette)
Second Quarter
ASU
Bostrom, 37-yard field goal
M
Harbaugh, 2-yard run (Gillette kick)
ASU
Bostrom, 27-yard field goal
ASU
Hill, 4-yard pass from Van Raaphorst (Bostrom kick)
Third Quarter
ASU
Hill, 1-yard pass from Van Raaphorst (Pass failed)
Fourth Quarter
ASU
Bostrom, 25-yard field goal
---
Game Statistics
Wolverines
Sun Devils
13
First Downs
22
59
Net Yards Rushing
188
172
Net Yards Passing
193
52
Total Plays
81
225
Total Yards
381
23/13/3
PA/PC/Int
30/16/0
6/40.8
Punts/Avg.
4/39.0
11
Return Yards
8
3/0
Fumbles/Lost
1/0
6/42
Penalties/Yards
6/26
Rushing-- (M):Morris 16-47; Perryman 5-14; G. White 1-2; Harbaugh 7-(-10); (A): Harris 23-109; Williams 18-69; Day 2-9
Passing-- (M): Harbaugh 13-23-172; (A): Van Raaphorst 16-30-193
Receiving-- (M): Morris 4-47; McMurtry 3-59; G. White 3-23; Jokisch 1-22; Higgins 1-15; (A): Cox 6-104; Hill 4-30; Harris 3-34