Michigan's Bowl Game History
1988 Hall of Fame Bowl
<! --BEGIN PORGRAMS-->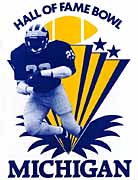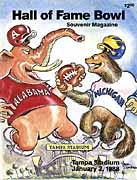 Michigan vs Alabama
Tampa Florida
Jan. 2, 1988
Attendance: 60,156
Scoring by Quarter
Michigan
0
14
7
7
28
Alabama
3
0
6
15
24
<! --END PORGRAMS-->
For the second time in his 19-year reign, Bo Schembechler would not be on the sidelines for a Michigan bowl game. Schembechler underwent quadruple heart bypass surgery in early December so offensive coordinator Gary Moeller was given the task of preparing the Wolverines for Alabama.

view larger image
The Crimson Tide took the opening kickoff and moved the ball to Michigan's 34-yard line, where they had to settle for a 51-yard Philip Doyle field goal. In the second quarter, Jamie Morris broke a tackle for a 25-yard touchdown run, giving the Wolverines their first lead of the game. On Michigan's next possession, Morris again broke a tackle, then ran over a defender for a 14-yard TD run and the Wolverines went into the locker room with a 14-3 half time lead.
Michigan began the second half where it left off as Morris broke loose for a 77-yard TD run, lifting U-M to a comfortable 21-3 margin. Following Morris' run, the Crimson Tide launched a 72-yard drive in just under five minutes that culminated in a 16-yard touchdown pass from Jeff Dunn to Howard Cross.
After a Michigan punt, Alabama marched 85 yards, capped by Bobby Humphrey's one-yard TD run, cutting the Wolverine lead to five points with 13 minutes left in the game. Two more times Michigan's offense was held and Alabama was again able to drive against the Wolverine defense, this time for 79 yards, culminating in a 17-yard scoring run by Humphrey. Alabama's two-point conversion was successful and the Tide took the lead, 24-21, with just under five minutes remaining.
Facing fourth-and-three from the 20-yard line late in the fourth quarter, Brown lofted a 20-yard pass that John Kolesar pulled down in the corner of the end zone for a touchdown and ended Michigan's most exciting scoring drive of the season. In the game's waning moments, Alabama's desperation pass was intercepted by cornerback David Arnold to seal the win.
Jamie Morris' 234 yards rushing set a Hall of Fame Bowl and Michigan bowl record. He also broke the Wolverines' single season rushing record with a total of 1,703 yards and ended his career with 4,393 rushing yards, the third-best in Big Ten History.
---
<! -- BEGIN SCORING-- >
SCORING
First Quarter
A
Dole, 51-yard field goal
Second Quarter
M
Morris, 25-yard run (Gillette kick)
M
Morris, 14-yard run (Gillette kick)
Third Quarter
M
Morris, 77-yard run (Gillette kick)
A
Cross, 16-yard pass from Dunn (run failed)
Fourth Quarter
A
Humphrey, 1-yard run (Doyle kick)
A
Humphrey, 17-yard run (Dunn pass to Whitehurst)
M
Kolesar, 20-yard pass from Brown (Gillette kick)
<! -- END SCORING-- >
---
<! -- BEGIN STATISTICS-- >
Game Statistics
Wolverines
Crimson Tide
12
First Downs
28
278
Net Yards Rushing
191
68
Net Yards Passing
269
49
Total Plays
81
346
Total Yards
460
17/6/0
PA/PC/Int
40/23/1
6/4.5
Punts/Avg.
4/42.5
133
Return Yards
81
0/0
Fumbles/Lost
1/1
4/30
Penalties/Yards
1/5
Rushing-- (M): Morris 23-234; Bunch 3-16; Brown 2-1; Taylor 3-11; Hoard 1-16; (A): Humphrey 27-149; Alan 3,-6; K Goode 6-14; Dunn 7-13; Wright 2-2; P. Goode 4-7
Passing-- (M): Brown 13-4-72; Taylor 4-2+4); (A): Dunn 40-23-269
Receiving-- (M): Morris 2-(-4); Calloway 1-14; J. Brown 1-7, McMurtry 1-3 1; Kolesar 1-20; (A): Whitehurst 6-5; Cross 6-81; Humphrey 5-34; P. Goode 2-20; Wright 1-18; Stafford 2-21; Allen 1-10
<! --END STATISTICS-- >