Michigan's Bowl Game History
1990 Rose Bowl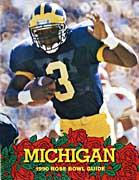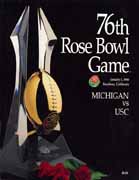 Michigan vs Southern California
Pasadena, California
Jan. 1, 1990
Attendance: 103,450
Scoring by Quarter
Michigan
0
3
7
0
10
USC
0
10
0
7
17
Every Rose Bowl is a grand spectacle of the best college football has to offer, but the 1990 clash between Michigan and Southern California had added luster as it was the last game in Bo Schembechler's 27-year coaching career.

view larger image
The first quarter was dominated by the defenses, as neither team was able to put any points on the scoreboard. USC opened the scoring in the second quarter on a one-yard touchdown run by quarterback Todd Marinovich. Michigan answered USC's score midway through the second quarter. Leroy Hoard ripped off a 46-yard run and Michael Taylor connected with Greg McMurtry for 20 yards to get down to the Trojan eight-yard line. J.D. Carlson's 19-yard field goal cut USC's lead to 7-3 with 6:28 left. The Trojans closed out the first half scoring on a 34-yard Quin Rodriguez field goal that pushed USC's halftime lead to 10-3.
The Wolverines played an inspired third quarter, limiting the Trojans to just 27 yards while scoring the tying touchdown. Michigan scored on their second drive of the quarter as Allen Jefferson scored from two yards out to tie the game at 10.
The game's pivotal play came on a fourth and two from the Michigan 46 with 12:00 left in the contest. On that play, Wolverine punter Chris Stapleton's fake punt gained 24 yards, but a holding penalty and a subsequent unsportsmanlike conduct penalty pushed Michigan back to its own 21 and eliminated the first down. Southern Cal took advantage of Michigan's misfortune, marching 75 yards in 13 plays for the game-winning td.
Despite the Rose Bowl defeat, the Wolverines had their first 10 win season (10-2) since 1986, and earned their second consecutive outright Big Ten Championship. Bo Schembechler ended his coaching career as the winningest coach in Michigan football history with a 194-48-5 record.
---
SCORING
Second Quarter
USC
Marinovich, 1-yard run (Rodriguez kick)
M
Carlson, 19-yard field goal
USC
Rodriguez, 34-yard field goal
Third Quarter
M
Jefferson, 2-yard run (Carlson kick)
Fourth Quarter
USC
Ervins, 14-yard run (Rodriguez kick)
---
Game Statistics
Wolverines
Trojans
11
First Downs
23
119
Net Yards Rushing
181
115
Net Yards Passing
178
52
Total Plays
78
234
Total Yards
359
20/100
PA/PC/Int
31/22/1
7/35.9
Punts-Avg
4/39.3
11
Return Yards
68
2/0
Fumbles/Lost
0/0
8/62
Penalties/Yards
8/87
Rushing-- (M): Hoard 17-108; Bunch 16-9; (USC): Ervins 30-126; Holt 8-35
Passing-- (M): Taylor 10-19-116; (USC): Marinovich 22-31-178
Receiving-- (M): McMurtry 4-56; Hoard 3-15; (USC): Jackson 5-56; Ervins 5-44