Michigan's Bowl Game History
1991 Gator Bowl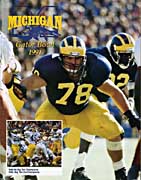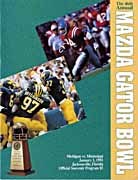 Michigan vs Misissippi
Jacksonville, Florida
Jan. 1, 1991
Attendance: 68,927
Scoring by Quarter
Michigan
7
7
21
0
35
Mississippi
0
3
0
0
3
Gary Moeller's Wolverines gained a share of the Big Ten title in his first season, as U-M met Mississippi in the Gator Bowl.

view larger image
After both teams exchanged early turnovers, Michigan opened the scoring when Elvis Grbac threw deep down the right side of the field to Desmond Howard, for a career-long 63-yard touchdown reception. J.D. Carlson's extra point gave Michigan a 7-0 lead with 1:04 left in the first quarter.
Mississippi scored its only points of the game in the second quarter when Brian Lee kicked a career-long and Gator Bowl record 51-yard field goal to trim the margin to 7-3.
Following a 32-yard Howard return of the ensuing kickoff, Jon Vaughn sprinted around left end for a gain of 37 yards and a first down at the Rebel 31. Five plays later, Grbac threw seven yards to Jarrod Bunch for a 14-3 halftime lead. Grbac's touchdown pass, his 19th of the season, broke Jim Harbaugh's Michigan single season record for touchdown passes thrown (18 in 1985).
Early in the third quarter, Grbac threw a screen pass to Howard who eluded the Mississippi defense enroute to a 50-yard touchdown reception and a 21-3 Michigan lead with 10:53 left in the third quarter.
Later in the quarter, Ole Miss quarterback Tom Luke was intercepted by Todd Plate at the Michigan 37. After a three-yard Ricky Powers run and an 11-yard Grbac-to-Howard completion, the Wolverines had a first down on the Ole Miss 49-yard line. On the next play, Powers blasted up the middle for a gain of 44 yards and a first down at the Rebel five. Bunch pounded into the end zone on the next play, giving Michigan a comfortable 28-3 lead.
As the third stanza was nearing completion, Grbac connected with Derrick Alexander over the middle for a 33-yard touchdown--Grbac's fourth of the game, and a Michigan single bowl record. That closed the scoring, giving Michigan a resounding 35-3 win.
Offensive linemen Dean Dingman, Tom Dohring, Greg Skrepenak, Matt Elliott and Steve Everitt were named the game's Most Valuable Players for leading the offense to a Michigan single game record 715 total yards.
---
SCORING
First Quarter
M
Howard, 63-yard pass from Grbac (Carlson kick)
Second Quarter
MS
Lee, 51-yard field goal
M
Bunch, 7-yard pass from Grbac (Carlson kick)
Third Quarter
M
Howard, 50-yard pass from Grbac (Carlson kick)
M
Bunch, 5-yard run (Carlson kick)
M
Alexander, 33-yard pass from Grbac (Carlson kick)
---
Game Statistics
Wolverines
Rebels
35
First Downs
20
391
Net Yards Rushing
93
324
Net Yards Passing
215
85
Total Plays
67
715
Total Yards
306
32/20/2
PA/PC/Int
31/17/4
2/24.5
Punts/Avg.
6/38.0
65
Return Yards
192
2/1
Fumbles/Lost
4/2
6/69
Penalties/Yards
4/49
Rushing-- (M): Vaughn, 15-128; Powers, 14-112; Bunch, 11-54; Legette, 5-54; Howard, 1-19; Washington, 3-15; Watson, 1-5; Jefferson, 3-4; (MS): Baldwin, 8-53; Thigpen, 6-32; Billing, 2-6; Courtney, 1-6; Luke, 14-5; Shows, 5-(-9)
Passing-- (M): Grbac, 16-2-296; Sollom, 4-7-28; (MS): Shows, 12-20-10; Luke, -11-6
Receiving-- (M): ): Howard, 6-167; Alexander, 2-50; VanDyne, 3-32; Bunch, 2-22; Burch, 1-12; Vaughn, 1-10; Owen. 1-9; Powers, 1-8; Johnson, 2-7; Diebolt, 1­7; (MS) Roberts, 4-67; Brownlee, 4-58; Owens, 3-42; Small, 1-25; Baldwin, 2-15; Holder, 1-11; Thigpen, 1-6; Courtney, 1-3