Michigan's Bowl Game History
1992 Rose Bowl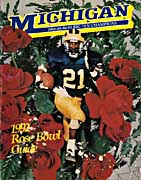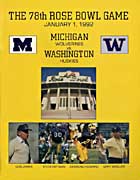 Michigan vs Washington
Pasadena, California
Jan. 1, 1992
Attendance: 103,566
Scoring by Quarter
Michigan
0
7
0
7
14
Washington
0
13
8
13
34
With a fourth consecutive Big Ten title locked up, the Michigan Wolverines ventured to Pasadena hoping to add a Rose Bowl title and possible national championship to their already impressive list of accolades. Thus far the 1991 season had seen Desmond Howard win the Heisman Trophy and Erick Anderson garner the first Butkus Award in school history. However, standing in the way of Gary Moeller's team was the Washington Huskies, a team boasting the nation's top-ranked defense.

view larger image
After a scoreless first quarter, the Huskies went ahead as Billy Joe Hobert faked to Beno Bryant and ran off left tackle for two yards and the touchdown. Howard, an electrifying player, would then add another clip to his collegiate highlight film on Michigan's ensuing drive as he snared a leaping, 35-yard reception over eventual NFL first round selection Dana Hall. Three plays later, Elvis Grbac connected with Walter Smith on a 9-yard touchdown pass. Two Travis Hanson field goals made the score 13-7 Huskies at halftime.
Washington extended its lead in the third quarter on an 80-yard touchdown drive. Hobert completed a 5-yard td toss to Mark Bruener and the two-point conversion to Aaron Pierce.
Facing a 21-7 deficit, the Wolverines were again unable to manage a first down and were forced to punt. Excellent field position awaited the Washington offense again, with the ball resting on the Michigan 48. On the second play of the final quarter, Hobert gave a play-action fake and found Pierce in the back of the endzone for a 2-yard touchdown. The Wolverines found themselves trailing 21-7.
Michigan started the next drive at their own 29 yardline. Michigan moved the ball out to the 38-yardline before a Grbac keeper on fourth and one was stopped Washington took only six seconds to find the endzone again. Mark Brunell hit Mario Bailey streaking down the right side for the Huskies final score of the game.
Tyrone Wheatley, a freshman, capped off an outstanding afternoon (68 yards on 9 carries) and closed the scoring on a 53-yard touchdown run, and J.D. Carlson's 126th consecutive PAT.
---
SCORING
Second Quarter
WA
Hobert, 2-yard run (Hanson kick)
M
Smith, 9-yard pass from Grbac (Carlson Kick)
WA
Hanson, 24-yard field goal
WA
Hanson, 23-yard field goal
Third Quarter
WA
Breuner, 5-yard pass from Hobert (2 pts. - Pierce, pass from Hobert)
Fourth Quarter
WA
Pierce, 2-yard pass from Hobert (Kick failed)
WA
Bailey, 38-yard pass from Brunell (Hanson kick)
M
Wheatley, 53-yard run (Carlson kick)
---
Game Statistics
Wolverines
Huskies
10
First Downs
19
72
Net Yards Rushing
123
133
Net Yards Passing
281
61
Total Plays
85
205
Total Yards
404
28/14/1
PA/PC/Int
42/25/1
10-37.8
Punts-Avg
6-41.8
144
Return Yards
95
3/0
Fumbles/Lost
0/0
8/62
Penalties/Yards
6/50
Rushing--(M): Wheatley, 9-68; Johnson, 4-30; Howard, 1-15; Powers, 10-10; Collins, 1-( - 9); Grbac, 8--( - 42) (WA): Bryant, 15-38; Barry, 13-37; Kaufmann, 6-26; M. Jones, 3-22; Turner, 1-3; Hobert 4-( - 1); Brunell, 1-( - 2)
Passing --(M): Grbac, 13-26-130; Collins, 1-2-3; (WA): Hobert, 18-34-192; Brunell, 7-8-89
Receiving --(M): Howard, 1-35; Wheatley, 3-30; VanDyne, 4-22; R. Powers, 3-18; McGee, 1-14; W. Smith, 1-9; J. Johnson, 1-5 (WA): Bailey, 6-126; Pierce, 7-86; Bryant, 5-22; Gaspard, 1-5; McKay, 1-12; M. Jones, 2-7; Turner, 1-6; Bruener, 1-5; Barry, 1-2