Michigan's Bowl Game History
1993 Rose Bowl
<! --BEGIN PORGRAMS-->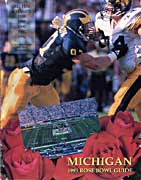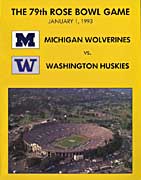 Michigan vs Washington
Pasadena, California
Jan. 1, 1993
Attendance: 94,236
Scoring by Quarter
Michigan
10
7
14
7
38
Washington
7
14
10
0
31
<! --END PORGRAMS-->
For the second consecutive season, the Michigan Wolverines and Washington Huskies celebrated the New Year together at the Rose Bowl. The Huskies were searching for an unprecedented third straight Rose Bowl victory, while the Wolverines were looking to avenge a 34-14 Rose Bowl defeat to Washington in 1992.

view larger image
Trailing, 7-3, the Wolverines energized their fans who made the trip to California on a 49-yard touchdown pass from Elvis Grbac to Tony McGee, which capped a six-play, 69-yard drive and provided Michigan the lead after the first quarter. On its next possession, Michigan opened up a 17-7 lead as Tyrone Wheatley, on his way to a 235-yard rushing performance, sprinted untouched 56 yards for a touchdown.
In this offensive showdown, the Huskies responded with two straight touchdowns -- a 64-yard touchdown pass from Mark Brunell to Jason Shelley and an 18-yard touchdown strike from Brunell to Mark Bruener. Washington took a 21-17 lead into the halftime intermission
Wheatley then went to work, taking advantage of a key block by All-American Steve Everitt on an 88-yard touchdown run--his second long scoring play and a new Rose Bowl record. But the Huskies were far from through. They put together 10 straight points and went ahead 31-24 until Wheatley responded. His third touchdown run of the game--24-yard scamper on a draw play--tied the game at 31 and swung the momentum back to Michigan.
The Wolverines' game-winning score came on an 80-yard drive, as Grbac, facing third and short from the Huskies' 15-yard line, found McGee at the two. McGee fell into the endzone for the only score of the fourth quarter, the winning points in Michigan's thrilling 38-31 victory.
---
<! -- BEGIN SCORING-- >
SCORING
First Quarter
M
Elezovic, 41-yard field goal
WA
Turner, 1-yard run (Hanson kick)
M
McGee, 49-yard pass from Grbac (Elezovic kick)
Second Quarter
M
Wheatley, 56-yard run (Elezovic kick)
WA
Shelley, 64-yard pass from Brunell (Hanson kick)
WA
Bruener, 18-yard pass from Brunell (Hanson kick)
Third Quarter
M
Wheatley, 88-yard run (Elezovic kick)
WA
Kaufman, 1-yard run (Hanson kick)
WA
Hanson, 44-yard field goal
M
Wheatley, 24-yard run (Elezovic kick)
Fourth Quarter
M
McGee, 15-yard pass from Grbac (Elezovic kick)
<! -- END SCORING-- >
---
<! -- BEGIN STATISTICS-- >
Game Statistics
Wolverines
Huskies
16
First Downs
19
308
Net Yards Rushing
105
175
Net Yards Passing
308
66
Total Plays
74
483
Total Yards
413
30/17/0
PA/PC/Int
31/18/0
6/37.0
Punts/Avg
5/39.2
28
Return Yards
19
1/0
Fumbles/Lost
1/1
8/72
Penalties/Yards
5/43
28:12
Time of Possession
31:48
Rushing-- (M): Wheatley 15-235; E. Davis 9-35; R. Powers 9-28; Legette 5-12; Grbac 1-(-2) (WA): Kaufman 20-39; Brunell 10-32; Turner 5-18; Thomas 2-8; Jones 2-4; Barry 4-4
Passing-- (M): Grbac 17-30-175 (WA): Brunell 18-30-308; Bjornson 0-1-0
Receiving-- (M): McGee 6-117; Smith 3-19; Alexander 3-18; Hayes 1-10; Malveaux 1-5; Wheatley 2-4; Legette 2-4 (WA): Shelley 3-100; Bruener 4-85; D. Barry 2-61; Mack 2-33; Kralik 2-16; Jones 2-10; Turner 1-4; Kaufman 2-(-1)
<! --END STATISTICS-- >