Michigan's Bowl Game History
1994 Hall of Fame Bowl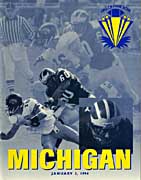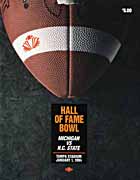 Michigan vs North Carolina State
Tampa, Florida
Jan. 1, 1994
Attendance: 52,649
Scoring by Quarter
Michigan
0
21
21
0
42
N. Carolina St.
0
0
7
0
7
The 1994 Hall of Fame Bowl opened the New Year's Day bowl festivities with an 11 a.m. kickoff in unusually wet conditions for the Tampa, Fla., site. By the time the rain subsided and the other New Year's Day bowl games were set to begin, Michigan was well on its way to a 42-7 trouncing of North Carolina State. Tyrone Wheatley, in his third consecutive tremendous bowl outing, was named the game's MVP after compiling 124 rushing yards on 19 carries, including touchdown runs of 26 and 18 yards.

view larger image
Michigan opened the scoring early in the second quarter--the first points in what would become consecutive 21-point quarters. Wheatley took a pitch from Todd Collins on a sweep to the right and blazed down the sidelines for a 21-yard score. On their subsequent possession, the Wolfpack were forced to punt, and Derrick Alexander made N.C. State pay. He fielded the punt at Michigan's 21-yard line and burst up the middle of the field unchallenged for a 79-yard touchdown--the longest punt return in Hall of Fame Bowl history.
The Wolverines put away the game late in the half. Closing a 13-play, 85-yard drive, Collins, on fourth-and-10 from the Wolfpack 31, found Amani Toomer in the right comer of the endzone for a score. The conversion gave the Wolverines a 21-0 lead.
The scoring continued for Michigan in the third quarter, as it strung together two more touchdowns---on Clarence Thompson's 43-yard interception return and Wheatley's 18-yard scoring run-before N.C. State finally broke the shutout with a touchdown of its own, Wheatley's score-his sixth bowl touchdown over the past three seasons-was the 35th rushing TD of his career, breaking Rick Leach's school record for career rushing TDs. It was also Wheatley's 40th career touchdown, tying him with Anthony Carter for the most career TDs by a Wolverine. Ricky Powers closed the game's scoring with a 16-yard TD run with 3:13 left in the third.
---
SCORING
Second Quarter
M
Wheatley, 26-yard run (Elezovic kick)
M
Alexander, 79-yard punt return (Elezovic kick)
M
Toomer, 31-yard pass from T.Collins (Elezovic kick)
Third Quarter
M
Thompson, 43-yard Interception Return return (Elezovic kick
M
Wheatley, 18-yard run (Elazovic kick)
NCS
Fitzgerald, 12-yard pass from Bender (Videtch kick)
M
Powers, 16-yard run (Elezovic kick)
---
Game Statistics
Wolverines
Wolfpack
21
First Downs
18
265
Net Yards Rushing
117
201
Net Yards Passing
195
67
Total Plays
74
466
Total Yards
312
23/12/0
PA/PC/Int
38/19/4
6/47.0
Punts/Avg.
6/42.0
155
Return Yards
5
1/0
Fumbles/Lost
4/2
5/35
Penalties/Yards
3/5
27:29
Time of Possession
32:31
Rushing-- (M): Wheatley 18-124; E. Davis 7-36; R. Powers 4-33; Buff 3-26; Biakabutuka 5-22; Foster 2-10; Ritchie 3-9; Collins 1-4; J. Carr 1-1; (NCS) Downs 13-102; George 3-21; Brown 7-11; Harvey 10-0; Fitzgerald 1-0; Goines 1-(-5): Bender 1-(-12)
Passing-- (M): T. Collins 11-22-189; J. Carr 1-1-12; (NCS): Harvey 13-27-108; Bender 6-10-87; Goines 0-1-0
Receiving-- (M): D. Jones 2-65; W. Smith 3-48; Toomer 2-44; Hayes 2-27; Richards 1-12; E. Davis 2-5; (NCS): Goines 7-72; Downs 4-34; Schultz 2-31; Hinton 2-25; George 2-16; Futzgerald 1-12; Brown 1-5