Michigan's Bowl Game History
1994 Holiday Bowl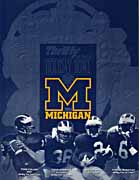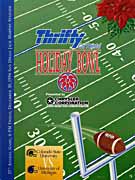 Michigan vs Colorado State
San Diego, California
Dec. 30, 1994
Attendance: 59,453
Scoring by Quarter
Michigan
10
7
7
0
24
Colorado State
7
0
0
7
14
Michigan, who had taken its lumps on the defensive side of the ball during a 7-4 regular season, stuffed Colorado State when it recorded a 24 14 win at Jack Murphy Stadium that helped ease the sting of some painful late-season losses.

view larger image
CSU nearly mirrored the Wolverines in total yardage (341-340), but gained just 51 yards rushing against a Michigan defense that forced four turnovers and had a key goal-line stand in the second half.
U-M struck first on the game's opening drive on Todd Collins' four-yard TD pass to Amam Toomer with 8:51 left in the opening quarter The Rams took the ensuing kickoff and turned in a nine-play, 66-yard drive to tie the game, 7-7. The drive was culminated by Paul Turner's 32-yard TD reception.
All-American Remy Hamilton booted a 34-yard field goal with 2:46 remaining in the first quarter to put Michigan ahead 10-7. A blocked punt by freshman Chris Howard gave U-M the ball deep in Rams territory with less than two minutes left before halftime. Collins then connected with Mercury Hayes for a 16-yard TD strike to put U-M ahead 17-7 with 1:28 left in the half.
The Wolverines forced a turnover on CSU's first drive of the second half, taking over on the Rams' 17-yard line. Tyrone Wheatley made short work four plays later with a three-yard plunge into the endzone. That gave U-M a 7 lead with 11:58 left in the third quarter.
Midway through the third quarter, a 42-yard pass play helped CSU move the ball from its own 13-yard line to inside the Wolverine 10. A pair of pass interference calls against U-M gave the Rams seven plays to attempt to go eight yards into the endzone.
Four plays from the Michigan two-yard line turned up nothing for Colorado State, as a two-yard loss and incomplete pass on fourth down helped the Wolverines turn away the high-scoring Rains.
Michigan held a 24-7 advantage after three quarters and held that lead until 1:18 remained in the game. CSU finally cracked the stubborn U-M defense with an 18-yard TD pass by Anthony Hill to complete the scoring.
Collins threw for 162 yards (14-for-24) and two touchdowns, eaming the game's offensive MVP honors. The Michigan defense tallied 11 tackles for loss, driving the CSU offense back 61 yards.
---
SCORING
First Quarter
M
Toomer, four-yard pass from Collins (Hamilton kick)
CS
Turner, 32-yard pass from (McDougal kick)
M
Hamilton, 34-yard field goal
Second Quarter
M
Hayes, 16-yard pass from Collins Hamilton kick)
Third Quarter
M
Wheatley, three-yard run (Hamilton kick)
Fourth Quarter
CSU
CSU Burkett, 18-yard pass from Hill (McDougal kick)
---
Game Statistics
Wolverines
Rams
18
First Downs
20
179
Net Yards Rushing
52
162
Net Yards Passing
289
60
Total Plays
75
342
Total Yards
340
2/14/3
PA/PC/Int
40/22/2
5/28.0
Punts/Avg.
4/35.5
74
Return Yards
117
0/0
Fumbles/Lost
2/2
11/97
Penalties/Yards
8/72
Rushing-- (M): ): Wheatley 16-80; Biakabutuka 9-70; E. Davis 1-13; Howard 3-9; Hayes 1-8; Floyd 1-2; Collins 6-(-3). (CSU): Watson 17-47; Ward 1-8; Cam 1-4; Brown 3-(-3); Hill 14-(-5).
Passing-- (M): Collins 14-24-162. (CSU): Hill 22-40-289
Receiving-- (M): Toomer 5-63; Hayes 3-41; Foster 2-J12; Richards 2-20; Wheatley 1-5: Cooper 1-1. (CSU): Shull 3-101; Burkett 5-62: Turner 4-62; Olsen 3-29; Watson 6-23; Ward 1-12.