Michigan's Bowl Game History
1995 Alamo Bowl
<! --BEGIN PORGRAMS-->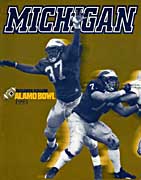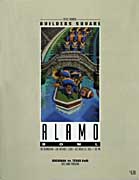 Michigan vs Texas A&M
San Antonio, Texas
Dec. 28, 1995
Attendance: 64,597
Scoring by Quarter
Michigan
7
3
3
7
20
Texas A&M
10
3
3
6
22
<! --END PORGRAMS-->
Aggies placekicker and Alamo Bowl offensive MVP Kyle Bryant booted a Michigan-opponent record five field goals in the game (27, 49, 47, 31 and 37 yards), and a Wolverine rally ran out of time at the third Alamo Bowl game.

view larger image
Midway through the first quarter, Tshimanga Biakabutuka's fumble was recovered by the Aggies on U-M's five-yard line. Two plays later, Eric Bernard took it in to give Texas A&M a 7-0 lead.
The Wolverines responded quickly. Aided by 35 yards in Aggie penalties, Michigan went 77 yards in two plays to tie the game. The drive was capped off by a 41-yard Brian Griese to Amam Toomer touchdown pass.
After the two teams traded field goals, the two defenses settled in, holding their opposition scoreless on the next four possessions. On its final possession of the half, Texas A&M drove to the Michigan 32-yard line, where Bryant kicked a career-best 49-yard field goal at the gun to give the Aggies a 13-10 half-time lead.
Texas A&M extended the lead with a 47-yard field goal with 5:34 left in the third quarter. Michigan took the kickoff at the 19-yard line and ran the ball down to the Texas A&M four-yard line in 11 plays. The Wolverines had to settle for a Remy Hamilton 26-yard field goal to close the gap to 16-13.
The Aggies again extended their lead to six early in the fourth quarter, then held off an ineffective Wolverine offense. After a 3 1 -yard interception return gave the Aggies possession at the Michigan four-yard line, Bryant kicked a 37-yard field goal to put Texas A&M ahead, 22-13, with 23 seconds remaining.
The Wolverines showed strokes of brilliance in the final seconds, with Griese completing long passes to Mercury Hayes and Toomer, the latter going for 44 yards and a touchdown. The onside kick was unsuccessful, and the Aggies ran out the clock to hand U-M a 22-20 defeat.
For the game, Griese completed nine-of-23 passes for 182 yards. Five of those passes went to Toomer, who tallied 135 yards and two touchdowns. Michigan managed only 129 yards on the ground, an Alamo Bowl-record 94 coming from Biakabutuka and 36 from Clarence Williams.
---
<! -- BEGIN SCORING-- >
SCORING
First Quarter
A&M
Bernard, nine-yard run (Bryant kick)
M
Toomer, 41-yard pass from Griese (Hamilton kick)
A&M
Bryant 27-yard Field Goal
Second Quarter
M
Hamilton, 28-yard Field Goal
A&M
Bryant, 49-yard Field Goal
Third Quarter
A&M
Bryant, 47-yard Field Goal
M
Hamilton, 26-yard Field Goal
Fourth Quarter
A&M
Bryant, 31-yard Field Goal
A&M
Bryant, 37-yard Field Goal
M
Toomer, 44-yard pass from Griese (Hamilton kick)
<! -- END SCORING-- >
---
<! -- BEGIN STATISTICS-- >
Game Statistics
Wolverines
Aggies
19
First Downs
17
129
Net Yards Rushing
130
182
Net Yards Passing
136
61
Total Plays
67
311
Total Yards
266
23/9/1
PA/PC/Int
22/12/0
7/36.0
Punts/Avg.
5/43.0
81
Return Yards
78
2/1
Fumbles/Lost
2/1
6/60
Penalties/Yards
11/10
Rushing-- (M): Biakabutuka 24-94; Williams 7-36; Hayes 1-17; Griese 6-(-18): (A&M): Parker 21-56; Hardeman 6-41; Bernard 15-40: Connell 1-7; Pupig 2-(-14)
Passing-- (M): Griese 9-23-182; (A&M): Pullig 12-22-136
Receiving-- (M): Toomer 5-135; Hayes 2-35; Riamersma 1-10; Biakabutuka 11-2; (A&M): Heideman 3-41; Connell 3-36; Parker 3-23; Sanders 2-30; Spitler 1-6
<! --END STATISTICS-- >