Michigan's Bowl Game History
1997 Outback Bowl
<! --BEGIN PORGRAMS-->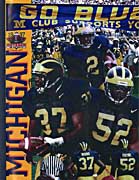 Michigan vs Alabama
Tampa, Florida
Jan. 1, 1997
Attendance: 53,161
Scoring by Quarter
Alabama
3
0
0
14
17
Michigan
0
6
0
8
14
<! --END PORGRAMS-->
The highly-regarded defensive units of Michigan and Alabama were showcased in the New Year's Day Outback Bowl, but it was a Crimson Tide offense that led 'Bama to a 17-14 victory. Michigan entered the game ranked 18th nationally in total defense while Alabama brought the No. 8 defense into the game. Neither unit disappointed.
The Wolverines held the Crimson Tide to 247 yards of total offense and effectively shut down Alabama for most of the game.
Alabama opened the game's scoring with a 43-yard Jon Brock field goal just 2:07 into the game.
Remy Hamilton knotted the game for Michigan with a 44-yard field goal with 8:03 left in the first half, then gave the Wolverines the lead with a 22-yard field goal 20 seconds before the intermission.
The turning point came as Michigan, already leading 6-3 early in the fourth quarter, worked a drive deep into Alabama territory. On third-and-five, quarterback Brian Griese, who started his first game o the season, attempted a short pass across the middle, but was deflected and intercepted by Alabama linebacker Dwayne Rudd. Rudd turned upfield and raced to an Outback Bowl record 88-yard interception return. The score, which came with 12:13 left in the game, gave the Crimson Tide a 10-6 lead that they never relinquished.
Alabama put the game away two possessions later when running back Shaun Alexander dashed 46 yards to put the Crimson Tide up 17-6 with 2:15 left in the game.
Griese hit receiver Russell Shaw with a nine-yard touchdown pass to end a nine-play, 80-yard drive with 1:16 left. After a pass-interference call, fullback Chris Floyd ran the ball in for a two-point conversion to bring Michigan to within three, 17-14. The Crimson Tide recovered the onside kick and ran out the clock.
Michigan finished the game with 415 yards in total offense, but it was unable to put the ball in the endzone. Three times the Wolverines failed to score after moving within the Alabama 35-yard line.
Griese completed 21-of-37 passes for 287 yards. He threw one touchdown and one interception.
---
<! -- BEGIN SCORING-- >
SCORING
First Quarter
A
UA Brock, 43-yard field goal
Second Quarter
M
Hamilton, 44-yard field goal
M
Hamilton, 22-yard field goal
Fourth Quarter
A
Rudd, 88-yard interception return (Brock PAT)
A
Alexander, 46-yard run (Brock PAT)
M
Shaw, nine-yard pass from Griese (Floyd run)
<! -- END SCORING-- >
---
<! -- BEGIN STATISTICS-- >
Game Statistics
Wolverines
Crimson Tide
22
First Downs
13
124
Net Yards Rushing
182
291
Net Yards Passing
65
79
Total Plays
53
415
Total Yards
247
38/22/1
PA/PC/Int
19/9/1
7/26.1
Punts/Avg.
6/48.5
90
Return Yards
9
3/10
Fumbles/Lost
2/1
6/47
Penalties/Yards
8/42
Rushing-- (M): C. Williams 12-58; Floyd 6-35; Howard 12-27; Griese 10-5; Shaw 1-(-1); (A): Alexander 9-99; Riddle 13-58; Foust 5-29; West 1-4; Kitchens 7-(-8)
Passing-- (M): Griese 37-21-287; Woodson 1-1-4; (A): Kitchens 18-9-65
Receiving-- (M):

Shaw 6-84; Williams 5-113; Knight 3-41; Woodson 3-25; Streets 2-12; Tuman 1-6; Shea 1-6; Griese 1-4; (A): Alexander 3-4; Vaughn 2-27; Rutledge 1-13; Hape 1-12; Riddle 1-6; Hall 1-3
<! --END STATISTICS-- >