Michigan's Bowl Game History
1999 Citrus Bowl
<! --BEGIN PORGRAMS-->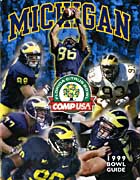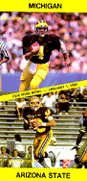 Michigan vs Arkansas
Orlando, Florida
Jan. 1, 1999
Attendance: 67,584
Scoring by Quarter
Arkansas
0
10
14
7
31
Michigan
3
21
0
21
45
<! --END PORGRAMS-->
The Michigan football team became the first Big Ten team to win the Citrus Bowl in five years with a 45-31 victory over No. 11 Arkansas. Trailing 31-24 with just 5:49 left in the game, the Wolverines rallied with 21 points in a span of 4:02 to win their 15th bowl game all-time.
Anthony Thomas led the Wolverines with three rushing touchdowns and 139 yards on the ground. Thomas was named Citrus Bowl Most Valuable Player for his performance, while linebacker Sam Sword was named the Michigan Defensive MVP by the media for his 11-tackle performance.
The Wolverines scored the games first points with 6:29 left in the first quarter when Jay Feely connected on a 43-yard field goal. Arkansas took a 7-3 lead on a 35-yard TD pass from Clint Stoerner to Michael Williams in the second quarter. Michigan responded with a two-yard touchdown run from Anthony Thomas, and a 46-yard interception return for a touchdown by linebacker Ian Gold. After Arkansas' Todd Latourette booted a 42-yard field goal to trim the Wolverine lead to 17-10, Michigan marched 69 yards in just 1:38 and capped the drive with a five-yard touchdown run by Thomas. The Wolverines took a 24-10 lead into halftime.
The Razorbacks scored three consecutive second half touchdowns to take a 31-24 lead midway through the fourth quarter.
Trailing for the first time since an early 7-3 deficit, Michigan responded with three consecutive touchdowns of its own. Anthony Thomas tied the game at 31, on a one-yard run.
After the Wolverine defense forced the Razorbacks to punt on their next possession, Brady found DiAllo Johnson in the endzone from 21 yards out for the eventual game-winning score with 2:25 remaining.
Michigan cornerback James Whitley sealed the victory with 1:47 remaining, intercepting a Stoerner pass and returning it 26 yards for a touchdown.
---
<! -- BEGIN SCORING-- >
SCORING
First Quarter
M
Feely 43-yard field goal
Second Quarter
AR
M. Williams 35 pass from Stoemer (Latourette kick)
M
Thomas 2-yard run (Feely kick)
M
Gold 46-yard Interception return (Feely kick)
AR
Latourette 42-yard field goal
M
Thomas 5-yard run (Feely kick)
Third Quarter
AR
Chukwurna 2-yard run (Latourefte kck)
AR
Chukwurna 1-yard run (Lattourette kick)
Fourth Quarter
AR
Davenport 9 pass from Stoemer (Latourette kick)
M
Thomas 2-yard run (Feely kick)
M
D. Johnson 21 pass from Brady (Feely kick)
M
Whitley 26 -yard interception return (Feely kick)
<! -- END SCORING-- >
---
<! -- BEGIN STATISTICS-- >
Game Statistics
Wolverines
Razorbacks
21
First Downs
20
45-204
Net Yards Rushing
40-116
230
Net Yards Passing
232
67
Total Plays
61
434
Total Yards
348
30/16/2
PA/PC/Int
42/17/2
5/40.0
Punts/Avg.
7/33.9
78
Return Yards
81
1/1
Fumbles/Lost
0/0
12/104
Penalties/Yards
4/31
Rushing-- (M): Thomas 21-132, C. Williams 19-72, Coleman 1-3, Brady 5-(-3); (AR): Chukwuma 17-56, Hill 13-35, Stoemer 8-14, Branch 1-9, Norman 1-2.
Passing-- (M): Brady 14-27-2-209; (AR): Stoemer 17-42-2-232.
Receiving-- (M): Streets 7-129, C. Williams 2-15, Shea 2-10, Terrell 1-26, D. Johnson 1-21, Thomas 1-12, Campbell 1-11, Knight 1-6; (AR): M. Williams 7-90, Lucas 3-63, Smith 3-19, Morreale 1~36, Hill 1-14, Davenport 1-9, Chukwuma 1-1.
<! --END STATISTICS-- >