Michigan's Bowl Game History
2000 Orange Bowl
<! --BEGIN PORGRAMS-->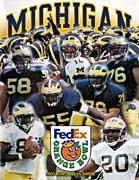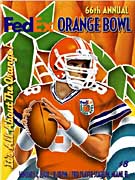 Michigan vs Alabama
Miami, Florida
Jan. 1, 2000
Attendance: 70,461
Scoring by Quarter
Michigan
0
7
21
0
7
35
Alabama
0
14
14
0
6
34
<! --END PORGRAMS-->
Michigan erased a pair of 14-point deficits in winning a thrilling 35-34 overtime game against Alabama in the 2000 FedEx Orange Bowl at Pro Player Stadium. The Wolverines played in, and won, their first overtime contest in school history.
With the score knotted at 28 at the end of regulation, Michigan scored on its initial play of overtime when quarterback Tom Brady found tight end Shawn Thompson on a 25-yard TD pass. Kicker Hayden Epstein hit the extra point to give U-M a 35-28 lead, its first of the contest.
On Alabama's first possession of overtime, Andrew Zow hit Antonio Carter with a 21-yard TD pass on the second play of the drive. However, Alabama's Ryan Pflugner pushed the extra point attempt wide right and Michigan claimed the victory.
Sophomore wide receiver David Terrell was named Orange Bowl MVP after setting career bests in receiving yards (150) and receiving touchdowns (three) as well as equaling his career-high in receptions (10). Brady capped his career with a career-best four TD passes on 34-of-46 passing for a UM bowl record 369 yards.
During regulation, Michigan trimmed the deficit to 14-7 with 58 seconds left in the first half when Brady hit Terrell on a 27-yard scoring strike.
Michigan held Alabama on its first offensive possession of the second half and marched 59 yards to even the score at 14. The Crimson Tide responded with back-to-back touchdowns from Shaun Alexander and Freddie Milons.
Michigan closed the gap when Brady and Terrell connected on a 20-yard TD pass with 5:42 left in the third quarter. After holding Alabama on its next possession, Michigan tied the game (28-28) as junior tailback Anthony Thomas scored on a three-yard run.
The Wolverines dominated the fourth quarter, but a fumble heading into the endzone for the go-ahead score and a blocked 36-yard field goal attempt on the final play of regulation, sent the game into overtime.
---
<! -- BEGIN SCORING-- >
SCORING
Second Quarter
AL
Alexander 5-yard run (Pflugner kick)
AL
Alexander 6-yard run (Pflugner kick)
M
Terrell 27-yard pass from Brady (Epstein kick
Third Quarter
M
Terrell 57-yard pass from Brady (Epstein kick)
AL
Alexander 50-yard run (Pflugner kick)
AL
Milons 62-yard punt return (Pflugner kick)
M
Terrell 20-yard pass from Brady (Epstein kick)
M
Thomas 3-yard run (Epstein kick)
Overtime
M
Thompson 25-yard pass from Brady (Epstein kick)
AL
Carter 21-yard pass from (Pflugner kick failed)
<! -- END SCORING-- >
---
<! -- BEGIN STATISTICS-- >
Game Statistics
Wolverines
Crimson Tide
18
First Downs
12
23-27
Net Yards Rushing
37-184
369
Net Yards Passing
121
70
Total Plays
57
406
Total Yards
305
47/35/0
PA/PC/Int
20/13/0
8/43.4
Punts/Avg.
9/34.4
115
Return Yards
182
2/1
Fumbles/Lost
1/0
10/115
Penalties/Yards
18/132
32:08
Ptime of Possesion
27:52
Rushing-- (M): Thomas 18-40; Henson 1-8; Gold 1-5; Brady 3-(-16) (AL): Alexander 25-161; Wafts 4-15; Milons 2-11; Bohanon 1-4; McClintock 3-3; Zow 2-(-10).
Passing-- (M): Brady 34-46-0-369; Henson 1-1-0-0. (AL): Zow 7-14-0-86; Watts 6-6-0-35.
Receiving-- (M): Terrell 10-150; Shea 7-50; Walker 6-65; Thomas 4-2; Thompson 3-47; Knight 3-28; Joppru 1-24; Johnson 1-3. (AL): Carter 4-38; Milons 4-15; Alexander 2-21; Bowens 1-22; Jones 1-16; Buchanan 1-9.
<! --END STATISTICS-- >