Michigan's Bowl Game History
2002 Citrus Bowl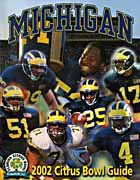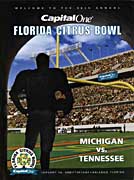 Michigan vs Tennessee

Jan. 1, 2002
Attendance: 59,653
Scoring by Quarter
Michigan
0
10
0
7
17
Tennessee
10
14
7
14
45
No. 8-ranked Tennessee won the first-ever meeting between the two schools and in the process ended Michigan's streak of four straight Jan. I bowl victories with a 45-17 win on New Year's Day. Tennessee scored the first 17 points of the game, then added another 21 unanswered points to start the second half.
B.J. Askew was named the Michigan Offensive MVP and senior linebacker Larry Foote garnered the Defensive MVP by the media. Tennessee quarterback Casey Clausen was named the game's Most Valuable Player. Askew gained 71 rushing yards on nine carries and added a 14-yard touchdown on a screen pass. Marquise Walker caught five passes for 100 yards and junior/sophomore quarter- back John Navarre completed 2 1 -of- 39 passes for 240 yards and two TDs. Foote recorded a team-high nine tackles and two pass breakups with outside linebacker Victor Hobson adding eight stops.
Tennessee jumped out to a 17-0 lead on a 32-yard field goal by Alex Walls, a three-yard slant to Kelley Washington and Clausen's one-yard scramble to begin the second quarter. Michigan trimmed the deficit to 17- 7 as Navarre completed a 14-yard screen pass to Askew for a touchdown. The punt rush team set up U- M's best field position of the game by forcing a six-yard punt by the Volunteers. Tennessee answered on the ensu- ing possession as Clausen scored his second straight touchdown on a one- yard keeper. Utilizing their two-minute offense, the Wolverines moved inside the 10-yard line but settled for a 28-yard field goal by Hayden Epstein with 37 seconds left in the half.
The Volunteers struck quickly in the third quarter as Clausen complet- ed a 64-yard TD pass to Witten that gave UT a 31-10 lead.
Tennessee scored a pair of touch- downs in the fourth quarter as Washington caught a 37-yard TD reception and Travis Stephens scored on a three-yard run. The Wolverines found the end zone with 9:32 remaining as Navarre completed a 24-yard TD pass to wide receiver Calvin Bell.
---
SCORING
First Quarter
UT
Walls 32-yard field goal Team Stats
UT
Washington 3-yard pass from Clausen (Walls kick)
Second Quarter
UT
Clausen 1-yard run (Walls kick)
UM
Askew 14-yard pass from Navarre (Epstein kick)
UT
Clausen 1-yard run (Walls kick)
UM
Epstein 28-yard field goal
Third Quarter
UT
Witten 64-yard pass from Clausen (Walls kick)
Fourth Quarter
UT
Washington 37-yard pass from Clausen (Walls kick)
UT
Stephens 3-yard run (Walls Kick)
M
Bell 24-yard pass from Navarre (Epstein kick)
---
Game Statistics
Wolverines
Volunteers
20
First Downs
22
31-103
Net Yards Rushing
37-97
240
Net Yards Passing
406
70
Total Plays
72
343
Total Yards
503
39-21-1
PA/PC/Int
35-27-0
4-18
Sacked-Yard Lost
2-22
7-277
Punts/Avg.
5-159
139
Return Yards
121
4-2
Fumbles/Lost
3-1
6-42
Penalties/Yards
3-32
6-16
Third Down Conversion
7-13
25:47
Time of Possession
34:13
Rushing-- (M): Askew 9-71; Perry 17-39; Bell 1-11; Navarre 4 (-18). (T): Stallworth 2-44; Stephens 16-38; Scott 1-21; Fleming 2-5; Davis 3-4; Bartholomew 1-1; Tinsley 1-(-1); Houston 2+1); Clausen 9-(-14)
Passing-- (M): Navarre 39-21-1-240. (T): Clausen 34-26-0-393; Washington 1-1-0-13
Receiving-- (M): Walker 5-100; Joppru 5-45; Seymour 4-35; Bell 2-29; Askew 2-23; Perry 2-3; Butler 1-5. (T): Stallworth 8-119; Witten 6-125; Washington 6-70; Graham 2-28; Brown 2-5; Parker 1-22; Stephens 1-19; Finlayson 1-18