Michigan's Bowl Game History
2003 Outback Bowl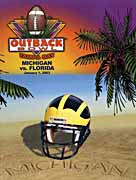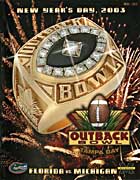 Michigan vs Florida
Tampa, Florida
Jan. 1, 2003
Attendance: 65,101
Scoring by Quarter
Florida
0
16
7
7
30
Michigan
7
14
14
3
38
Michigan claimed a 38-30 victory in a back-and-forth affair against No 22 Florida in the 2003 Outback Bowl at Raymond James Stadium.
Tailback Chris Perry earned Outback Bowl MVP honors after setting a bowl game record and a modem era Michigan bowl record with four touchdowns. Perry matched his career high with 28 carries for 85 yards and four TDs, and added a career-best six receptions for 108 yards. Quarterback John Navarre completed 21-of-36 passes for a career-high 319 yards and one TD.
Defensively, Victor Hobson sealed the win for the Wolverines with his interception on Florida's final drive. Hobson tallied a career-best 12 tackles and two tackles for loss.
Michigan took advantage of a Florida turnover as Perry scored on a four-yard touchdown run late in the first quarter. U-M gained possession at the Florida three-yard line after recovering an errant shotgun snap. Florida, however, answered to take a 13-7 lead early in the second quarter on a pair of TD nins by tailback Ernest Graham.
U-M took control of the game on a 12-play scoring drive as Perry leaped over the goal line on a fourth-down play from the one-yard line. The Gators regained the lead, 16-14, with 1:37 left in the first half as placekicker Matt Leach connected on a 29-yard field goal, but Michigan responded to take a 21-16 halftime advantage as Navarre completed an eight-yard touchdown pass to Bellamy with 27 seconds left.
Florida scored on its opening possession of the second half to gain a 23-21 lead. The Wolverines answered the Gators' TD and took the lead for good, 28-23, on a seven-yard TD run by Perry. U-M extended its lead to 35-23 as Perry scored his fourth TD of the game, a 12-yard run through the middle of the defense.
Florida trimmed the deficit to 35-30 with 8:21 remaining as Grossman fired a three-yard TD pass to tight end Aaron Walker.
On the Gator's next possession, a Hobson sack forced Florida to punt the ball away. U-M got the ball back at its 34-yard line and proceeded to put the game away as kicker Adam Finley connected on a 33-yard field goal for a 38-30 lead with 2:20 left.
The Gators attempted to mount one final drive to tic the game. After reaching the Wolverine 37-yard line, Florida tried a little trickery on a wide receiver reverse pass, but it was intercepted by Hobson and returned 42 yards to seal Michigan's victory.
---
SCORING
First Quarter
M
Perry 4-yard run (Finley kick)
Second Quarter
F
Graham 2-yard run (Leach kick)
F
Graham 1-yard run (Carthon rush failed)
M
Perry 1-yard run (Finley kick)
F
Leach 29-yard field goal
M
Bellamy 8-yard pass from Navarre (Finley kick)
Third Quarter
F
Ratliff 33-yard pass from Grossman (Leach kick)
M
Perry 7-yard run (Finley kick)
M
Perry 12-yard run (Finley kick)
Fourth Quarter
F
Walker 3-yard pass from Grossman (Leach kick)
M
Finley 33-yard field goal
---
Game Statistics
Wolverines
Gators
17
First Downs
28
37-104
Yards Rushing
43-183
319
Yards Passing
323
74
Total Plays
85
423
Total Yards
506
37/21/0
PA/PC/Int
42/21/1
9/347
Punts/Avg.
8/257
119
Return Yards
111
1/0
Fumbles/Lost
2/2
3/23
Penalties/Yards
6/38
3/15
Third Down Conversions
5/14
32:39
Time of Possession
27:21
Rushing-- (M): Perry 28-85, Bellamy 2-20, Askew 2-9, Navarre 2(-6), Team 3-4 . (FL): Graham 22-120, Carthon 6-56, Grossman 11 -23, Ratliff 2-7, Fason 1 -0, Team 1-(-23)
Passing-- (M): Navarre 36-21-0-319, Team 1-0-G-0. (FL): Grossman 41-21-0-323 Brown 1-0-1-0.
Receiving-- (M): Perry 6-108, Joppru 6-80, Edwards 4-110, Bellamy 2-11, Askew 2-6, Gonzales 14. (FL): Jacobs 7-88, Carthon 3-65, Kight 3-52, Small 3-37, Walker 2-11, Ratliff 1-33, Troupe 1-27, Green 1-10.