Michigan's Bowl Game History
2004 Rose Bowl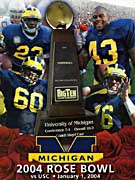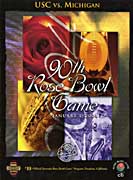 Michigan vs Southern California
Pasadena, California
Jan. 1, 2004
Attendance: 98,849
Scoring by Quarter
Michigan
0
0
7
7
14
USC
7
13
6
3
22
Top-ranked Southern California aired it out in a 28-14 win against No. 4 Michigan in the 90th Rose Bowl game, claimed its ninth Associated Press national title.
USC quarterback Mart Leinart, who was voted the game's most valuable player, completed 23 of his 34 pass attempts for 327 yards and three touchdowns. USC managed to score four receiving touchdowns on Michigan's top rated pass defense.
U-M quarterback John Navarre finished his career by completing 27 of his 46 passes for 271 yards and a touchdown. Navarre was sacked a season-high nine times. Tailback Chris Perry carried 23 times for 85 yards and one score. Braylon Edwards added 10 catches for 107 yards.
The Wolverines threatened on their opening possession of the game, as they moved from their own 20 to the Trojans' 2 1. However freshman kicker Garrett Rivas' 48-yard field goal attempt was blocked by USC Shaun Cody. The Trojans took over and needed just four plays to score. The td came on a 25-yard strike down the left hashmarks to Keary Colbert.
Michigan began its next-to-last drive of the first half at its own 6. The Wolverines gained a first down, but on third-and-18 from their 9, Navarre's pass bounced off Edwards' heel and into the hands of USC linebacker Lofa Tatupu. On third down from the six,
Leinart tossed a soft pass to LenDale White in the left flat and he scrambled into the end zone for a 14-0 lead at the half
Behind 2 1 -0 early in the third quarter, Michigan answered with a 16-play, 76-yard drive. On second down from the USC five-yard line, Navarre fired a strike to tight end Tim Massaquoi. The touchdown pass was the 72nd of Navarre's career, breaking a tie with Elvis Grbac for the U-M all-time passing td lead.
The Trojans answered with an eight-play, 72-yard drive to take a 28-7 lead. The Mike Williams took a reverse pitch and fired a 15-yard strike to a wide-open Leinart.
Michigan opened the fourth quarter with an I I -play, 85-yard drive to cut the USC lead to 28-14 with 11:06 remaining. From the two-yard line, Perry took a toss from Navarre and followed his blockers around the right side for the td.
Leinart then fumbled a snap, which resulted in a turnover. Michigan was unable to take advantage and turned the ball over on downs. The Trojans ran out the clock.
---
SCORING
First Quarter
USC
Colbert 25-yard pass form Leinhart (Killeen kick)
Second Quarter
USC
White six-yard pass for Leinhart (Killeen kick)
Third Quarter
USC
Colbert 47-yard pass from Leinart (Killeen kick)
M
Massaqoui five-yard pass from Navarra (Rivas kick)
USC
Leinart 15-yard pass from Willams (Killeen kick)
Fourth Quarter
M
Perry two-yard run (Rivas kick)
---
Game Statistics
Wolverines
Trojans
29
First Downs
25
38-49
Net Yards Rushing
25-68
271
Net Yards Passing
342
84
Total Plays
60
320
Total Yards
410
9-69
Sacked-Yards Lost
1-11
46/27/1
PA/PC/Int
35/24/0
4/44.0
Punts/Avg
3/46.7
48
Return Yards
75
3/0
Fumbles/Lost
2/1
2/10
Penalties/Yards
3/22
9/19
Third Downs
6/11
34:26
Time of Possession
25:34
Rushing-- (M): Perry 23-85, Breaston 2-21, Rembert 1-1, Navarre 12-(-58), (UCS) Bush 8-41, White 8-26, Dennis 8-17, Leinart 2-(-16)
Passing-- (M): Navarre46-27-1-271 (WA): Leinart 34-23-0327
Receiving-- (M): Edwards 107, Breaston 6-21, Avant 6-61, Ecker 3-31, Perry 2-1, Massaquoi 1-5, Thompson 1-5 (WSU): Williams 8-88, Colbert 6-149, Bush 2-24, Hancock 2-8, White 2-4, Guenther 1-19, Leinart 1-15, Smith 1-9, Kirtman 1-8