Michigan's Bowl Game History
2005 Rose Bowl
<! --BEGIN PORGRAMS-->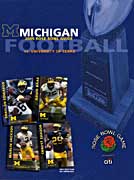 Michigan vs Texa
Pasaadena, Claifornia
Jan. 1, 2005
Attendance: 93,468
Scoring by Quarter
#6 Texas
7
7
7
17
38
# 13 Michigan
0
14
17
6
37
<! --END PORGRAMS-->
Senior kicker Dusty Mangum's 37-yard field goal as time expired gave No. 6 Texas a 38-37 win over the No. 13 Michigan in the 91st Rose Bowl Game.
U-M was led by wide receiver Braylon Edwards with 10 receptions for 109 yards and three touchdowns. Edwards became Michigan's and the Big Ten's career receiving TD leader, closing his career with 39 scores.

After an early Texas touchdown, Edwards evened the score at 7-7 in the second quarter on a 39-yard touchdown pass from Henne. Hart had runs of five, three and three yards to move the chains prior to the scoring play.
Texas regained the lead at 14-7, but U-M took advantage of the game's first turnover and knotted the score at 14 apiece at halftime as Henne tossed an eight-yard TD pass to Edwards.
The Wolverines gained their first lead, 28-2 1, as Henne completed a nine-yard TD pass to Edwards on a slant pass from the left side at 6:29 of the third quarter.
After a Michigan field goal, Texas quarterback Vince Young scored his third rushing TD of the game, a 10-yard run at 9:51 of the fourth quarter, and trimmed the deficit to 31-28.
The Wolverines boosted their lead to 34-28 with 6:09 left in regulation as Rivas hit a 32-yard field goal. Texas responded and quickly drove down the field for another touchdown, taking a 35-34 lead.
Breaston began the Wolverines' next drive with a 53-yard kickoff return for a Michigan single-game bowl record, surpassing his previous season- and career-best set earlier in the game. It was his sixth kickoff return of the game for a total of 221 yards, setting Michigan and Rose Bowl records. Hart carried for 18 yards in the next three plays, ending on the 25-yard line, where Rivas completed the drive with a 42-yard field goal with 3:04 remaining on the clock. This was his third of the game, tying the Rose Bowl record.
Mangum capped the Longhorns' 10-play game winning drive with his 37-yard field goal as time expired.
---
<! -- BEGIN SCORING-- >
SCORING
First Quarter
T
Texas Young 20-yard run (Mangum kick)
Second Quarter
M
Edwards 39-yard pass from Henne (Rivas kick)
T
Thomas 11-yard pass from Young (Mangum kick)
M
Edwards 8-yard pass from Henne (Rivas kick)
Third Quarter
T
Texas Young 60-yard run (Mangum kick)
M
Mich. Breaston 50-yard pass from Henne (Rivas kick)
M
Edwards 9-yard pass from Henne (Rivas kick)
M
Rivas 44-yard field goal
Fourth Quarter
T
Young 10-yard run (Mangum kick)
M
Rivas 32-yard field goal
T
Young 23-yard run (Mangum kick)
M
Rivas 42-yard field goal
T
Mangum 37-yard field goal
<! -- END SCORING-- >
---
<! -- BEGIN STATISTICS-- >
Game Statistics
Wolverines
Longhorns
17
First Downs
25
31/25
Net Yards Rushing
46-264
227
Net Yards Passing
180
65
Total Plays
78
352
Total Yards
444
34/18//0
PA/PC/Int
28/16/1
1/5
Saacked.Yards Lost
1/10
5/42.0
Punts/Avg.
54/39.8
255
Return Yards
223
1/1
Fumbles/Lost
1/1
5/40
Penalties/Yards
5/40
6/14
Third Down Conversions
12/17
27:20
Time of Possession
32:40
Rushing-- (M): Hart 21-83, Martin 3-18, Edwards 2-17, Breaston 3-15, Henne 2-(-8) (T):Young 21-192, Benson 23-70, Matthews 1-1, Taylor.
Passing-- (M): Henne 34-18-0-227 (T):Young 28,16-1-180
Receiving-- (M): Edwards 10-109, Breaston 3-77, Massaquoi 2-19, Ecker 2-18, Hart 1-4. (T): Scaife 5-68, Thomas 4-54, Jeffrey 4-38, Matthews 1-8, Taylor 1-7, Jones 1-5
<! --END STATISTICS-- >