Michigan's Bowl Game History
1902 Rose Bowl
Michigan at the First Rose Tournament Game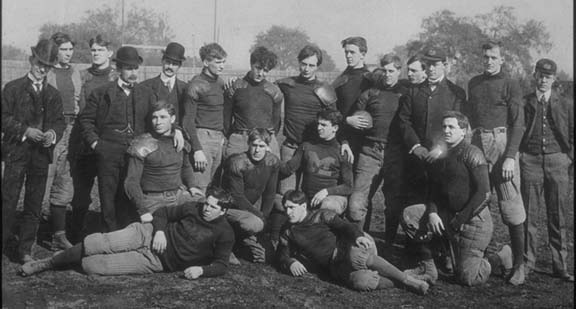 Left to right, standing: *Everett Sweeley RE, *Bruce Shorts, RT; Keene Fitzpatrick, trainer; Charles Baird, graduate manager; *William Herrnstein, RH; *George Gregory, C; *Dan McGugin, LG; James Forest, sub; *Hugh White, Capt. LT; *Curtis Redden, LE; Fielding H. Yost, coach; *Neil Snow, FB; Harry Crafts, student manager;
Kneeling: *Ebin Wilson, RG; Herbert Graver, sub; *Harrison Weeks, QB; Ben Southworth, sub;
On Ground: *William Heston, LH; Art Redner, sub.
* indicates 11 players who played the entire game.
Top | MGOBLUE | Football History | Bowl History
1902 Rose Bowl | 1948 Rose Bowl