Michigan in the Civil War: Topical index to collections listed in Michigan Men in the Civil War, by Ida C. Brown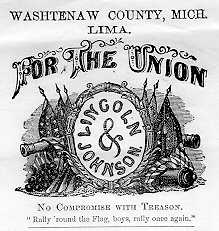 From Vertical File, Republican Party
A card index has been prepared to topics represented in the collections listed in Michigan Men in the Civil War, by Ida C. Brown. This index is found in the Bentley Library Reading Room. It is not a finished product, and includes many inconsistencies.
References in the index range from merely the name of a collection to extensive quotations from letters and diaries. Topics indexed can be found under various synonyms and broader and more specific terms. For instance, some references to battles can be found under the heading "Battles" while others are found under the name of the battle. References to African Americans can be found under the headings "Negroes," "Slavery," "Contraband farms and camps," "Attitude towards freeing the slaves," and "Smoked Yankees."
Following is a list of all headings used in the index. The headings marked with an asterisk are found only in a less detailed supplemental index to collections numbered 352-502 in Brown's guide.
For more information about the contents of the index, contact the Bentley Library reference department.
Abolition and abolitionists
Accidents
Adjutant
After the war
Alexandria
Alligators
Ambulance train*
American Tract Society*
Andersonville Prison*
Annapolis
Antietam*
April Fool's Day
Aptitude for soldiering
Arkansas
Arlington House
Artillery duel
Atlanta
Attitude of citizens
Attitude towards freeing the slaves
Attitude towards the government
Attitude towards war and soldiering
Attitude towards punishment of South
Austin, Texas
Baird, General*
Balloons
Band
Baltimore
Bathing
Banks, General
Baton Rouge
Battlefields
Battles
Beaufort, S.C.
Benham, General
Benton, Camp
Bethlehem, Ky.
Big Shanty, Ga.
Black Devil gunboat
Black flags*
Blacksmith
Blair, Governor
Blockhouse No. 2
Blue Grass Country*
Blue Springs
Board of Claims
Board of Survey
Bolivar, Tenn.*
Booth, Edwin
Booth, John Wilkes
Bounty
Bowling Green
Boxes from home
Bragg, General
Breastworks*
Bretschneider
Bridges and bridge building
Brodhead, Camp
Brown, John*
Brownsville, Ark.
Buckloud, Colonel*
Buel, General
Buggy brigade plan
Bugler
Bull pen
Bullet proof breast plates
Bullets
Bummers
Bunks for wounded
Burdan's Sharpshooters*
Burial rites for soldiers
Burnside, General
Bushwhackers
Butler, General
Buying and selling*
Buying commissions
Cahaba Prison
Camp Chase (parole camp)*
Camp Douglas*
Campbell's Station
Camps and camp life
Candles
Cannonading*
Capitol (Washington)
Castle Pinckney
Cat
Catoosa Springs
Cattle
Cavalry
Caves
Cedar Creek*
Celebrating
Cemeteries
Chancellorsville
Chapel Hill, N.C.
Chandler, Senator
Chaplains
Charcoal
Charleston
Chattanooga
Chewing tobacco
Chickahominy River*
Chickamauga
Chickasaw, Miss.*
Christian Association
Christian Commission
Christmas
Church
Church services
Cincinnati
Circus
Clayborn, Pat
Clothing
Coffin making
Cold Harbor
Columbia, S.C.
Communication lines cut
Condition of troops when sent from recruiting centers
Conduct of the war
Congress (U.S. frigate)
Congress
Conscription and conscripts
Constitution (ship)
Contraband farms and camps
Convalescent camps
Copeland, Camp
Copperheads
Corinth
Countersign
Courier duty
Court martial
Cowardice--Battlefield*
Crapo, Governor
Crater*
Crawford, General
Curtenius
Custer, General
Cypress swamp
Dalton
Davis, Jefferson*
Davis, Capture of
Davis, Mrs.
Day of fasting and prayer
Deaf and dumb asylum, Dansville
Decatur*
Deland, Captain Charles
Deserters (rebel)
Deserters (union)
Devastation and destruction
Dillman, Lieutenant colonel
Dipping
Discipline and punishment
Dix, General
Doctors
Dooley, Pat, and the renegade Rorison
Doolittle, Colonel
Draft
Dress parade
Drill
Drinking*
Drummed out of camp
Drummer boy
Drunkenness
Drury's Bluff
Duel
Duffield, Colonel William W.
Dusky Lincolnites
Dust
Dutch Captain
Easter
Education of soldiers
Eighth Michigan Infantry
Eighteenth Michigan Infantry
Elections
Election of 1864*
Ellsworth, Colonel
Ellsworth Avengers
Emancipation Proclamation
End of the war
Engineers and Mechanics
England and the war*
Enlisting
Equipped for the march
Erie and Kalamazoo Railroad money
Escaping the enemy
Exchange of prisoners
Executions
Fairfax Court House*
Fairs
Falling Waters
Falmouth
Fast day
Fayetteville
Ferguson, Champ
Ferry, Major Noah
Fifth Michigan Infantry
Fig leaves
Fighting
Fire rafts
Fisk, Brigadier general Clinton B.
Fitzgibbon, Thomas C.
Five Forks*
Flag
Fleas
Flies
Florida (a guerrilla)
Flying Dutchman
Floods
Food
Foraging
Forrest
Fort Anderson
Fort Delaware
Fort Donaldson*
Fort Ellsworth*
Fort Mutton*
Fort Pickens*
Fort Sumter*
Fort Jackson
Fort Jones
Fort St. Phillip
Fort Steavens
Fort Wagner
Fort Wayne
Fortifications
Fortress Monroe
Forts Jackson and St. Phillip
Four days without butter
Fourth Michigan Cavalry
Fourth Michigan Infantry
Fourth of July
Franked letters
Frankfort, Ky.
Franklin, Tenn.
Fredericksburg
Freemen
Fremont
Gaines' Mill
Gallant charge on the log heaps
Gambling
Garibaldi guards
German soldiers
Gettysburg
Ghosts
Gilbert's men
Going home
Goldsboro, N.C.
Gordon's Mills
Gorham, Lieutenant Colonel
Grant, General
Grant, Mrs.
Grape shot*
Great Bethel*
Greeley, Horace*
Green River
Griffin, Eli
Growing
Guard duty and mounting
Guerrillas
Guns
Gymnastics
Halleck, General
Hammond's Pork Factory
Handy, Captain
Hanging*
Hardin, General
Harper's Ferry
Harris, Governor, of Tennessee
Harrison's Landing
Haydon, Lieutenant Colonel Charles
Hendersonville, S.C.
Heintzelman, General
Holly Springs
Home--No home
Home guards*
Home Patriots
Homesickness
Hood, General
Hooker, Fighting Joe
Horner, Major John W.
Horns
Horses and mules
Horseshoe Bend
Horse racing*
Horse shoeing
Hospitals
Huntsville, Ala.
Hurricane and shipwrecks
Idleness
Indian soldiers*
Indians
Ink*
Innes, Colonel
Insect pests
Inspection
Island No. 10
Iuka, Miss.*
Jackson, General
Jackson, Miss.
Jackson House, Alexandria
James Island
Jeffersonville
John Brown's Body (song)
Johnson, Governor, of Tennessee
Johnston, General
Jonesboro
Kaigle, Charley (guide)
Kearny, General
Kenesaw Mountain
Kentucky
Kentucky 10th Infantry*
Kilpatrick, General
Kingston Cross Roads
Kirby, Mrs.
Knights of the Golden Circle
Knoxville, Tenn.
Ladies Aid Society
Lagrange, Tenn.*
Lamps
Land given to soldiers
Landslide
Legion of Honor
Lee, Robert E.
Length of the war*
Letterheads
Letters from home*
Lexington, Ky.*
Libby Prison*
Lice
Life of a soldier
Lincoln, Abraham
Lincoln, Mrs.
Lockwood, General
Logan, General
Logan's Cross Roads
Long roll
Lookout Mountain
Loomis, Captain
Loomis' Battery
Louisville, Ky.*
Lounsberry, Lieutenant
Lucy C. Clark (ship)
Lyon, Camp
McClellan, General
McDowell, General
McKim, Camp
McMinnville
McPherson, General
Mail
Mail from home and mail service*
Malvern Hill
Manassas
Mansfield, General
Manson, General
Marietta, Ga.*
Martial law
Martin [Morton], Frank
Mason, Colonel--Home
May, Captain
Maynard, Mrs. Horace
Meade, General*
Measles
Mechanicsville
Meredith, General
Michigan Devils*
Michigan Glee Club
Michigan Soldiers' Relief Association
Michigan troops
Milking cows
Milliken's Bend*
Minnie balls and muskets
Misses Clark's School burned
Minty, Colonel
Missionary Ridge
Mississippi River warfare
Mississippi tigers
Mistaken identity
Mix, Major
Mizner, Colonel
Mobile Bay
Monday Creek
Money
Monitor
Moore, Colonel O.H.
Moore, Colonel (Missouri)
Morale
Morality
Morgan's raids
Mosby's raids
Mosquitoes
Mount Vernon
Mower, General
Mud
Mule teams
Mules*
Munfordville
Murfreesboro
Mutiny in camp
Nashville, Tenn.
Naval battles
Negroes
New Madrid
New Market
New Orleans
New recruits before Mobile Bay
New Years
New York*
News Boy (gunboat)
News from home
Newspapers
Nicholasville, Ky.*
Night expedition to capture a man
Nine months "pups" or "nut megs"
Nine months men
Ninth Michigan Infantry
Northern (steamer)
Nutmegs
Occupation force
Officer of the day
Officers
Olustee
On going home after the war*
On the way to camp*
On the march
One hundred day men
Orange grove
Orderly sergeant
Other regiments
Oysters
Paine, General
Palmer, Camp
Parades
Parkhurst, Colonel
Parole (camp)
Patterson (ordnance sergeant from Fort Morgan)
Patrol duty
Paymaster
Peddlers
Perryville
Pet Lambs
Petersburg
Picket duty
Pictures taken
Pillaging (Yankees)
Pillaging (Rebels)
Pioneers
Pittsburg Landing (Shiloh)
Poe, Colonel
Poisoned food
Pontoon bridge*
Pope, General
Pope, Colonel
Port Hudson
Port Republic
Portsmouth, Va.
Prison camps
Prisons
Prisoners
Pritchard, Colonel
Profanity
Promotions
Prostitution
Provost guard
Provost marshal's office*
Punishments*
Quartermaster--commissary
Quartermaster sergeant
Quarters
Raiders
Railroad transportation
Raleigh
Rats
Reaction to war and battlefields
Reading
Rebel soldiers*
Rebels and peace
Recreation
Recruiting
Recruits
Reenlisting
Refugees
Religion
Reporters
Resaca, Ga.
Retreat
Review of troops
Richardson, Colonel, then General
Richmond, Va.
Rifles
Rings
Rioting in camp
Rip raps
Roads and road building
Roanoke Island
Rome, Ga.
Root, Charles (24th Michigan Infantry)
Rorison (renegade from Ypsilanti)
Rosecrans, General
Salisbury Prison
San Antonio, Tex.
Sanitary Commission
Savannah
Sawmills
School of instruction
Schools, Southern
Scott, General
Scottsville
Scouting
Scurvy
Seabrook Plantation
Second Michigan Cavalry
Second Michigan Infantry
Secret police
Self-mutilation
Selma
Sentinels
Sergeant of police
Seventeenth Michigan Infantry
Shade for horses
Shafter, John
Shafter, Lieutenant Colonel William R.
Sham battle
Sharpsburg*
Shenandoah Valley*
Shaving
Shelbyville
Shepardstown ford
Sheridan, Philip
Sherman, General
Ship Island
Ship transport
Short rations
Sick call
Sickness
Sidewalks
Singing
Singing, School
Sixth Massachusetts*
Sixth Michigan Infantry
Sixty million dollar offer
Skirmishes
Slavery
Smallpox
Smoked Yankees
Smoking
Soldier drowns
Soldiers' Aid Society*
Sons of Temperance*
Soldiers' Relief Association
South Carolina
South Mountain*
Southern people
Spaulding, Colonel Oliver
Special duty group
Spies
Spencer repeating carbine*
Spotsylvania
Spring Hall
Stealing
Steamboat
Stone River
Stragglers
Substitutes
Sulphur Springs*
Sunday in camp
Sutlers
Swamp angel
Table manners
Taxes
Tebb's Bend
Tennessee mountains
Texas Rangers
Thirty day men*
Thomas, General
Thanksgiving
Thompson, Frank
Thompson, Frank Crandall
Thompson's Station*
Thoughts while under enemy fire
Three months volunteers
Tiredness
Trading with the rebels*
Traitors at home*
Treason*
Trevilian Station*
Tyler House*
Traps
Treatment of wounded and dead by rebs
Treatment of rebel citizens
Trees in camp
Trent affair
Trimball, Attorney general of Tennessee
Trips to the front
Tunica Bend
Turner, Dick
Twenty-second Michigan Infantry
Twenty-third Michigan Infantry
Twenty-fifth Michigan Infantry
U.S. Sanitary Commission*
Uncle Tom's Cabin
Under fire
Union family
Union League
Union or sesech?
Union Vidette
Vallandigham, Clement Laird*
Vegetable gardens*
Vallandigham's crossing
Veterans
Vicksburg
Virginia boot blacking
Voting
Wagon trains
Wallpaper newspapers
Wanting to be on the move
War as an occupation
War policy*
Washing
Washington, D.C.
Washington's birthday
Washington's church in Alexandria
Weather
Western troops
Westmorland
Wheeler's raid
When war is ended
Wilderness
Willcox, Colonel Orlando B.
Williams, Major (2nd Infantry)
Williams, Colonel A. W. (20th Infantry)
Williams, Brigadier General Thomas
Williams, Camp
Williamsburg
Williamsport
Wilson, General
Wlson's raid
Winchester
Wirz, Henry
Wolverines
Wood cutting
Wood ticks
Yorktown
Zollicoffer
Zouaves
White Oak Swamp