Michigan in the Civil War: Portraits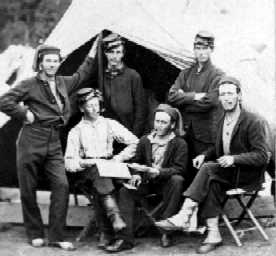 Scene from camp life, from Jonas D. Richardson
papers
This is an index to portraits contained in this web site. We have included as many portraits as we could find of letter and diary writers represented in the collections described here. This is not an index to all Civil War portraits in the Michigan Historical Collections. The collections include many portraits of persons who are not listed here.
Alford, George W.
Badgeley, Jay
Bailey, Franklin H.
Bailey, Ira K.
Baker, Luther Byron
Baker, L. C.
Barker, Lorenzo A.
Bascom, Henry H.
Belcher, Horatio
Belfield, Henry H.
Blake, J.
Boston, William
Boughton, John C.
Brigden, Wharton W.
Buell, Sidney D.
Butterworth, Ebenezer
Carlisle, Daniel
Carlisle, Hannah M.
Carlisle, Joseph L.
Chandler, Zachariah
Chase, Frank R.
Chase, Milton
Christiancy, Henry Clay
Coffinberry, Wright L.
Compton, Silas H.
Comte, Victor E.
Congor, E. J.
Corden, John
Crapo, Henry Howland
Crittenden, Thomas L.
Custer, George Armstrong
Cutcheon, Byron Mac
DeLand, James S.
Demarest, Samuel L.
Edmonds, Sarah Emma
Elder, John A.
Ely, Ralph
Fenton, William M.
Fox, Perrin V.
French, George W.
Garfield, James A.
Goodrich, Fred Stanley
Grant, Claudius Buchanan
Graveraet, Garrett A.
Green, Sullivan Dexter
Greene, William M.
Griffin, Eli Augustus
Guthrie, James W.
Hall, Morris Stuart
Hancock, Albert
Hathaway, Arthur B.
Haydon, Charles B.
Hempstead, Henry Mortimer
Hendershot, Henry C.
Hopper, George C.
Howell, Seymour
Kidd, James Harvey
Kingsley, Frank
Lewis, William Ely
Littlefield, Wesley B.
Lockley, George
Lyon, Sanford W.
Lyon, Solomon T.
McClelland, Robert
McCreery, Charles H.
McCreery, William B.
McGraw, Alexander H.
Minty, Robert H. G.
Mogk, George C.
Monteith, George
Monteith, John, Jr.
Moore, Orlando
Morgan, Albert T.
Morrow, Henry A.
Nevins, William S.
Noll, Conrad
Parkhurst, John Gibson
Pease, Frank D.
Poe, Orlando M.
Potter, Theodore E.
Ralph, Alfred
Reynolds, William L.
Richardson, Jonas D.
Robbins, Jerome John
Sage, James A.
Schneider, Frederick
Sessions, John Q. A.
Shay, Ephraim
Sligh, James May
Sligh, James Wilson
Soule, Harrison
Spaulding, Oliver Lyman
Stark, Henry
Stockton, T. B. W.
Stockwell, Cyrus M.
Stoddard, Byron
Thomas, Stephen Van Rennslaer
Thomas, George H.
Thompson, Martha
Thompson, Milton
Tower, Angelo Emery
Trego, David R.
Trowbridge, L. S.
Wilkinson, William H.
Willcox, Orlando B.
Winchell, Alexander
Withington, William Herbert
Woodruff, Charles
Yates, John B.