Michigan in the Civil War
Guthrie, James W. (James Welch), 1827-1911.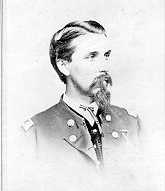 James W. Guthrie, from his papers
Guthrie was a resident of Wooster, Ohio (Later of Bedford, Iowa), an 1862 graduate of the University of Michigan Dept. of Medicine and Surgery, and surgeon in the 20th Ohio Volunteer Infantry. His papers contain a diary (Feb.-Mar. 1864 and Oct. 1864-Mar. 1865), letters of his brother John Guthrie, also with the 20th Ohio Volunteer Infantry; and a letter (Oct. 13, 1862) from George C. Minser of Company H, 16th Ohio Volunteers.