Michigan in the Civil War
Stockton, T. B. W. (Thomas Baylis Whitmarsh), 1805-1890.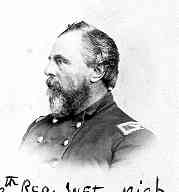 T. B. W. Stockton, from Mrs. M. A. Osborn photograph album
Stockton was an officer in the 16th Michigan Infantry. His diary (Oct. 31, 1861-Nov. 29, 1862) contains comments on daily life and wartime activities.
The library has a typescript only.
This collection is available on microfilm for interlibrary loan.