Michigan in the Civil War
Bailey, Franklin H., 1845-1914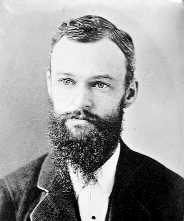 Franklin H. Bailey, from his papers
Fifty-six letters (1861-1865) written to his parents while he was serving in Company D, 12th Michigan Infantry, and Company E, 4th Michigan Cavalry. The letters deal with camp life, religion, sickness, concern over money matters, and some skirmishes in which he was engaged, including a graphic account of the battle of Pittsburg Landing. There is also a diary written in Pitman shorthand and a poem titled "Big Yank" relating to the Peninsula Campaign. Bailey, from Adrian, Mich., later became a teacher and the inventor of the Astral Lantern and the large Cosmosphere.
This collection also includes one brief undated letter from Levi Greenfield of Adrian, Mich., to his wife concerns rumors of victories at Richmond and Vicksburg. Greenfield was a sergeant in Company C, 18th Michigan Infantry. He was reported missing in action at Athens, Ala., and was killed in the explosion of the steamer Sultana in April of 1865.
This collection is available on microfilm for interlibrary loan.