Michigan in the Civil War
Grant, Claudius Buchanan, 1835-1921.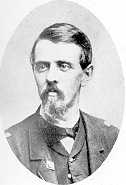 Claudius B. Grant from Byron M. Cutcheon, The Story of the Twentieth Michigan Infantry. Lansing, Mich. 1904
Five diaries (1862-1865). Daily activities in camp and on the march; comments on drunken officers; a criticism of Colonel A. W. Williams; accounts of the sieges of Knoxville and Petersburg and of the battles fought during May and June in 1864, especially the battle of the Wilderness, make up the chief items of interest.
The collection includes five letters (1863-1864) written to his wife. They explain the resolutions asking for the resignation of Colonel Williams; describe a march through Kentucky and the battle before Petersburg. Also included is a paper (Oct. 18, 1899) on the Battle of Horseshoe Bend.
Grant was a captain in Company D, 20th Michigan Infantry, and rose to colonel. Among other things Grant, of Ann Arbor, Mich., became a teacher, lawyer, Regent of the University of Michigan, and chief justice of the Michigan Supreme Court.
This collection is available on microfilm for interlibrary loan.